6 Benefits of Integrating Acumatica ERP with Salesforce CRM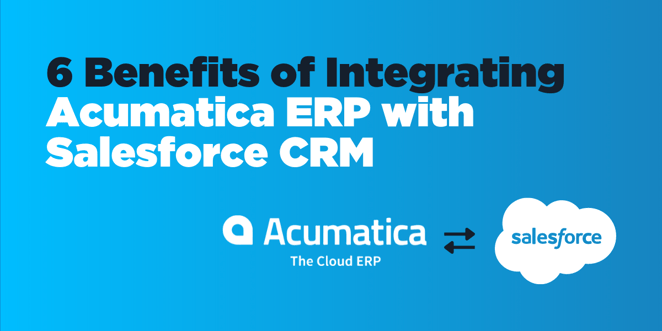 An Acumatica Salesforce integration has a number of advantages for businesses adopting a best of breed approach to technology.
Even though Acumatica offers a cloud-based enterprise resource planning (ERP) solution, some businesses use its customer relationship management (CRM) features as well. On the other hand, Salesforce dominates the CRM game. For many, abandoning Salesforce and moving entirely to Acumatica would be too disruptive, so manual workarounds are adopted to make sure data is reflected in both systems.
Here are 6 benefits of integrating Acumatica ERP with Salesforce CRM:
Read More: Can you integrate Acumatica and Salesforce?
1. Teams continue working with the ERP & CRM they're used to.

Nobody likes to change the way they do things, especially if they're working well. For most companies, collecting leads and tracking sales in their CRM is where everything starts.
For Salesforce users especially, it's a tough ask for teams to switch around their processes. With its diverse community of over 150,000 companies, Salesforce allows sales and marketing teams to collaborate on customer data in an integrative way. More importantly, Salesforce users are accustomed to workflows and terminology that looks different in other systems like Acumatica. Here's some of the differences:
• Salesforce Accounts are Acumatica Customers
• Salesforce Opportunities are Acumatica Sales Orders
• Products in Salesforce are Items/Item Groups in Acumatica

Though field names are different, they typically serve the same function. With an integration between Acumatica and Salesforce, fields can be customized to what teams are used to. Salesforce users get to continue doing the processes they know and Acumatica users can view sales information without having to dig for it in spreadsheets.
2. Eliminate the need for CRM & ERP re-training and implementation.

With an integration between Acumatica and Salesforce, you can minimize the impact a new system implementation has on the organization. If you were to abandon Salesforce and completely move all data, teams, and processes into Acumatica, there could be huge financial implications.
Days, months, and even years of data from one system to another would take a lot of money and time to migrate. During the migration process, there would need to be some workarounds in place to make sure new data is stored properly.
There would be a learning curve for team members who aren't familiar with Acumatica. Downtime for proper training would be needed and everyone would have to adopt new workflows. When teams are training, they aren't selling.
3. Integrations keep customer and transactional data synced

When systems aren't connected, data has to be manually imported and exported between Salesforce and Acumatica. Not only does this take time, but it increases the likelihood for human error to occur since Salesforce field names aren't the same in Acumatica.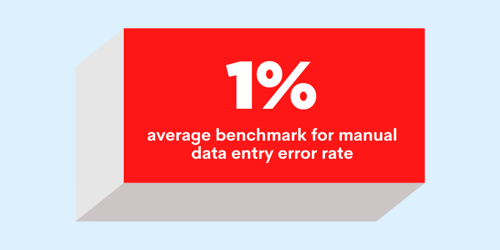 According to this Ungerboeck article, if you consider that "1 of every 100 instances is likely erroneous you'll get a sense of your exposure…now multiply that mistake for every time information is moved from one system to another."
An Acumatica Salesforce integration gets both systems speaking the same language so information like order, payment, and inventory values are always in sync. Real-time data from both systems helps monitor buying behaviors so finance leaders can make quicker decisions that influence revenue and customer satisfaction. Additionally, sales teams can see on their end which accounts or customers still owe. This can lead to shorter accounts receivable cycles and provide opportunities for customers to purchase more products and services.
Here are some of the field names that sync between both systems:

4. Flexible, low-code customization using open APIs

If you have custom objects built in Salesforce, you have to consider how to replicate them in Acumatica. Fortunately for cloud-based platforms like Salesforce and Acumatica, they have an open application programming interface (API) so developers can connect software seamlessly.
Integrations can be done in multiple ways, but for our case, we use a middleware platform called Workato to integrate applications and build workflows using low-code/no-code technology.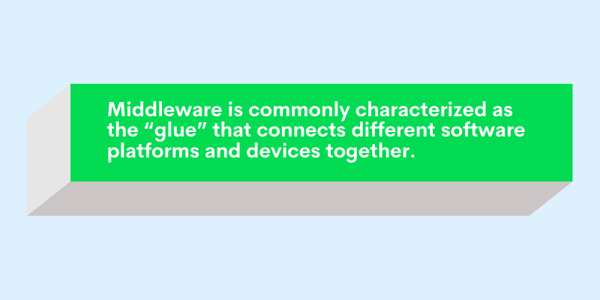 Middleware platforms are great for syncing custom objects since quick changes can be implemented as your business scales. Workato's platform provides a space to build automated workflows between objects so that data no longer needs to be entered manually. More importantly, implementing integrations using middleware requires fewer resources at a lower cost.
5. CRM & ERP Integrations improve collaboration between sales and finance teams

Having real-time data at your fingertips holds a lot of power. In Acumatica, with the integration to Salesforce, finance teams can see open sales orders and payment statuses earlier. This means spending less time sending emails and meeting with sales teams to collect on open invoices. Since Acumatica has robust reporting capabilities, ad-hoc reports using data from both systems can be done in less time.
6. Acumatica-Salesforce Integrations enable better informed planning & forecasting

Acumatica already accomplishes a lot with cross-team workflows and business-wide insights. When Salesforce is being used separately, receiving needed customer information for reports can be difficult.
Once fully integrated, businesses can have full visibility of product line performance, inventory levels, resources, customer habits, and more to make informed decisions about the future. In particular, viewing customer data from Salesforce alongside data in Acumatica can help organizations identify new markets and business opportunities to drive more revenue.
Bonus: Salesforce Nonprofit compliments Acumatica's robust nonprofit accounting capabilities

Along with its cloud ERP features, Accumatica has NonProfitPlus, a one-stop-shop nonprofit accounting solution that makes it easier to track specific government grants and programs. NonProfitPlus helps nonprofit organizations gain control over finances, maintain funding, and plan better for their mission.
Salesforce makes sense for a lot of nonprofits because they get 10 licenses for free. Nonprofit Cloud compliments similar features in Acumatica, so if you're needing the use for both, integration is possible.
Acumatica-Salesforce Integrations from Venn-Tech
When considering the right approach for getting the data you need between your ERP and CRM, an integration might be the solution. With an Acumatica Salesforce integration you can keep teams on systems they're used to and build automated workflows at scale. No longer needing to switch to one system, you can avoid training and implementation costs.