Stripe Integrations for HubSpot – HubSpot Payments and More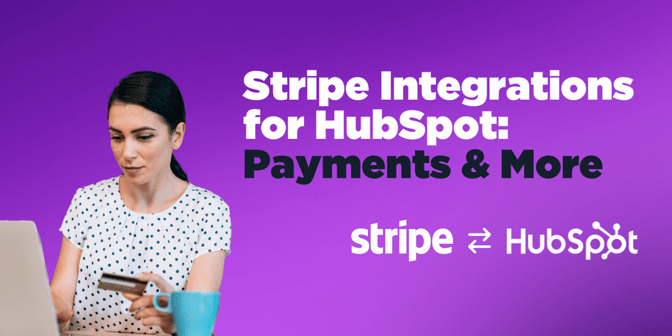 If HubSpot is your CRM of choice and you use Stripe to collect payments for your products and services, then you're in luck. Stripe is the official payment collection platform for HubSpot Payments.
Using Stripe for HubSpot Credit Card Processing
Whether you need to collect a payment once or have funds drafted on a regular schedule, the convenience of having Stripe directly connected with your CRM means convenience for your marketing, sales, and accounting teams.
If you're already using Stripe to collect payments from customers and using HubSpot to track your marketing and sales activities, you can streamline the process by simply setting up HubSpot payments on your HubSpot account.
By having your payment activities directly and instantaneously tracked within your CRM you can reduce complexities and eliminate redundancies.
How do I use a Stripe Integration without HubSpot Payments?
In some cases, you may be using Stripe to accept payments, but may not be eligible to use the service or have alternative processes that make using HubSpot Payments an untenable solution. This may be due to your organization's non-profit status or your business using other processes or software that works in the place of HubSpot Payments.
Stripe Quotes, Deposits, and Payment Processing with HubSpot Integrations
The way a custom Stripe integration for HubSpot works is fairly simple. Whether you need to track one-time or recurring payments, integrations feed information from your front-end point-of-sale and relay that data back to HubSpot in the form of a "deal."
Once Stripe receives the payment, it pings HubSpot to create a deal with the contact, company, amount, and any other relevant information. This way, your CRM knows exactly what your payment system and accounting team knows. If the deal is recurring, the same event will occur in HubSpot the next time payment is received. With proper integrations, whatever happens in Stripe is nearly immediately reflected in HubSpot.
Connecting Stripe and HubSpot to other Business Software
If you're like most businesses, however, your sales, marketing, and accounting tech stack includes an entire bevy of software solutions that need to communicate together in order to perform most effectively.
For example, once the payment is processed in Stripe, that information is going to need to be conveyed to your accounting software like Quickbooks or Intacct.
The beauty of custom integrations is that no matter what other software you're using outside of Stripe and HubSpot, you can connect the data across all your ecosystems in a way specifically built for the unique needs of your business processes and team needs.
Stripe Integrations for HubSpot from Venn-Technology
At Venn Technology, we love taking on out-of-the-box challenges for businesses like yours that need custom solutions to get the most out of their tech stack.
Your needs are unique and your software integrations should be, too.
If you're ready to more efficiently and accurately use Stripe and HubSpot, schedule a consult with us. We'd love to hear about the challenges and aspirations of your business and how we can help you succeed.