HubSpot Integrations: Where to Find Them & When to Use Custom-Built Solutions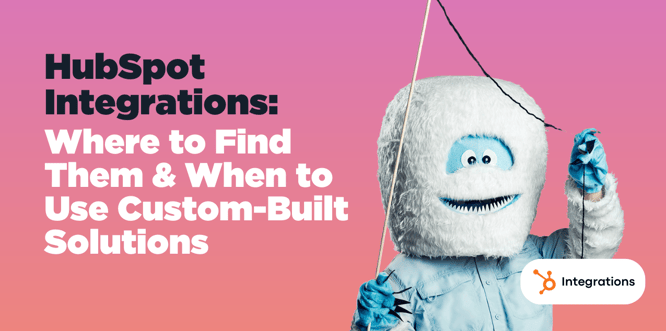 Your software is the lifeblood of your business. It automates those complicated tasks you would otherwise spend hours on through manual processes. But since your teams execute various business functions, they will inevitably need to use different software.
While diverse, the IT solutions of marketing, sales, service, and accounting need to communicate with one another. With so many different developers building out the software your teams use, building links between these programs is vital to a cohesive workforce. That's where integrations come in.
Integrations provide a bridge between software programs, ensuring a reliable exchange of information from each medium, which is necessary as tensions can naturally arise when your different teams need to exchange data between themselves.
Where to Find and Install HubSpot Integrations in the HubSpot Marketplace
For the most basic out-of-the-box integrations, the majority can be found in the HubSpot marketplace. To locate the HubSpot marketplace, log into your HubSpot account, find the market icon on the top right-hand corner of your screen, click it, and select App Marketplace.
This will take you to the Marketplace homepage, where you can search for the integration name you're looking for or by the category it's in.

Once you find the integration, all you need to do is simply click "install," and the app will be set up in HubSpot for you. Depending on the integration, you may need to do some additional tasks to get it set up properly. This should be noted in the app overview

Keep in mind, while some apps are free, others may have a cost. Additionally, some of the integrations are created by HubSpot or the developer of the software you're trying to integrate, while third parties make others. Generally speaking, those developed by HubSpot or the software developer will be more reliable than third-party apps.
HubSpot apps in the marketplace are pre-built, which means they tend to be generic and not customized to your business' unique needs and processes. While more popular applications such as Google Ads, Zoom, or LinkedIn work just fine out of the box, if you're looking for integrations for more complicated programs like QuickBooks or Sage Intacct, you'll most likely need something more robust and customized to your business.
When to Use Custom HubSpot Integrations
Not every integration you need will be on the HubSpot Marketplace. And even if there is an app for you there, it may not serve the right purposes for your business. At this point, you'll want to look for a custom integration.
Custom integrations are built by third-party vendors and are unique to each business. While more expensive than a generic, out-of-the-box integration, these custom integrations are tailor-built to your business' specific needs. Further, they can alleviate the inherent tension arising from the different goals and objectives of marketing, sales, service, and accounting.
The Benefits of Custom HubSpot Integrations
Each team in your business has different goals they're seeking to accomplish. For marketing, they're looking to track the ROI of their marketing campaigns. For sales, it's about getting out more quotes and closing more deals. For service, it's about customer retention and happiness. And for accounting, it's about closing books and getting paid.
While these aren't inherently in competition with each other, anyone in an actual work environment knows how quickly tensions arise.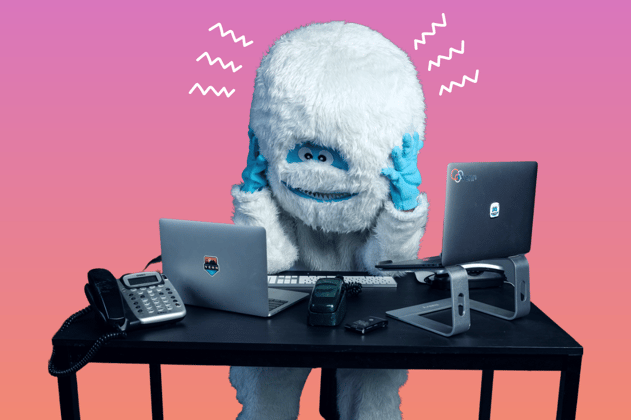 Marketing can't get their budgets approved because there's not enough evidence that what they're doing is working. The sales team finds itself immersed in marketing while also getting a flood of emails from their co-workers in accounting, who wonder why the deal they "closed" hasn't been paid yet. Customer service feels like they're holding the bag because the support they offer customers isn't what was sold to them by sales. And while accounting would prefer automated integrations to make complete the quote-to-cash pipeline, they absolutely don't want anyone from sales digging around in their data.
These are the inherent concerns of integrations. While they eliminate manual processes and save time, is the data gated adequately so that only the right people can access pertinent company information?
When you use custom integrations from the right provider, you enjoy all the benefits of a connected ecosystem, without the liability of unfettered access to sensitive data and processes.
Venn Technology: Bridging the Gap Between HubSpot and Your Lead-to-Cash Systems
If you love HubSpot as much as we do, but also need a little help with its limitations, Venn Technology is here to help. We specialize in custom integrations to and from HubSpot to connect your CRM precisely the way you like it to your other sales, quoting, and accounting software. With our help, you can ensure the right members of your team have access to the right data while easing the inherent tension that comes between the various members of each.
Our integrations ease friction within your workforce by enabling marketing, sales, service, and accounting to work together toward a mutual goal.
Imagine a workforce where marketing gets fed back information from Salesforce and Sage Intacct about what specific marketing activities they implemented that led to new streams of revenue for your business. Imagine how relieved your service team would be to have a record of all the communications between their sales rep and their new customer automatically transferred from HubSpot to their ticketing system. Even better, imagine if your sales team could track which of their "closed" deals had actually paid and could hunt down the payment for accounting!
Simply put, if you need one of your business software solutions to talk to another one, custom integrations can make it happen. At Venn Technology, we haven't encountered a software need we couldn't integrate. We welcome the challenge of getting your whole team working cohesively by enabling their software solutions to work for one another rather than in spite of each other.
What integrations can we build for you?