HubSpot Integrations: Connecting Sage Intacct to HubSpot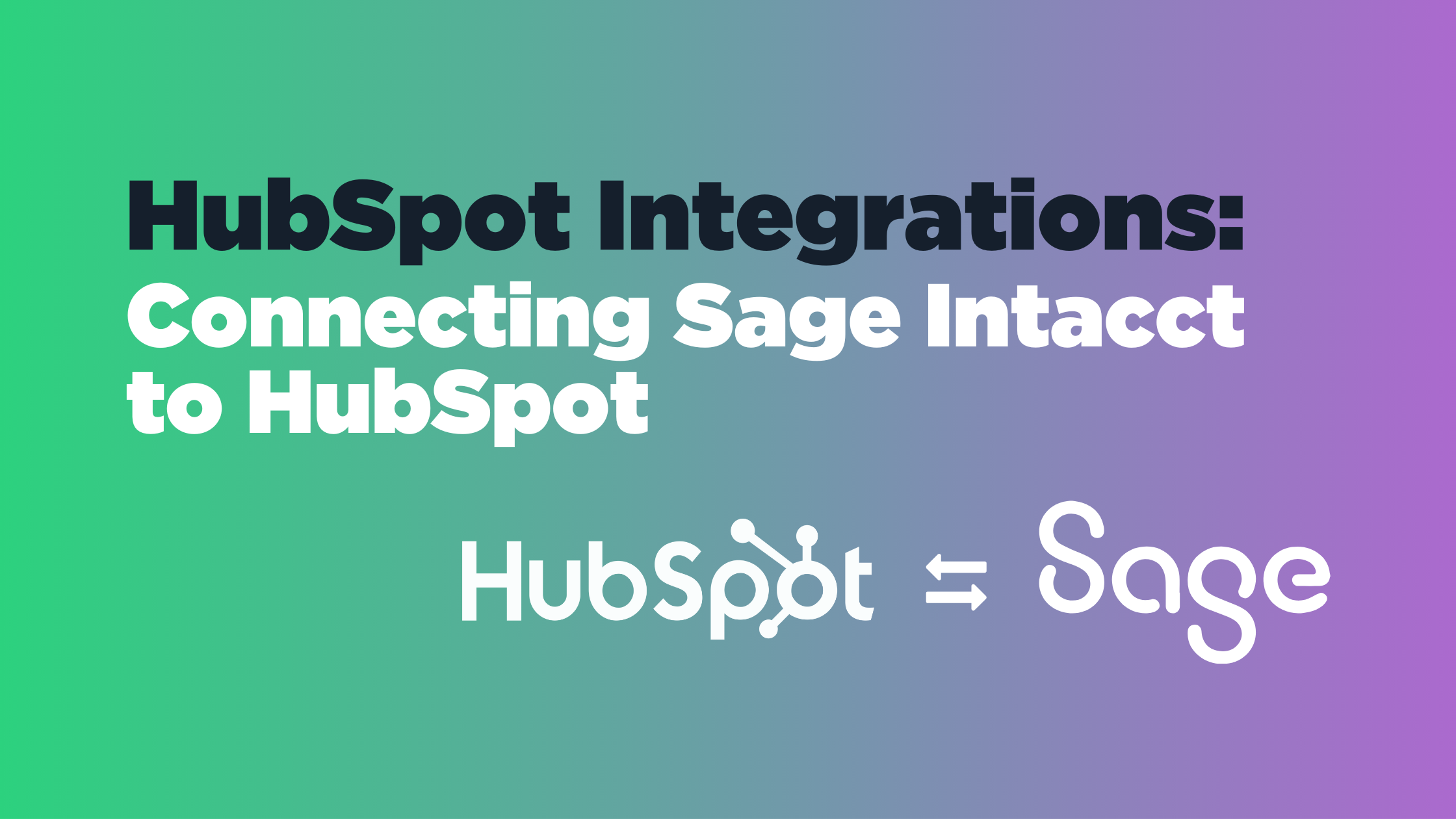 Businesses looking to unleash the full potential of their sales and marketing teams use HubSpot as their go-to CRM. With its bevy of campaign implementation and tracking solutions, HubSpot is an incredible platform for salespeople and marketers alike.
But what about the other half of your lead-to-cash pipeline? Once your marketing efforts have brought in leads and your sales team has closed the deal, what about exporting that data to your accounting software?
As any accountant will tell you, it's one thing to get a purchase order signed, and another to finally receive payment for it. To get your HubSpot sales activities synced and on the same page as the software accounts payable is using, you'll need a custom integration.
The Need for HubSpot Accounting Integrations
One of the difficulties in integrating HubSpot with your accounting software is that no simple, out-of-the-box integrations exist. And, there's a good reason for this.
When it comes to accounting, every business has its own custom workflows. As such, no integration is going to support your specific practices and procedures natively. There's just too many variables that need to be accounted for.
Whether that's in customer data like billing and shipping, specific invoicing details, transactional items, and even timekeeping, each business will have its own workflows for connecting sales activities to accounting invoices.
This equates to a lot of details. And, let's face it, your salespeople aren't the most detail-oriented members of your team. If your sales team is concerned with selling the forest, your accountants are concerned with keeping track of the trees.
Without a proper integration, your accounting personnel are going to be constantly hunting down customer data from their sales reps who would much rather be onto their next opportunity than stuck filling in the details on their last deal.
Sage Intacct and Sage 100 Integrations for HubSpot
At the end of the month, what your accounting team is most concerned with is closing their books. But with inadequate information coming from your CRM, they're going to be frustrated with their coworkers in sales, chasing down the information they're looking for.
Simply put, the quicker accounting can get ahold of the invoices from sales, the quicker they can close their books. That's where integrations come in.
But a HubSpot to Sage Intacct integration doesn't just make life easier on your accountants, it helps your sales and service teams using HubSpot as well.
For example, as Sage updates HubSpot with inventory status, sales team members know what exactly is available to sell. And for already completed orders, your Sage integration can tell your service teams the shipping status of their customers' purchase orders, among other order details.
HubSpot to Sage Intacct Integrations from Venn Technology
If you're ready to help your accounting team close their books faster by getting them the right data they need from HubSpot, look no further than your friends at Venn Technology.
We make custom integrations that are built for your business specifically. We take the time to learn about what your marketing, sales, service, and accounting teams need, and build workflows that correspond with your business needs.
Let's help you get the most out of the great software you're already using by building custom integrations that get your sales and accounting teams working together to get deals AND books closed faster. Schedule a consultation with us and take the first step to optimizing all your business' software.