Why use iPaaS Software to integrate business apps?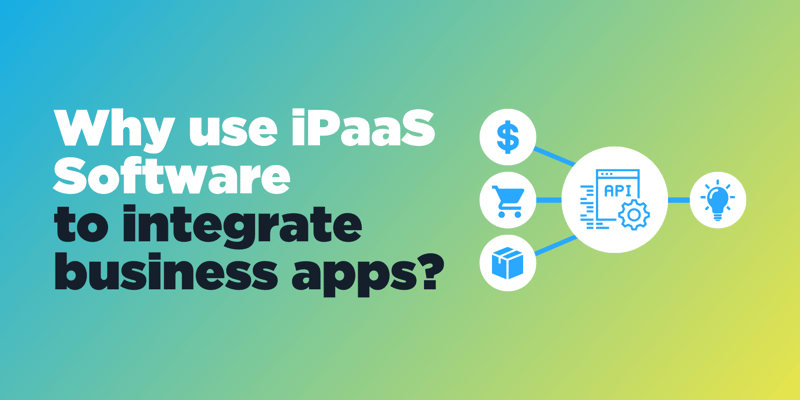 What is iPaaS?
iPaaS (Integration Platform as a Service) software is a suite of cloud-based platforms that enable developers to integrate data and automate processes between one or more systems.
Growing organizations often seek out iPaaS solutions to close gaps in their data. This helps in eliminating error-prone, manual processes so teams can receive a more accurate visibility of business-wide performance. iPaaS software providers like Workato, Jitterbit, and Tray.io exist to help users customize and extend integrations across multiple cloud-based or on-premise applications.
Brief history of iPaaS
If you're here to learn about iPaaS, then you might also be familiar with the term SaaS (Software as a Service). SaaS platforms back data to the cloud like Salesforce CRM or Acumatica ERP. Since not every cloud application seeks to provide an all-in-one solution, businesses often adopt multiple systems to cover the needs of different departments.
According to HubSpot, the first iPaaS came into play in 2008 by a software company called Boomi. With the rise of cloud services, came the need for data integration between siloed SaaS applications.

Integration platforms or middleware are commonly characterized as the "glue" that connects different software platforms and devices together.
Today, a majority of cloud platforms offer open APIs (Application Programming Interface) to provide set rules in code for seamlessly connecting other apps. Integration platforms help companies of all sizes, especially small to medium-sized businesses who have outgrown their standard, built-in integrations provided natively within each of the various cloud applications.
iPaaS Benefits

Integrating core applications has become a necessity for many businesses adopting a best of breed approach to their technology stack. Here are a few benefits to using an iPaaS to connect systems:
Align Teams
No matter the size of the company, every department has different requirements when it comes to the software they need to perform their job. If you're a small to medium-sized business, it's important to take advantage of integrations between systems now to stay on top of growth and change internally/externally to the organization. When the data is in sync, teams are in sync.
Ease of organizing data
iPaaS software, or middleware tools, offer no-code/low-code functionality that makes extending integrations across multiple applications easier and more timely for the everyday business user. This also reduces the dependency on IT teams, freeing them to focus on higher value-added projects or tasks. By automating workflows and processes, businesses can also reduce human error and while receiving real-time, accurate analytics of business performance.
Customizable to fit unique processes
Out-of-the-box SaaS apps can't do it all, and standard/packaged integrations only provide a set one-way flow of data. iPaaS software gets systems with different objects and naming conventions on the same page. That way, every specific and complex business process is aligned with the technology.
Robust security and error-handling mechanisms
Many middleware platforms have built-in functionality to alert users when an integration isn't working properly and where the problem occurred. They also typically provide a secure connection between systems using network security protocol and additional user authentication capabilities.
iPaaS Considerations

Depending on the circumstances of your organization, there are some things to consider before using iPaaS software for integrations:
Cost and Subscriptions
Most iPaaS and middleware providers require an annual subscription fee in order to continue using their platform. As long as your organization has integration needs, you'll have ongoing costs to use the features from the platform.
Choosing the right iPaaS provider
Most iPaaS solutions cover a variety of integration needs for cloud-based applications, but for companies with more specific requirements and on-premise resources, it can get tricky choosing the right provider. If your organization needs a more customized solution, there are other integration alternatives out there.
When rightsizing an integration solution for your organization, it's important to:
1. Take inventory of the amount of apps you need to integrate and consider any other integrations/enhancements that might occur in the future.
2. Put less emphasis on technology and consider how the changes to technology will affect teams and their processes
3. Verify if your systems have governor limits or place limits on the number of API calls you can make in a given time period.
Other integration alternatives
It's important for systems to work together so teams can cut out error-prone, time-wasting manual processes. Here are some other options if iPaaS/middleware isn't the right fit:
Packaged
A packaged or pre-built integration is one that many cloud-based applications have today. Large platforms like Salesforce, HubSpot, and Sage Intacct have thousands of packaged integrations on their website.
They can be quick to implement with little to no technical resources and are more affordable than other methods. The drawback is that they're confined to the functionality provided by the developer, meaning you don't get to pick and choose where data will flow.
Custom Code
Custom Code integrations work as long as the APIs for the application are supported. They can be customized to fit exact specifications, but they often take time to implement, need to be maintained, and are harder to scale. This option is best for medium to large organizations with onsite developers who are able to fix and enhance the integration when needed.
Robotics Process Automation (RPA)
With RPA (Robotics Process Automation), a bot works through the user interface instead of the API. It's customizable like iPaaS/middleware, but is much faster than writing your own code. In order to maintain the integration with RPA, a developer will have to continue updating the bot to make changes, but typically this method won't disrupt any workflows in motion.
Learn more about integrations. Download our 23-page guide:
Our Takeaway
iPaaS software makes it easier to connect data between cloud-based applications. The upside to most integration platforms or middleware is the ease of building out automated workflows using little to no code. Additionally, there are often built-in error-handling mechanisms and standard security features. All things aside, it's important to perform a deep evaluation of the people, processes, and technology of your organization before deciding which integration solution to go with.
Not sure where to begin? We're here to help.