Sage Intacct Salesforce Integration: Can you send data without a connector?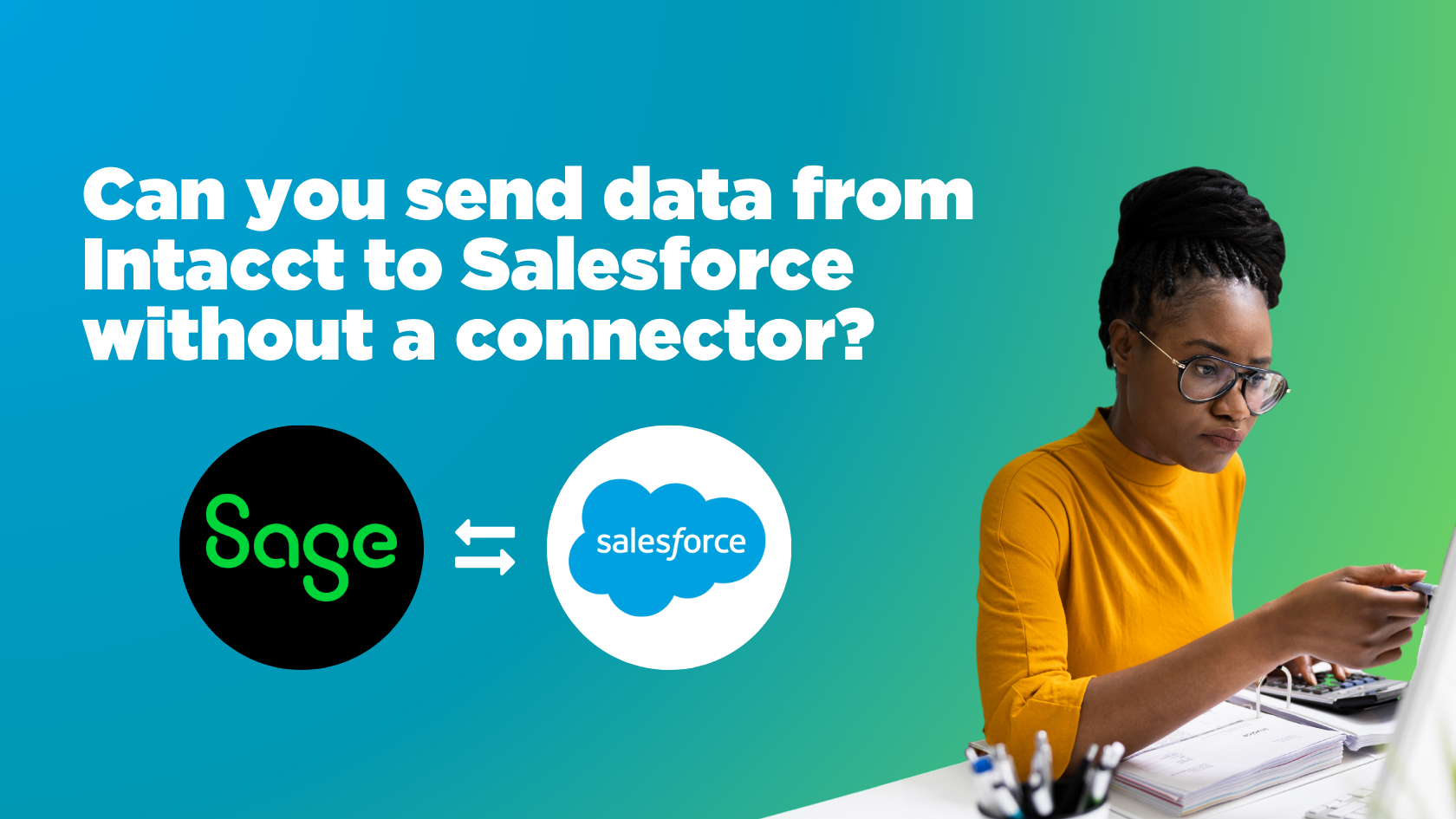 If your best-of-breed systems like Sage Intacct and Salesforce aren't integrated, your team is likely operating in silos—manually keying data from one platform to another. That's pretty time-consuming and often stressful.
Can you send data from Sage Intacct to Salesforce without a connector?
No, Sage Intacct and Salesforce are standalone platforms. But, both do provide an open Application Programming Interface (most commonly abbreviated as API). This allows users to build connectors and set up workflows between multiple systems.
You will need a connector or integration to send data from Sage Intacct to Salesforce. Let's explore the different options out there.
What data can you send with a standard Sage Intacct Salesforce integration?
If you didn't know, Sage has an integration for Salesforce that provides a few standard workflows for its users. The integration, also known as the Advanced CRM Connector, has existed for many years. It does require an additional setup fee and works with all Salesforce Editions, CPQ, and Nonprofit Success Pack.
The integration supports syncing of master or dimensional data such as...
• Customers
• Departments
• Items
Additionally, it will facilitate several transactional workflows like...
• Order-to-cash
• Contracts & Subscriptions
• Project Tracking
• Nonprofit Fundraising
• General Ledger (GL)
Invoices are generated inside of Intacct, and the integration writes records back to Salesforce. When payments come in, it also updates those records in Salesforce.
If you're planning to give the integration a try, we recommend ensuring that your Salesforce environment has a standard configuration—using Opportunities, Opportunity Products, and/or Contracts for the Order Entry and Contract workflows. If that is not the case for you, a custom integration is likely your next best option.
When are custom Sage Intacct integrations needed?
Every organization has a set of unique processes. And, since Salesforce is highly configurable, it's not uncommon for environments to be customized to meet very specific business needs.
For users wanting to sync data to and from Salesforce for their Accounts Payable (AP), Purchasing, and Time & Expense modules in Sage Intacct, a custom integration can accommodate these requirements.
Custom integrations are designed to meet the specific needs of an organization. They are ideal for businesses that have unique workflows and processes that cannot be accommodated by standard configurations. With a custom integration, you can ensure that your Salesforce and Sage Intacct systems work seamlessly together, allowing you to streamline your operations and improve your overall efficiency.
However, it is important to note that custom integrations can be more expensive than standard integrations. The cost will depend on the complexity of your requirements and the amount of customization needed. It is important to work with a reputable integration provider who can provide you with a detailed quote and help you understand the costs involved.

In addition to cost, it is also important to consider the timeline for a custom integration. These integrations can take longer to develop and implement than standard integrations, so it is important to plan accordingly. You will need to work closely with your integration provider to ensure that the project stays on track and that any issues are addressed promptly.
Overall, custom integrations can be a great option for businesses that need to tailor their Salesforce and Sage Intacct systems to meet their unique needs. With the right integration provider and a clear understanding of the costs and timeline involved, you can create a seamless integration that will help you streamline your operations and improve your bottom line.
A common instance that leads many organizations to need a custom integration is transaction volume. If you're processing hundreds or thousands of transactions, it probably isn't the best use of your team's time to manually sync every transaction to Salesforce. Instead, this process can be full-automated with a custom solution.
Sage Intacct Salesforce Integrations from Venn Technology
Venn Technology is a two-time award-winning Sage Intacct Marketplace Partner helping midsize businesses and nonprofits integrate their core apps to Sage Intacct. We're also well-versed in the Salesforce space, providing CRM implementation services since 2015.
To meet more custom needs, we use a low-code/no-code middleware tool called Workato to help us build our integrations. Compared to other integration methods, a middleware platform is more cost-effective and allows our consultants to implement connectors faster. That's a win for everyone.
We tailor integrations to our clients' unique processes every day. Book time to meet with us and we'll explore ways we can help.