HubSpot Integrations: HubSpot & Shopify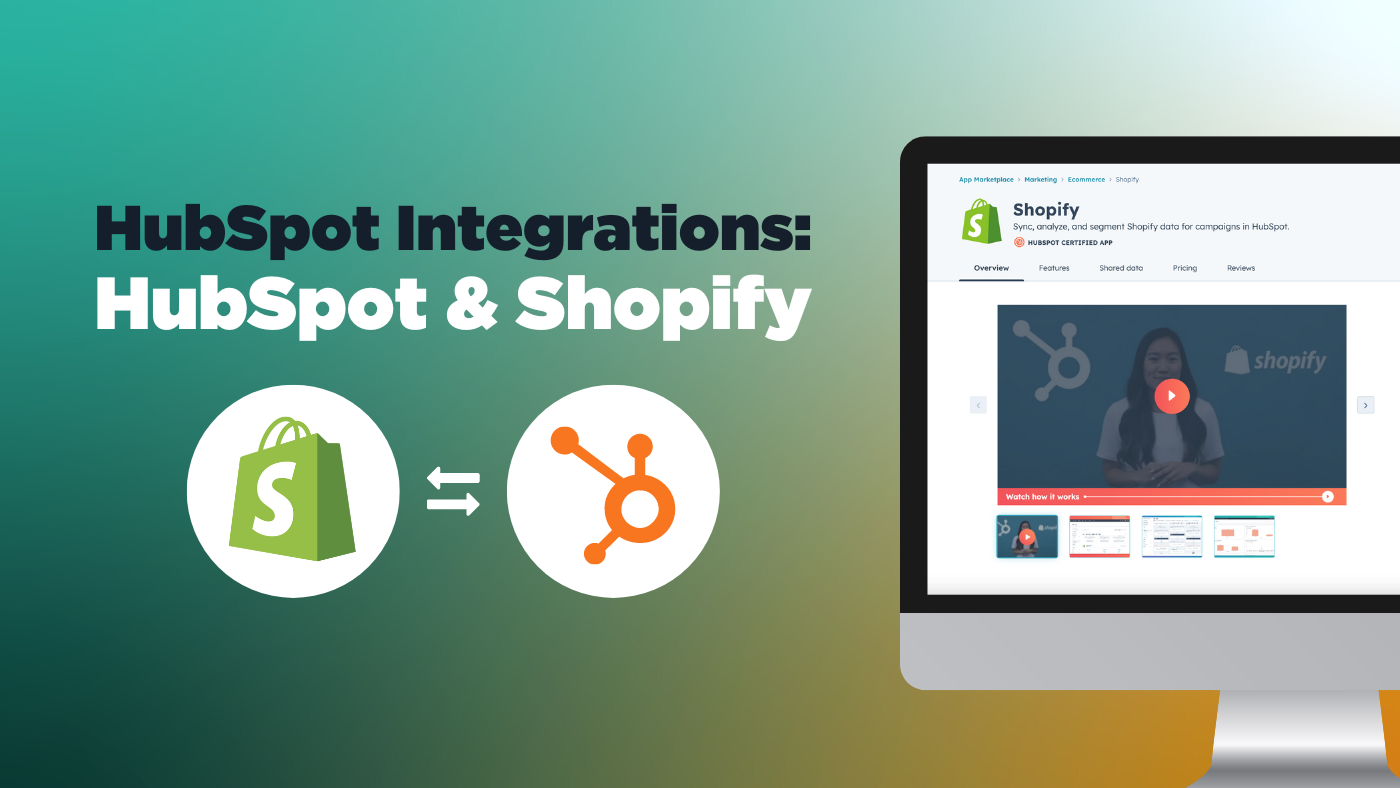 If you're using HubSpot to market your business, you're likely using Shopify for ecommerce. Shopify makes managing your online store a breeze. In fact, Shopify is HubSpot's highest recommended ecommerce solution to use on their platform.
In order to get the most out of both HubSpot and Shopify, you're going to need an integration so that your marketing, sales, and service are aligned.
Does HubSpot Integrate With Shopify?
Yes. Several Shopify integrations are available on the HubSpot marketplace, including one built by HubSpot.
Integrations available on the HubSpot marketplace are standard data synchronization tools meant for use by anyone using HubSpot and Shopify. As such, they tend to be limited in application.
For example, while there are many standard Shopify integrations for HubSpot, they tend to only sync data one way. This means your integration can share information from Shopify to HubSpot, but can't sync data from HubSpot back to Shopify.
So, if your ecommerce setup is very limited and simple, the standard integration may provide you with enough. However, if you need to sync other bits of data like discount codes, refunds, deferred payments, etc., you're going to need a custom integration built for you.
Building a Custom HubSpot Integration with Shopify
For the many things HubSpot is, there's one thing it's not – an ERP. As such, all the data you want to collect and share within HubSpot might not be there. This is where custom integrations come in.
With a custom HubSpot integration, you can go beyond the simple data transfer of customers, orders, and products in Shopify to contacts, deals, and products in HubSpot.
Here is some of the other crucial Shopify data you can share to HubSpot with a custom integration:
Non-standard payments (including installments and deferred billing)
Refunds and payment types
Coupons
Product variants
Inventory levels and warehouse status
And more!
Other Benefits of a Custom HubSpot Integration
Another benefit of custom integrations is in the scale of data synced between two programs. As mentioned previously, the standard Shopify integration for HubSpot is limited to the type of data it syncs and also the direction that data goes.
Custom integrations allow you to decide how much data is shared and what data takes priority. For example, if you don't want transactions in Shopify to modify contact records in HubSpot, you can easily prioritize HubSpot's data over Shopify (and vice versa).
Connecting Your HubSpot & Shopify Integrations to Other Apps
If you're at a place where you need a custom integration for HubSpot and Shopify, it's also likely you need the data from your CRM and ecommerce solutions to sync with other apps as well.
The beauty of custom integrations is that you're not limited to a one-to-one sync. If you need your marketing data from HubSpot and your ecommerce data from Salesforce synced with your accounting software, this can easily be done with a custom integration.
That's because custom integrations are uniquely built for your business in particular. That way, you don't have to change the operations that work for you just to fit the standard processes that another software wants you to take.
Custom Integrations for HubSpot and Salesforce from Venn Technology
If you're ready to seamlessly integrate data from HubSpot, Salesforce, and other software solutions in a way that's conducive to your business procedures, look no further than Venn Technology.
At Venn Technology, we welcome the challenge of integrations and love building custom solutions that fit the processes that work for your business in particular. Ready to see if a custom integration is the solution you've been looking for? Schedule a consultation call today.