HubSpot Integrations: Jira and Your CRM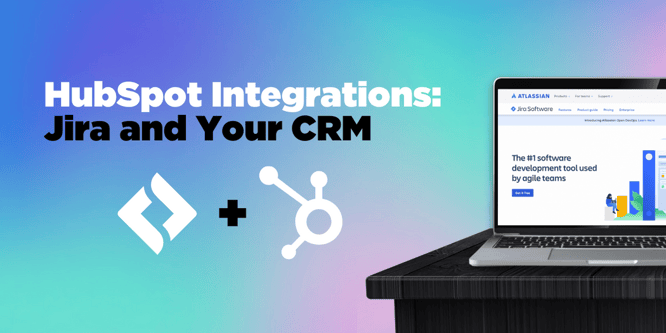 Congratulations, you've done it! After successful marketing and sales efforts, you've converted a website visitor from a lead to a customer. From start to finish, you can track all the steps and conversations that took place along the way in your HubSpot CRM.
But now here comes the handoff. That product or service your customer ordered has been sent to the project management team to build and implement. And if you're like many businesses, you're using Jira to manage these projects after the sale.
Read More – HubSpot Integrations: Where to Find Them & When to Use Custom-Built Solutions
The Standard HubSpot to Jira Integration
As with many popular business software solutions, you can easily find an out-of-the-box integration from the HubSpot Marketplace.
The problem with many of these integrations, however, is in their limitations. Because the standard HubSpot-to-Jira integration is made for use by every HubSpot and Jira user, it lacks the capability to automate many non-standard processes that are unique to your business. It's a major reason why many of these standard integrations have such poor reviews in the marketplace.
Another limitation to this integration is that it's only made to sync information between HubSpot's ServiceHub and Jira's Issues functionality. Essentially, it's only useful for your Service team.
So, what if you want to go further than mere support tickets? What if you need more data synced than what's provided in the standard integration? In that case, you need a custom integration.
Custom HubSpot to Jira Integrations

A custom integration is a one-of-kind tool unique to your business and your business alone. It takes into account the way your teams work best and automates those processes.
Building a custom integration for Jira to your CRM is perfect if you want to go beyond simply syncing issues with HubSpot support tickets. With custom integrations, you can implement two-way data syncs between virtually everything in Jira and HubSpot.
This includes:
Syncing business projects in Jira with companies in HubSpot
Tying your issues in Jira with invoices, products, line items, and deals within HubSpot
Keeping up-to-date records on product inventory between both Jira and HubSpot
Forecasting deals from HubSpot to properly estimate time allocations in Jira
And so much more!
Integrations Beyond CRM Ticketing & The Help Desk
Another benefit of custom integrations is that they're not limited to only two software solutions. For example, why not make it a three-way integration and link your accounting software to HubSpot and Jira?
With custom integrations, you're not limited to a one-to-one connection. You can integrate Jira with as many software solutions as you like.
Worried about too much data being shared between departments? Concerned that improper personnel might access or change data from another department?
With custom integrations, you can gatekeep and restrict data by personnel, department, or seniority.
Custom Jira Integrations from Venn Technology
Ready to unleash the potential of Jira for your business? Ready to get more out of HubSpot and the other software solutions you're already using?
At Venn Technology, we haven't encountered an integration request that we couldn't implement. So, no matter how you use Jira or HubSpot, we can build a custom-fit solution tailored to how your business uses its software.
Ready to get started? Schedule a call to learn more about how HubSpot and Jira can work better for you.