HubSpot Integrations: Acumatica & HubSpot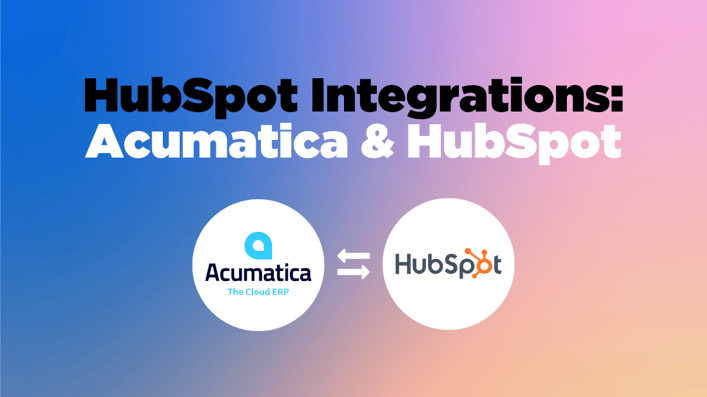 Your marketing team loves HubSpot. It's the perfect CRM for managing your website's outreach to engage website visitors and nurture them into leads your sales team can convert into customers. With HubSpot, your marketing opportunities are almost limitless. But for all that HubSpot is, there's one thing it's not – an ERP.
That's why many businesses look to Acumatica for the business management side of their operations. Its cloud-based tools are a great way to handle continuity of operations in a variety of industries.
But when it comes to getting the most out of your CRM and ERP, these two ecosystems work best when they're interconnected. That's where integrations come in.
Acumatica CRM Integrations
For those using HubSpot, the first place you'd likely go to find an integration is in the HubSpot Marketplace. Here, you can find thousands of (usually free) integrations to link various software solutions with HubSpot.
But, while many of these integrations are useful, they're also very limited. For example, HubSpot has built an Acumatica integration that is free on the Marketplace. However, it is only able to sync CRM data between HubSpot and Acumatica. If you're already using HubSpot as your CRM of choice, then using Acumatica as a CRM will feel a little redundant.
For those wanting to share business operations data with marketing and sales tools in HubSpot, this simply won't cut it.
HubSpot Integrations and Your Acumatica ERP
For those needing more than just a CRM-to-CRM data sync, you need a custom Acumatica integration for HubSpot.
With a custom-built integration, you can go beyond simple CRM properties and sync payment, sales, and inventory data between HubSpot and Acumatica.
A custom integration runs two-way HubSpot and Acumatica syncs between:
• Contacts
• Companies and Customers
• Deals, Line Items, and Products with Sales Invoices, Invoice Details, and Stock Items
• Payments, Applications, and Payment Details
This, in turn, enables your sales and marketing teams to perform their efforts within HubSpot's CRM with the most up-to-date data it receives from Acumatica.
Beyond Your CRM & ERP: Integrating Salesforce and More!
The great thing about custom integrations, however, is their scalability. For standard out-of-the-box integrations, you're limited to a one-to-one connection between two software solutions. With custom integrations, however, you can integrate as many software programs as you use and at your desired scale.
For example, what if you use HubSpot for marketing, Acumatica for business operations or project management, and Salesforce for sales? A custom integration can rapidly feed data between all three systems while keeping data visibility limited to those in your workforce who actually need to see it.
Need to add on a fourth level and sync data with your accounting software as well? With custom integrations, you can!
Custom HubSpot-to-Acumatica Integrations from Venn Technology
If you're ready to share more than just simple CRM data between HubSpot and Acumatica, then you're ready for a custom integration.
No matter how you use your software, Venn Technology can build a custom integration that syncs data between whatever and how many software solutions you use.
Schedule a call today and tell us how you want HubSpot and Acumatica to work for you.