8 Slack Automations Every Team Needs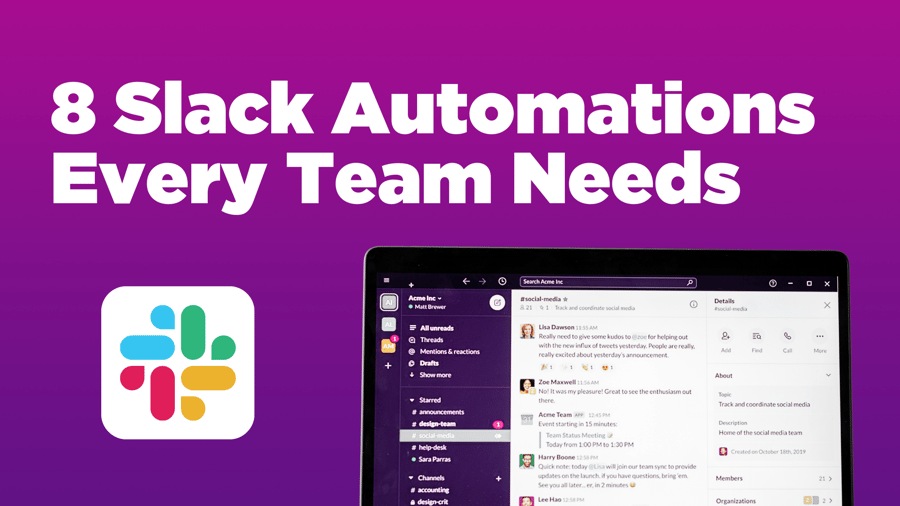 At some point or another, you've seen a commercial for a workplace communication app called Slack. If you haven't seen those ads, you will in 2022. Since Salesforce acquired the platform in July 2021, Slack will continue to shape the way teams communicate and share information across the organization—especially now that remote work is more common.
For our team, every key application we use is synced to Slack. This way, we receive accurate data in one place and everyone has access to it with a single search. Inside of Slack, we're able to set up automated workflows for certain tasks, decreasing time spent on manual processes and increasing productivity somewhere else.
In 2022, it's time to say goodbye to manual work holding your team back and look at some of the custom and pre-packaged workflows Slack has to offer. Here are 8 Slack automations every team needs.
Jump to an automation on the list:
1. Slack Recruiting Automation
2. Slack Lead Automation
3. Slack Deal Alerts Automation
4. Slack Quote to Invoice Automation
5. Slack Project Status Automation
6. Slack Time Tracking Automation
7. Slack Support Case Management
8. Slack Hue Light Automation
1. Slack Recruiting Automation
Since almost everything hit the fan in 2020, most businesses now are always hiring for open roles. When an applicant fills out an application on your website, you want to be notified about it right away. At Venn, we use a platform called Formstack to create a form on our website for each open position. Once a job seeker fills it out, their information is synced in Salesforce and pinged to a Slack channel.
In Slack, you can see the applicant's name and job application (JA) number as a new subchannel. Having their own channel helps to organize each interaction with the individual during the hiring process.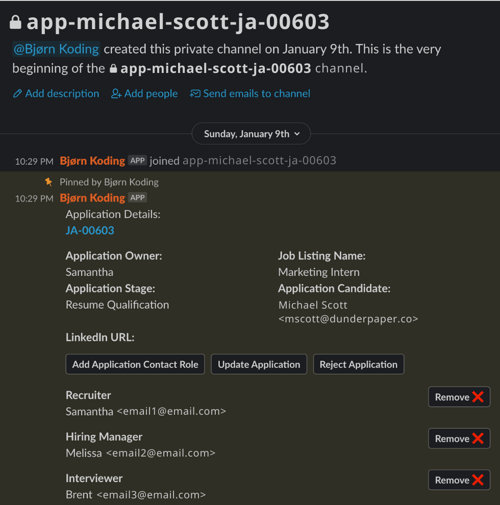 The applicant's designated channel displays information about them and those involved in the hiring process.
From the channel, recruiters can click the job application number (JA-00603) to view more application details in Salesforce. Basic information like job listing name, email, and Linkedin URL are displayed in Slack along with which team members are involved in interviews and initial outreach. If the applicant ends up not being the right fit, there's a "Reject Application" feature as well.
Bonus: Use Hubspot workflows to send automated emails as the applicant moves through the interview process. Connecting Hubspot to Slack will show what emails the applicant has received and responded to in their designated channel.
2. Slack Lead Automation
Leads, wherever they come from, are important for a growing business and you don't want to miss an opportunity to connect with them. Connecting your email to Slack is one way to receive notifications from a lead trying to get in touch with someone. We have one email dedicated to general inquiries, so once someone emails hello@venntechnology.com, they're saved as a contact in Salesforce, and a preview of their email along with attachments is sent to Slack.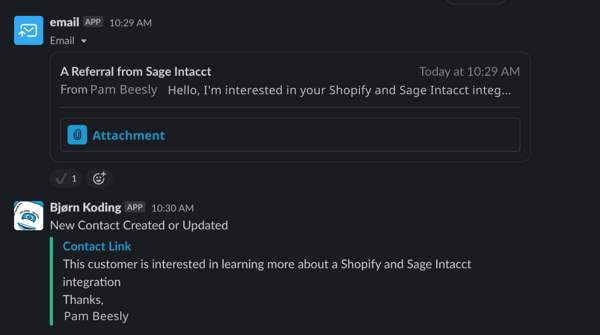 An email from a lead is sent to Slack and a contact for them is created in Salesforce.
Did you know that a team member can respond in Slack to live chats initiated on your website? We're able to do this with a Hubspot integration with Slack. Whenever someone starts a conversation with our "Bjørn Koding Bot," a team member can send replies to the chat from a Slack thread.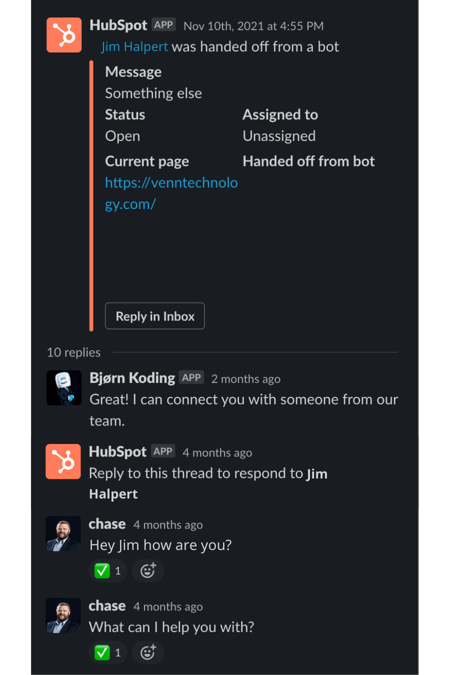 Respond to live chats on your website from a thread in Slack.
3. Slack Deal Alerts Automation
Woohoo! Your team just closed a deal with a client. For us, closing a deal means that all involved parties on a new project have signed off with an eSignature on a PandaDoc. Once this happens a project is created in Salesforce and a deal alert shows up in a channel in Slack for everyone to see details like customer name, project cost, lifetime revenue, and a date for project completion.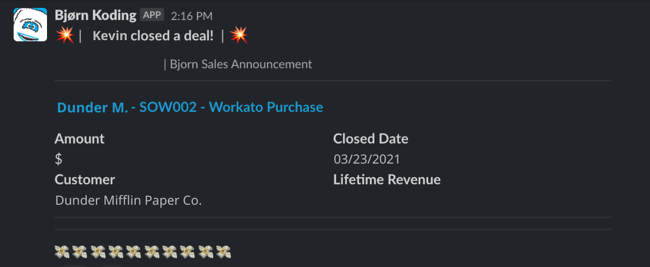 Celebrate together when a team member closes a deal.
Sometimes you might lose a deal. It happens, but everyone should have visibility on client relationships with the company. When a deal is lost, the alert will still show up in Slack so team members have access to this information in the future.
4. Slack Quote to Invoice Automation
Speaking of closing deals, the process for billing and collecting payments is arguably just as important as the initial sale. Depending on the kinds of goods and services your organization provides, you might find yourself having to manually generate invoices to collect payments. This not only creates delays in accounts receivable cycles, but it also leaves room for error, especially if you're finding yourself importing and exporting data between systems.
Our team gets notified in Slack when a sales invoice in Salesforce posts to Sage Intacct. Not only is the interaction automated, but it also gives the finance and sales teams real-time visibility to "cash in the door," or payments collected to date - a metric that's closely tracked around here.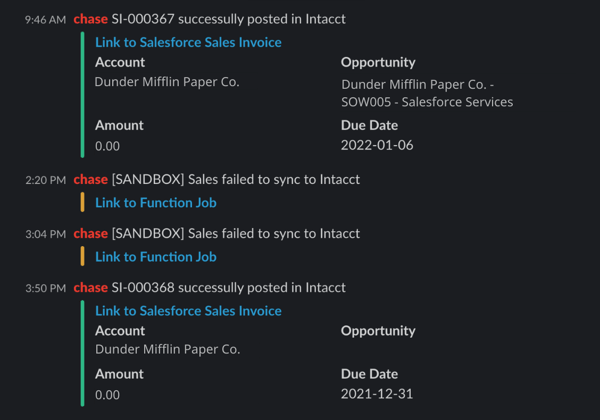 Be notified in Slack when there's an issue with syncing invoices from a CRM to the accounting system.
We've also enabled notifications to let our team know when there's an issue syncing the invoice from our CRM to the accounting system. For convenience, a link is included to the function job which is helpful for troubleshooting the errors when they occur.
5. Slack Project Status Automation
Throughout the duration of a project, we use Salesforce internally to track progress and to make sure our team is on time. With every update to a project's status in Salesforce, team members are notified in Slack. If your team has multiple projects going on, you can set up a trigger for status updates in Slack to happen only when a project is "archived" in Salesforce.

Receive updates on how many hours remaining on a project and its lifetime revenue.
Project status updates in Slack show team members customer name, project number, opportunity amount, lifetime revenue, and hours remaining. You can always add more or customize the language to fit your team.
Bonus: We use Smartsheet as a client-facing time tracking tool to notify clients project status updates as we make changes to the project timeline in Salesforce.
6. Slack Time Tracking Automation
This one is a huge time saver for every team out there that has to manually enter their time each pay period. For most, you enter in the tasks you completed on that certain day along with how many hours you spent.
Connecting your time entry platform with Slack allows you to input tasks to your timesheet from a channel. For our team, we use Google Calendar to keep track of events that happen throughout the day. A trigger sends those events to the channel & gives us the option to "Add to Timesheet." If we decide to add the event to our timesheet, another screen is displayed with a few details to confirm.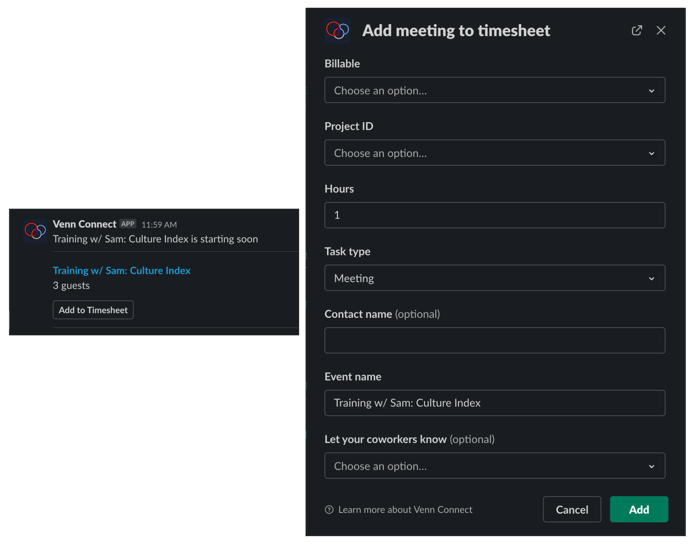 Add events from your Google Calendar directly to your timesheet.
7. Slack Support Case Management
Slack allows you and your team to complete almost every task for the day without having to leave the app. For your IT team, in particular, this is a huge bonus for managing support cases.
Back-ended with an integration to Salesforce, our team set up an entire Support System that allows our integration consultants to respond to support cases directly from Slack. We use slash commands such as "/case_update" and "/close_case" to provide feedback on a case as it's being worked on.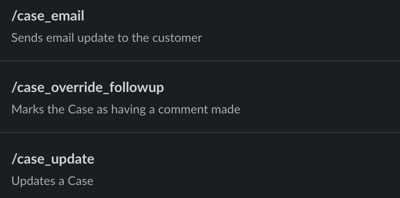 Typing in slash commands in a Slack channel will trigger an action to occur.
With assistance requests pinging to Slack, consultants can take ownership or assign a case to another team member. This eliminates concerns over support cases going unnoticed and increases response times.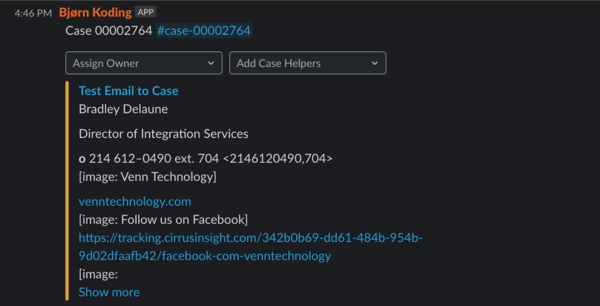 Support cases are given a unique number for easy searching in Slack. Assign team members to cases with the dropdown menu.
8. Slack Hue Light Automation
What better way to celebrate a completed project than to start a light show in the office? Okay, it doesn't have to be a huge distracting one, but it's something we enjoy in our office.
We have Philips Hue lamps on everyone's desks and they're connected to Slack. So, when a notification appears in Slack, that triggers the lights to change colors. We have colors set for Project Archived (Purple), Deal Lost (Red), and Deal Won (Green).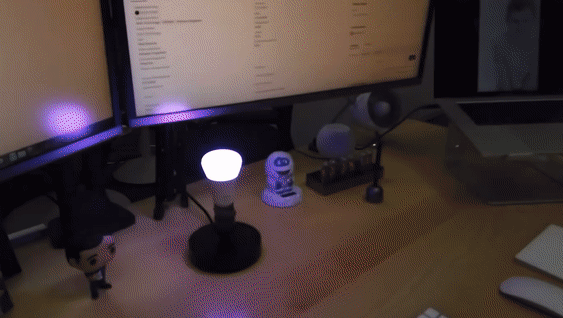 If you're interested in setting this up for your office, here's a good reference to get you started.
Hopefully, this list sparks some new ideas for you and how your team uses Slack and other core applications. We have our tech experts here at Venn to thank for setting up these automations. If you have questions or a specific scenario in mind, we're here to help.
List of Slack Resources: