5 Reasons to Integrate Sage Intacct with HubSpot CRM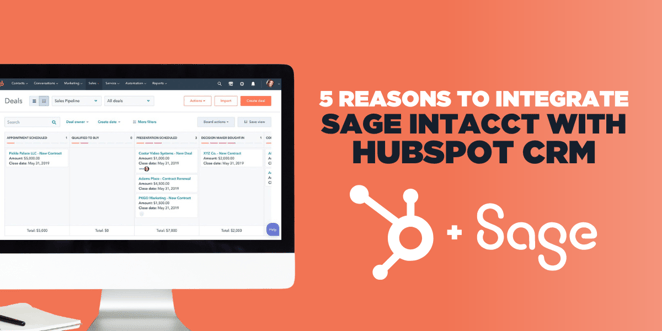 When a business purchases a brand spanking new best-of-breed solution for their team, chances are they'll realize there's some missing components. Those components are often located in other cloud-based applications, forcing the team to manually transfer data to where they need it.
The best way to streamline processes is by integrating best-of-breed applications for a more comprehensive view of how the business is performing. For many businesses, the first step to more real-time financials begins with building an integration between the finance or enterprise resource planning (ERP) and customer relationship management (CRM) systems.
In this blog, we outline five reasons to integrate Sage Intacct with HubSpot CRM so your team can spend less time flipping between systems and spreadsheets and spend more time doing what they were hired to do.
Read More: HubSpot Integrations: Connecting Sage Intacct to HubSpot
1. CRM Integrations improve customer hand-off between Sales and Accounting Teams
A major plus to this integration is whenever a deal is created in HubSpot, a sales invoice is automatically generated in Sage Intacct. Without this integration, Sales teams are tasked with relaying detailed customer information to Accounting teams to generate invoices so you can get revenue in the door faster. Now, both teams can collaborate and track purchases and payments as they happen in real-time.
For example, when a sales order is created in HubSpot, a workflow will trigger to automatically send customer data to Sage Intacct, syncing both customer master and transactional data.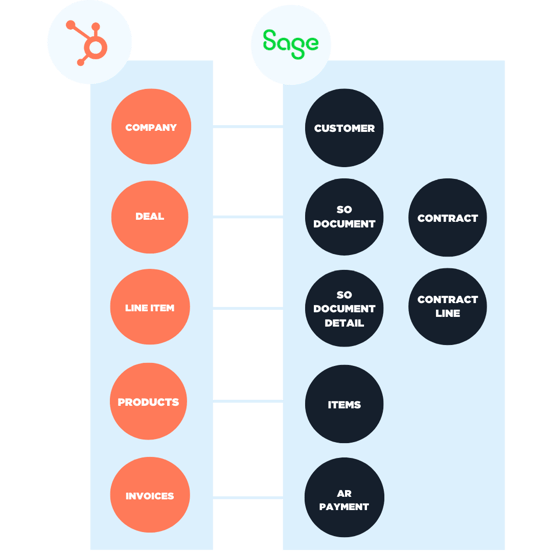 Examples of data to sync between Sage Intacct and HubSpot might include:
• Company and Customer Name
• Deals, SO Documents, and Contracts
• Products and Services
• Invoices and AR Payments
2. Keeps customer data in HubSpot and Sage in sync
It's easier to keep track of customer details when they're synced between HubSpot and Intacct. That kind of information can be used to track interactions with customers throughout the entire lifecycle of a deal—from initial contact to final close. You can even automate certain actions based on customer activity.
For instance, if a lead becomes qualified or makes a purchase, you might want to send them a welcome email along with their receipt. An automated workflow in HubSpot could also send customers reminders when they left something in their cart or recently looked at an item.
3. Gives sales teams visibility to invoices and payment statuses in HubSpot
Sales teams often rely on invoice reporting to stay informed about how much money they're bringing in. More importantly, they need an accurate record of purchases to see what payments are due from which customers. Accounting systems alone aren't designed to provide real-time insights for Sales teams. That means they have to manually pull from old invoices and search through previous statements to see which customers have paid and which still owe.
Syncing invoice information from Sage Intacct to HubSpot minimizes the Sales teams' dependence on the Accounting team to provide ad hoc reports and one-off updates. The example below shows how the customer sales invoice in Intacct syncs to the company record in HubSpot. This can be done automatically without manual intervention.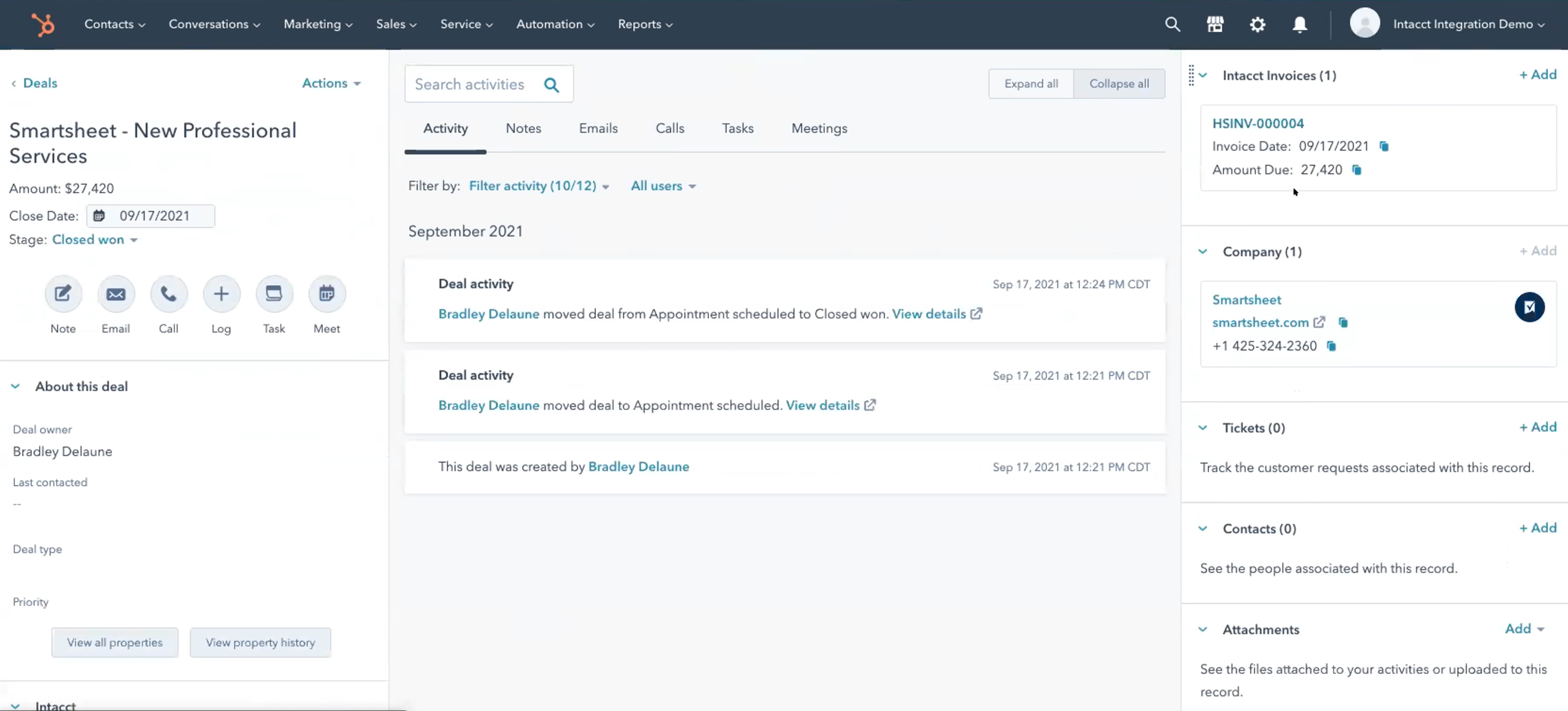 Intacct invoices sync to the company record in HubSpot.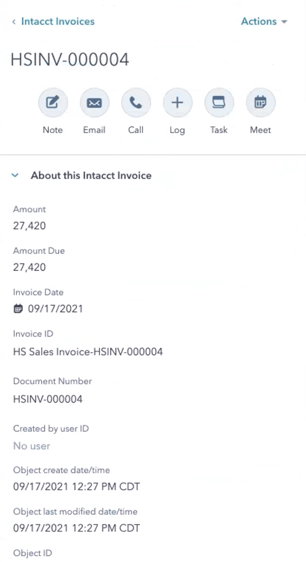 View of Intacct invoice in Hubspot.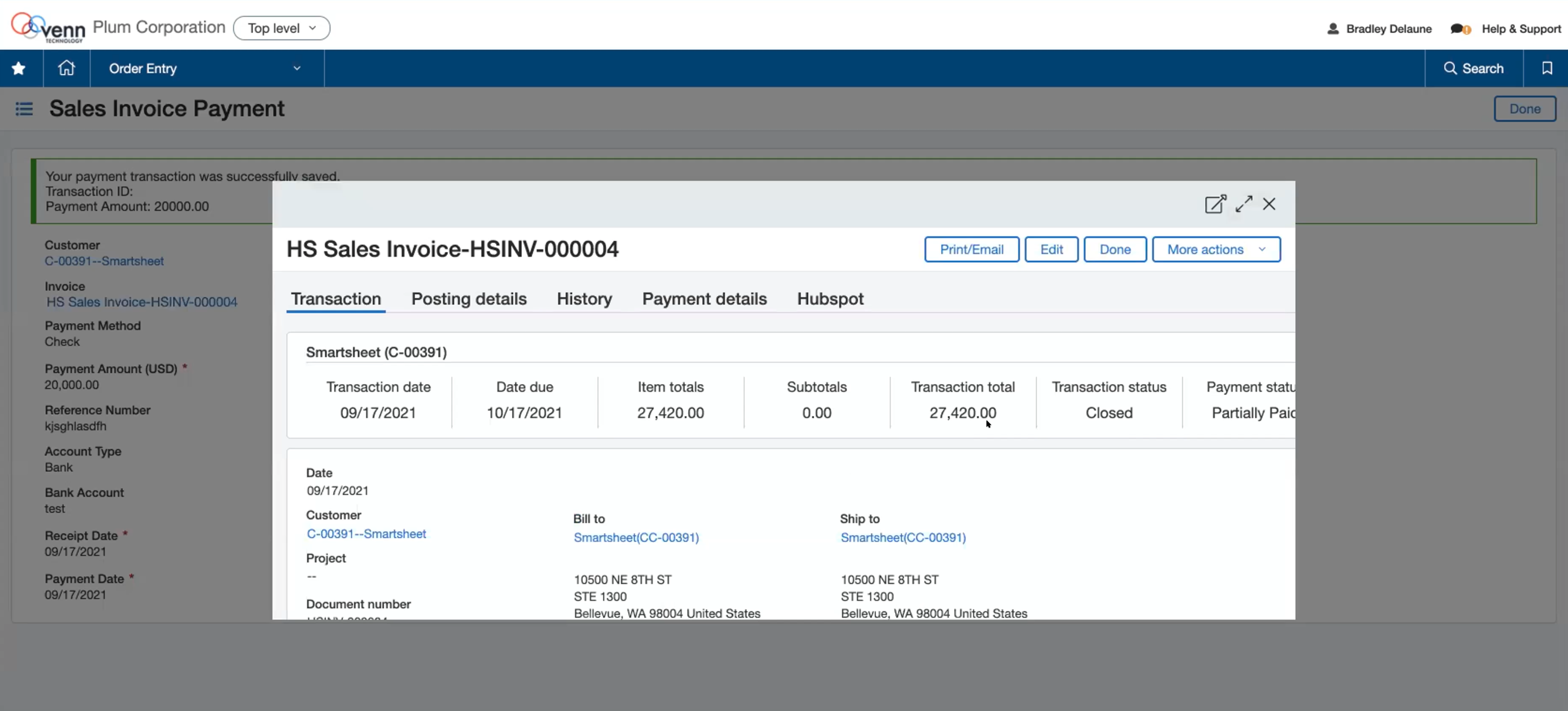 View of sales invoice in Sage Intacct.
4. Use Sage Intacct data to determine success in HubSpot
Syncing subscriptions, products, and services from HubSpot to Sage Intacct gives you an accurate account of revenue and insight into what is or is not performing well. Plus, any changes to these objects can be viewed in real-time.
Having the ability to see customer decisions at any time helps your business in the long run, especially if you're wanting to grow the business. When a product or service isn't performing well, you'll know right away and can adjust pricing strategies accordingly. Or, such information might help in identifying new markets to enter.
5. Intacct automatically generates invoices and processes payments in HubSpot
Thanks to Sage Intacct, the platform has built-in functionality to automatically generate invoices based on transaction details and then process payments based on those invoices.
For example, if you're selling a monthly subscription for virtual fitness courses, you can create an invoice for every month of the term. Then, by setting up automatic recurring billing, you can ensure that customers pay at regular intervals without having to manually enter transactions.
Read More – HubSpot Integrations: Where to Find Them & When to Use Custom Integrations
HubSpot to Sage Intacct INtegrations from Venn Technology
Interested in learning more about Sage Intacct integrations? Dive deeper into our Ultimate Guide to Sage Intacct Integrations where we discuss use cases and opportunities with Intacct integrations to other core applications.