Using Slack Workflows to Manage Customer Support Requests
Companies manage support cases differently depending on the size and bandwidth of their teams. Typically, a customer can request support in an email and someone on the team will address the issue or escalate it.
When the support team escalates a case, it requires looping in someone with more knowledge–or the subject matter expert (SME)–and briefing them with details of the case. Sometimes this results in delays due to movement along the chain of command. Not only are customers left wondering why their problems haven't been solved yet, but the service provider may be in breach of the service level agreements (SLAs), which can lead to loss in business.
If you're a user of Slack and Salesforce, there's a better way to handle customer service by case swarming. This is known as "a collaborative approach" to support case management because it provides visibility of customer help requests to all members of the team.
Why use Slack to manage support cases?
Slack is widely used by teams for its collaborative features. Our team has been a user for years because Slack helps us work smarter by eliminating the need to flip between applications and keeping our teams on the same page.
Every aspect of our business has some level of automation between our most important business applications and Slack. From deal alerts to invoice generation to event registrations and task notifications, Slack is the fastest and primary method of communication. In fact, it's so powerful we even leverage it for managing support cases we receive from hundreds of clients. So, why should you send all support cases to Slack?
• More visibility: Support case details like customer name, case number, email messages, and more are displayed in Slack and are searchable by any member of the team.
• Faster response times: Case owners can add team members to a case by assigning them or tagging the case channel in another channel in Slack. This cuts escalation time and the need for briefing case details to others.
• Better solutions: With visibility to the entire team, someone with the right expertise can assign themselves to the case and provide accurate solutions to customer issues.
• Work in one application: Slack commands allow you to view cases by priority, make updates to them, and respond directly to client emails without ever leaving the case channel.
Fun fact: Slack uses its software to support customers in logging issues and coming up with solutions amongst its 200-person Customer Experience (CE) team.
How our team utilizes Slack for support case management
Before we had Slack, all of our consultants would manually create a support case whenever a client emailed them. When we began to grow and take on more projects, this process no longer worked for us.
1. Support case is automatically created in Salesforce
At the start of a project, we provide clients with a help email they can use to contact us for support. Once they email us, a support case is created in Salesforce Service Cloud.


The email is documented and a case number is assigned along with priority levels and other identifying factors to the customer.
2. Slack channel is created with support case information from Salesforce
By using a middleware tool called Workato, we built an automated workflow between Salesforce and Slack. As the support case is recorded in Salesforce, our team receives a notification on Slack in the #someone-needs-help channel. This channel is visible to everyone on the Support team.

The #someone-needs-help channel notifies the support team when a support case has been created.
Our dedicated customer advocates can choose to assign themselves or others in the drop down below the case number (in this instance, below Case 00003289). They can also add a team member to help by clicking the "Add Case Helpers" dropdown.
Whoever is assigned to the case will be added into a separate Slack channel for that given case.
Team members assigned to the support case are added to a separate Slack channel for collaborating on a resolution.
Though this channel includes assigned team members to the case, it is searchable to anyone on our team. For example, if our team member Troy needed to share information from the case to other Venn team members in a different channel, he could tag #case-venn-00003289 in a message. Additionally, key phrases in the case are searchable by the team in Slack.
3. Updates are sent to the client via email using slash commands in Slack
To let a client know their case has been updated, the team can use slash commands to send an email from the channel. We created a /case_email command to start an email, and once a message is sent, it is recorded in the channel to show that a team member has responded to the case.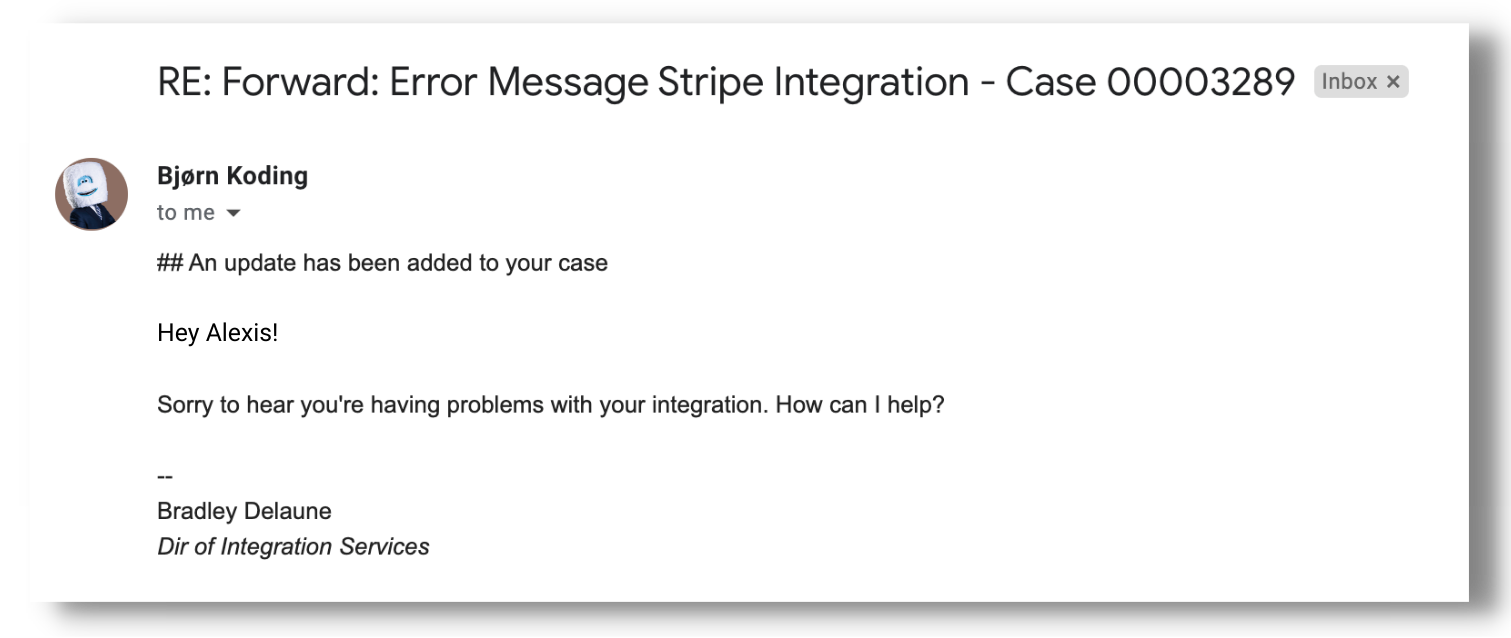 4. Support case updates made in Slack automatically update record in Salesforce
While in communication with the client, the consultant will update the case as the issue is being resolved by clicking "Update Case" in the Slack channel. A dropdown menu will give a few options to update case information so clients can receive updates. This also helps our team stay on top of tasks so the issue is resolved quickly.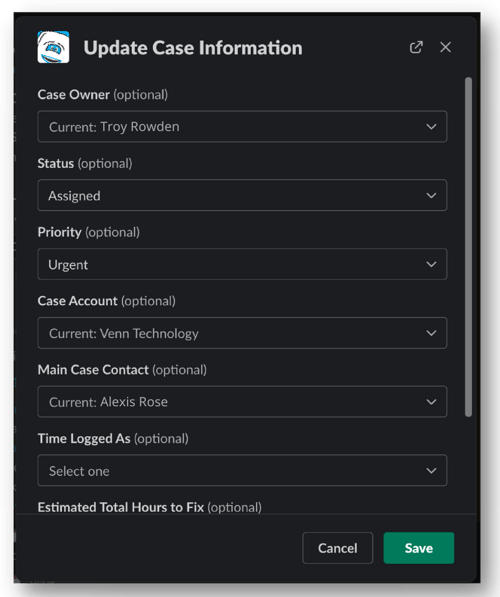 As mentioned before, Slack allows us to work on the platform without having to switch to another one. Each time a case is updated in Slack, those details are updated in Salesforce.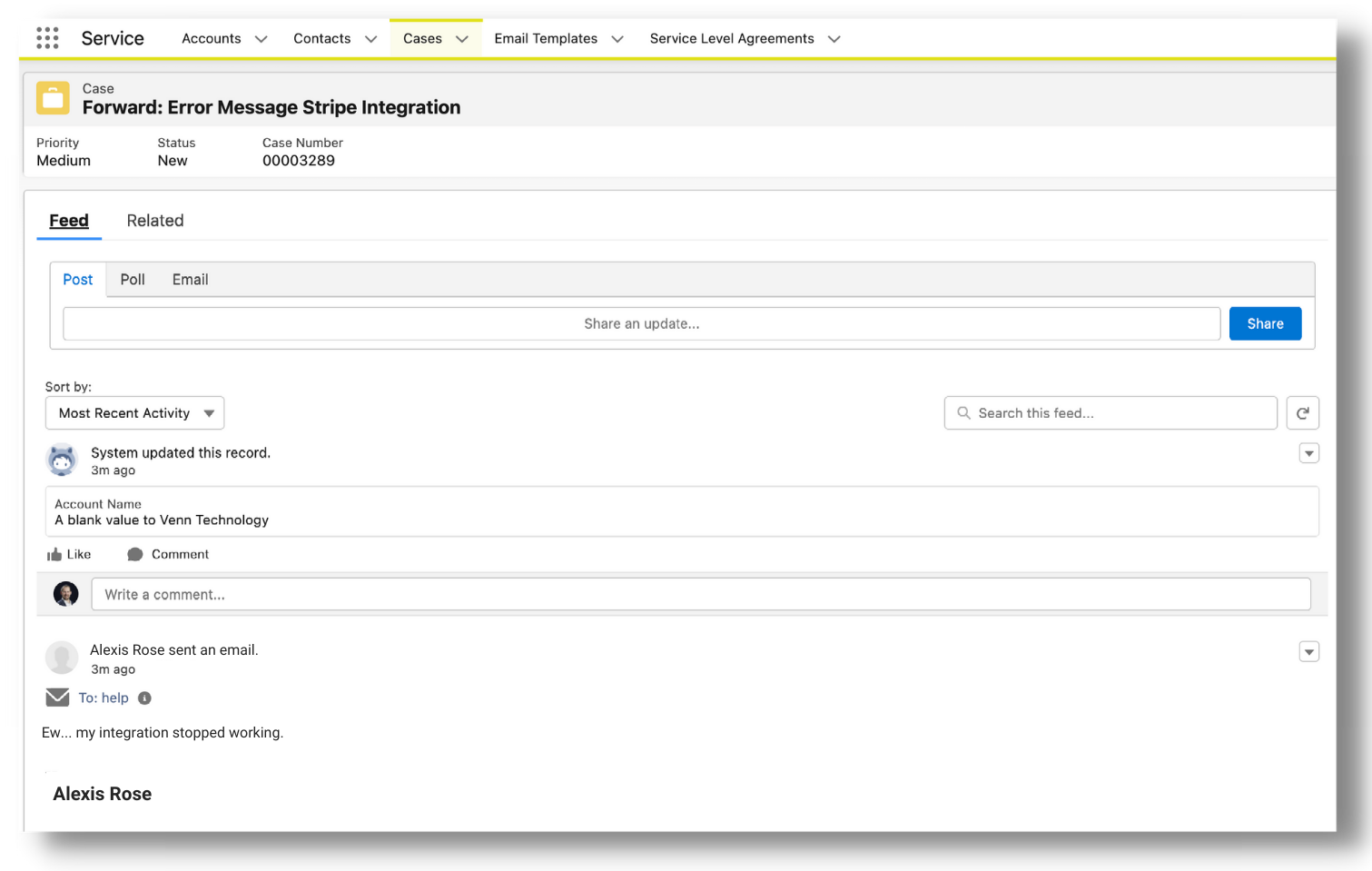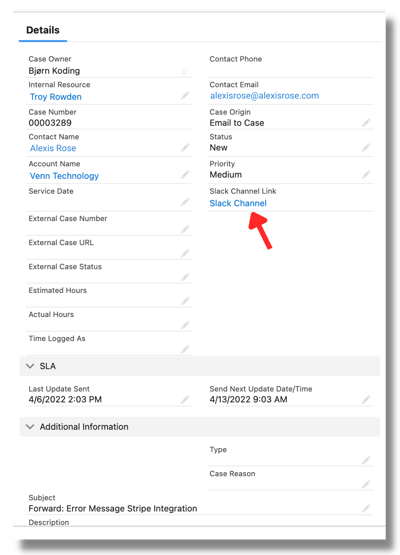 So, what happens when a support case hasn't been updated by one of our consultants? In the situation where someone on our team doesn't update a case, they receive a reminder from Chief Yeti in Charge, Bjørn Koding…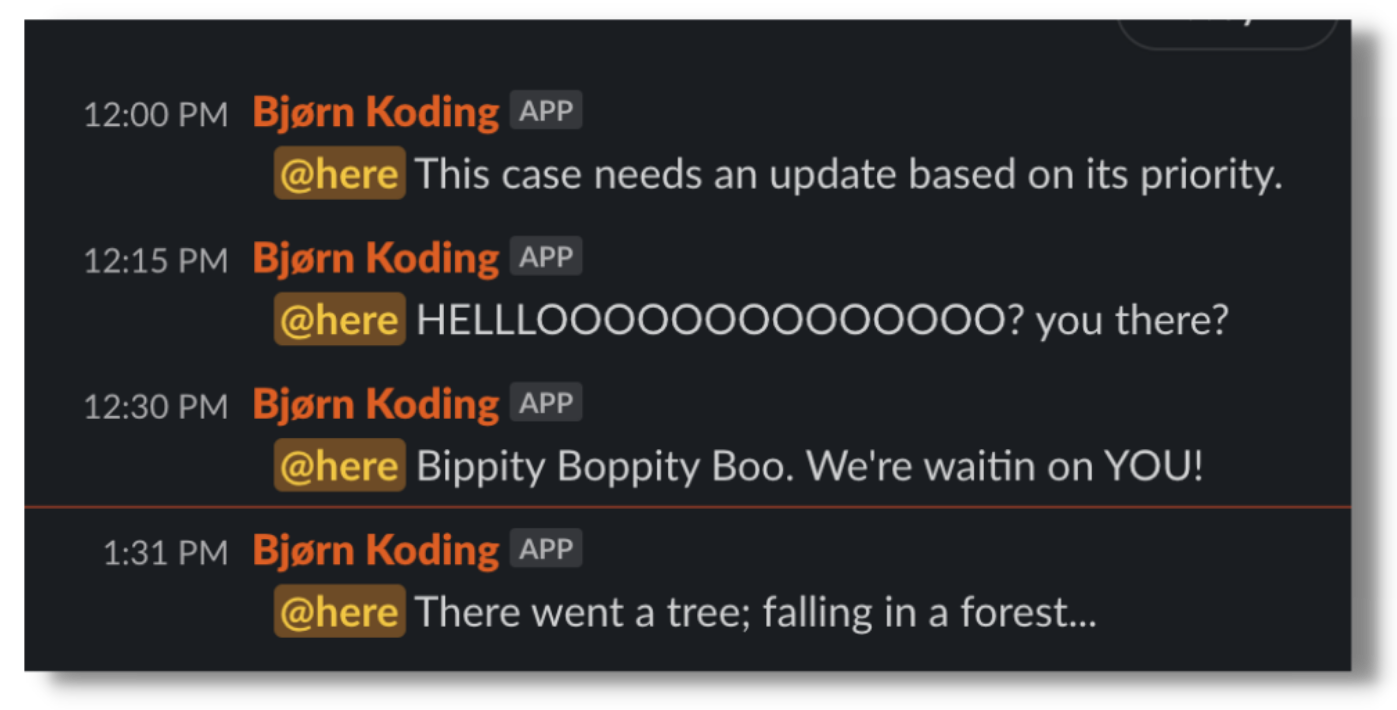 As many Slack users do, we like to have fun when we can on the app. Even though it doesn't happen regularly, team members assigned to the case receive automated reminders until they make an update.
Since we don't want to flood the channel with these reminders, burying the most pertinent information about the support case, we now have them set to delete the most recent reminder and replace it with a new one. Anyone in the channel will still receive a new notification every time a reminder is sent, and the amount of times one was sent is displayed below the new message.

When your support team is on fire with completing support requests, your clients will be feeling like:
Want to learn more ways to leverage Slack for your organization? Check out our blog on 8 Slack Automations Every Team Needs.