Is there a place for AI in Sales?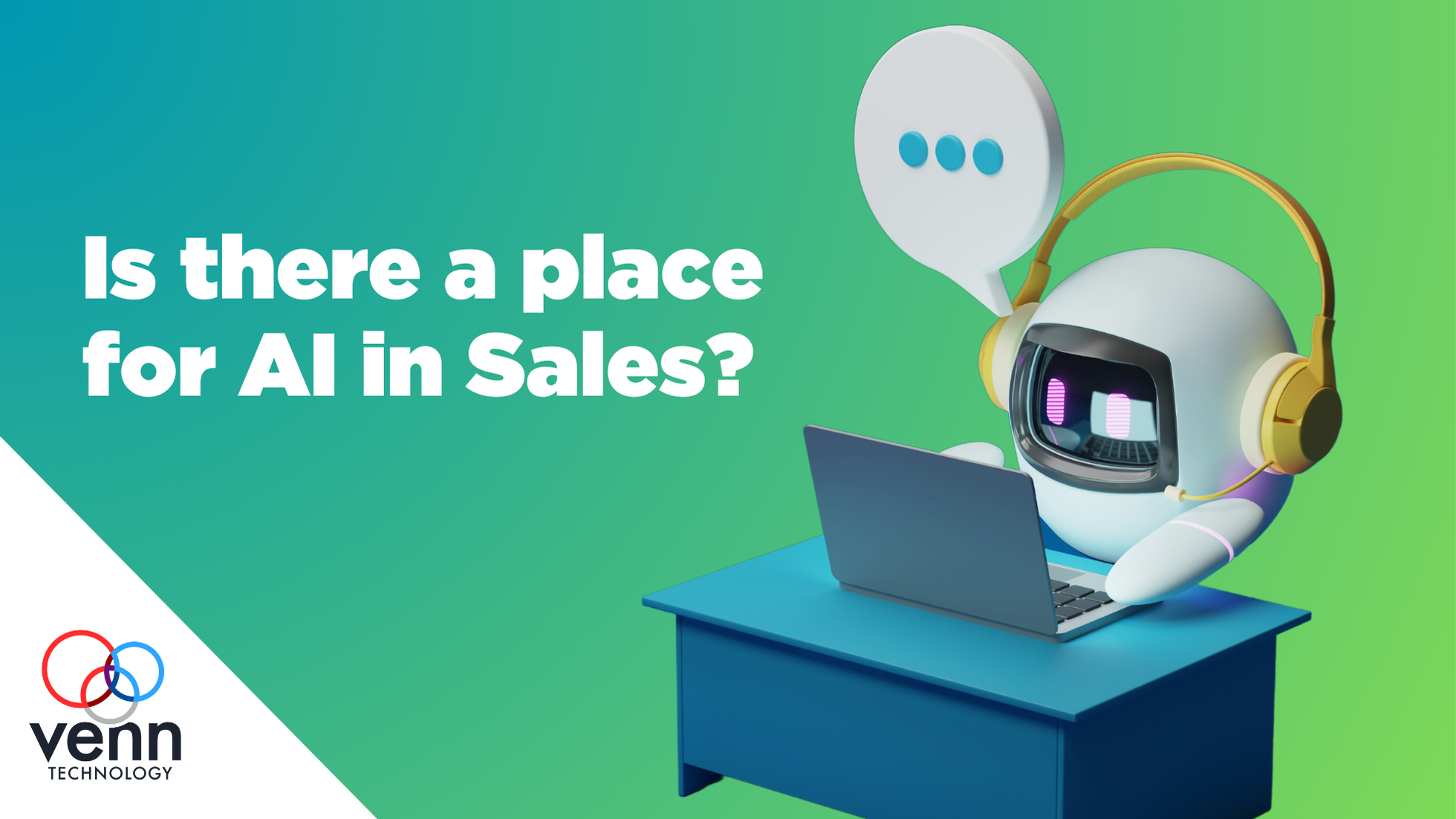 Artificial Intelligence (AI) has the potential to transform the way sales teams operate. If your organization uses a CRM such as Salesforce or HubSpot, you've likely already seen a few in-platform AI features. These AI-powered solutions are designed to help teams further improve their automated workflows—providing quick data insights and ultimately helping salespeople become more effective in their approach.
AI Sales Assistant
A great example of how artificial intelligence can be used in sales is an AI sales assistant. Most sales reps have a tight schedule—usually consisting of daily back-to-back calls. For every client meeting, an AI assistant can be used to take meeting notes, generate call summaries, and pull out key action items or next steps. Additionally, automation can be set up to share those insights with other team members via a communication app or to clients/partners through email.
Utilizing an AI assistant in combination with automation not only saves sales teams time, it also provides valuable information needed to foster relationships with prospects and clients.
Data-Driven Sales Insights
Another application of AI in sales is extracting detailed insights from customer data. AI has the ability to analyze large datasets and detect patterns that people can't easily identify, such as sentiment or indecision. Just like an intern or a new recruit, you want to provide materials that can help them learn and succeed in their role.
What kind of data should you train AI with?
First, it's important to understand the risks and benefits before implementing an AI strategy. A majority of free AI tools learn from the prompts people insert, so it's likely you or your company will want to purchase its own access to the platform to keep confidential data private.

Here are some of the most accessible data sets available within sales to begin training an AI model:
1. Call transcripts: Start by feeding AI meeting transcripts between sales reps and customers or prospects. This allows AI to learn how people speak about the brand, products, and services. It also gives AI the opportunity to point out customer intent, and over time, AI can quickly predict (based on key phrases) when a deal is likely to close.
2. CRM data: To help AI learn more about the kind of customers you work with, use details on current and past accounts, contacts, deals, and other interactions in the CRM.
3. Product details: Gather all product documentation to help AI learn more about the specifications and value proposition of your services.
4. Sales playbooks: Just like training a new hire, an AI can learn from sales playbooks to understand the best way to speak to customers. Later, an AI assistant can plug sales reps with on-the-spot advice or reminders during client calls, ensuring the conversation is productive.
5. Win/Loss data: Plugging AI with details on why deals were won or lost can improve its ability to qualify prospects. This is also a way to pick up on insights that might've been missed in previous closed-loss deals.
6. Performance metrics: Just like we have objectives to work towards, AI should have an understanding of sales targets, conversion rates, and other goals the company reinforces. This opens up the potential for AI to provide a framework for steps sales teams can take towards success.
AI Sales Automation
As mentioned above, sales teams tend to have back-to-back schedules and can greatly benefit from automation. Administrative tasks such as manual data entry in a CRM can be automated with the help of AI.

For example, Zoom's smart AI companion can process meeting recordings and provide summaries that highlight key details from the conversation. An automated workflow can then be triggered to record that information to an account in the CRM. This saves sales reps time in between meetings and ensures that valuable insights are captured for team visibility.

On top of keeping information organized, AI can assist teams with predictive lead scoring. A bot can analyze multiple sales activities, determine which leads are more likely to convert, and route prospects to the right salesperson.

Pro tip: If your company uses Slack, you can set up automation to feed insights from AI to channels in a specific format. For example, after every sales call with a prospect, AI analyzes the transcript and is given a template to respond to:
- What were the prospect's main objections, if any?
- What was the overall sentiment of the call?
- What are the action items?
Now, your sales team has summarized insights to act on, fast. You can even take it a step further by creating a new channel for every open opportunity to keep track of this information from call to call.
The Future of AI in Sales
AI adoption in sales is still in its early stages, but as more solutions come to market, AI-powered insights will be easily accessible to all kinds of businesses. Although a recent Gartner report states that nearly 60% of seller work could be executed by generative AI in five years, it's important for business leaders to treat AI as a team member, not a replacement.
It may seem like AI can do it all, but there's one characteristic it doesn't have: emotion. People have the ability to connect on a personal level, and a lot of selling doesn't take place in a digital setting. Many business conversations happen at trade shows, conferences, happy hours, and more. Since AI works best with narrowly defined tasks, AI tools should be used to reduce manual efforts holding teams back from focusing on high-quality deals.
What are your thoughts on using AI in sales?
As technology consultants, we focus on automating other people's businesses every day. Artificial intelligence isn't going anywhere, so we decided to join the conversation and share ways businesses can use AI effectively and responsibly.
To hear more about the possibilities of AI and automation, be sure to check out The Junction, a podcast by Venn Technology without the technical jargon. Give us a shout if you'd like to hear more about a specific topic or let us know your thoughts on leveraging AI in sales. Email us at thejunction@venntechnology.com.
Check out other discussions on AI: