Using AI to Simplify Your Company Knowledge Base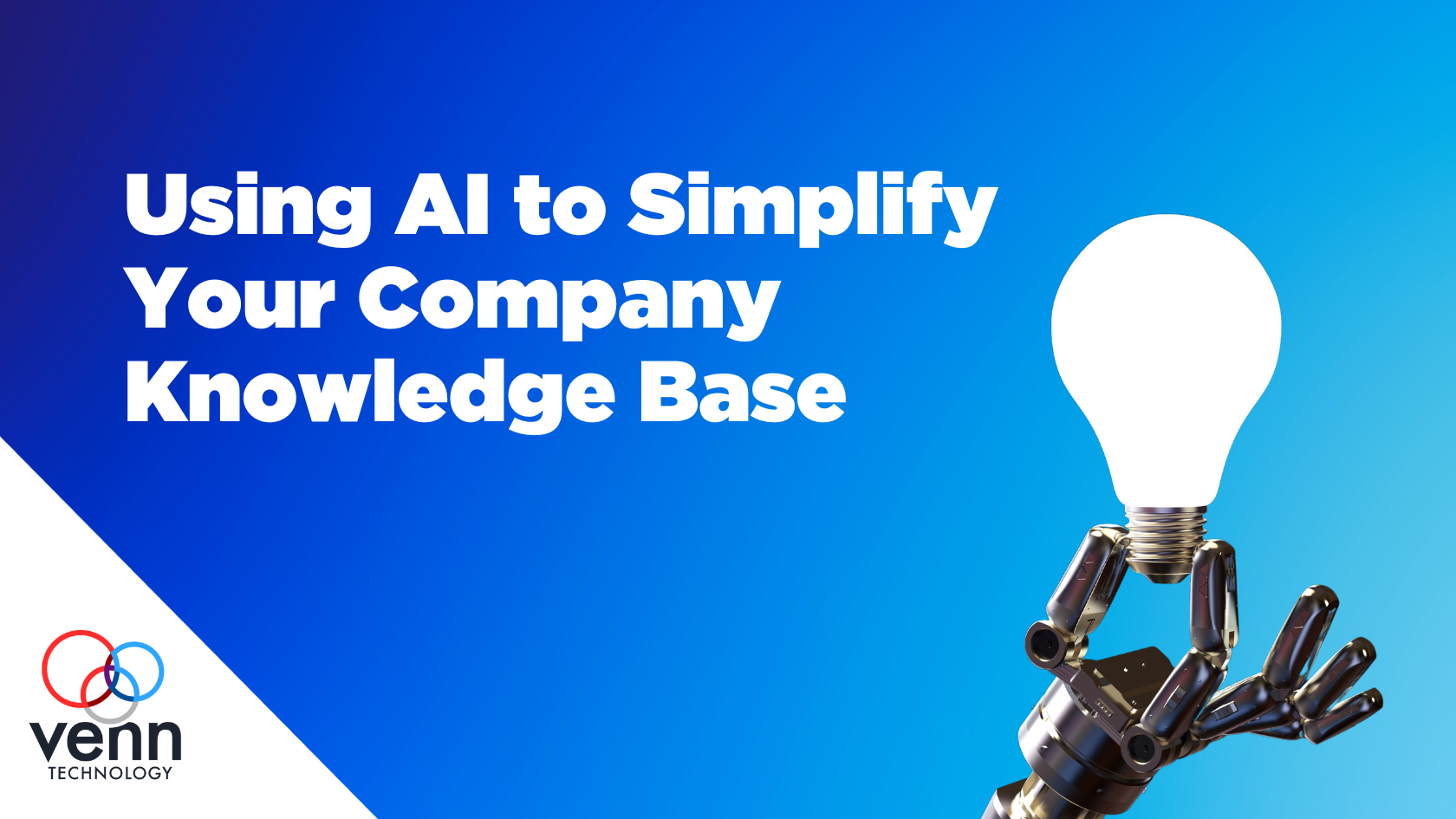 A company knowledge base is an organization's single source of truth, consisting of important policies, procedures, training guides, and pretty much anything an employee should know about how your company operates. While every business has its way of documenting and storing this information, what matters the most is how easily accessible and up-to-date it is for teams.
Here's an idea: what if an AI assistant could answer employee questions by pulling information from across multiple data sources, acting as a company knowledge base?
By incorporating AI and automation, the process of building, organizing, and maintaining a repository like this becomes much more manageable. Plus, team members can very quickly find the answer they're looking for with less manual effort.
Let's get into some specifics on why organizations should consider using AI to optimize internal knowledge sharing:
Instant Responses to Employee Questions
We've all been there before: you have a question about a procedure or policy at your company but have no clue where to look. Maybe you know someone who has an answer but you don't want to interrupt them—or even worse, you've worked for the company for years and feel like you should know the answer. Instead, avoid the frustration by leaving it to an AI assistant to quickly get you the answers you need.
One of the biggest benefits of using AI to create a knowledge base is how fast you can equip employees with accurate information. Rather than having to dig through systems or ask multiple colleagues, people can simply ask an AI assistant to surface what they need at any given time as long as that information exists.
Bonus: If the information employees are searching for doesn't exist in any of the connected systems, you now have insight into gaps in policies or processes that need to be documented and incorporated into training.
Examples:
Customer Support: A support agent is on a call with a client and they ask a question the agent doesn't have an answer for. Rather than putting them on hold or requesting time to follow up, the support agent can prompt the AI assistant for a quick answer.


Sales: A sales rep needs product specifications and pricing. Inside a communication app like Slack, the salesperson can ask the AI bot for relevant documentation of products before engaging with a client.


Onboarding: A new employee asks a tenured employee what the company holidays are. The tenured employee feels like they should know this but doesn't want to give inaccurate information. They prompt the AI and send the link to the source to the new employee in seconds with confidence. (Then, they show the new employee how to ask the AI assistant questions like that themself in the future!)
Continuous Learning and Improvement
It's important to keep in mind that the more data and context you feed AI, the better it will perform. AI systems can ingest information from a variety of sources, including emails, documents, video transcripts, and more.
Unlike a traditional knowledge base, an AI-assisted one will be able to improve and expand on information to provide more relevant and targeted responses. Over time, the more queries and training the AI undergoes, the better and more consistent it gets at serving up accurate information.
As an additional benefit, you might enable specific permissions for managers to see what questions employees are asking the most. For example, suppose multiple people are asking the AI assistant about a company procedure. In that case, there might be an opportunity to improve employee training and onboarding processes to ensure teams have the knowledge they need.
Automated Knowledge Capture and Creation
Managing a company's knowledge base can be very time-intensive. Not to mention, some processes might be undocumented and the only people who hold the knowledge are subject matter experts (SMEs). Before implementing new technology, it's important to evaluate the state of your knowledge base and convene with teams to ensure documentation is up to date.
Don't have processes documented yet? Consider using AI and automation to help digest large amounts of information from your SMEs. One way to capture insights is by setting up internal meetings, recording the discussion, and using the transcript to extract and summarize key policies and procedures. The AI assistant can then automatically create and add new documents or modify existing ones in the knowledge base.
Consistent and Accurate Content
Inconsistencies and inaccuracies easily creep into knowledge bases when documentation is created manually or if there aren't processes for regularly maintaining it. Keeping content error-free can be difficult, but with AI assistance, information such as duplicates and new information that goes against existing content can be quickly identified.
Personalized Recommendations for Every Department
Since each department in an organization tends to have different processes and technology, AI could cater customized recommendations to employees based on their roles, past search queries, and frequently asked questions. This information could be displayed in a dashboard or wherever teams access the AI assistant.
Here are some examples of how AI could surface personalized information at the top of query results based on department or role:
Project managers may see documents about project processes, resourcing, and task management


Support agents could have recent customer feedback reports and product FAQs


Marketers and sales reps might see Zoom call summaries, marketing assets, and customer records
As you can see, there's an infinite amount of scenarios made possible with AI. With this level of personalization, employees have instant access to the information they need so they can focus on the things they do best.
Considerations for Implementing an AI-Powered Knowledge Base
Now that you know the benefits of using AI to streamline your company knowledge base, you're probably wondering how to get your organization on board. Here are some tips to make your use of AI a success:
Start small and expand gradually. Before digitizing your entire knowledge base all at once, focus on the most critical areas of your organization first.


Structure and classify documents. Tagging documents by topic makes content easily searchable for users and the AI assistant.


Get key SMEs involved. To ensure accuracy, ask experts at your organization for support during planning and training of the AI model.


Encourage employee input. Ask team members to test the AI assistant and provide feedback for continuous improvement.


Monitor usage and performance. Identify the benefits and potential gaps closed since implementing an AI knowledge management system.


Integrate existing systems teams use the most. Connect your AI tool to applications your organization uses frequently so employees have a central location for access.


Develop protocols and security measures. Call out which team members should have credential access and decide what documents should be public/private knowledge.
The Takeaway: AI Can Change How We Work for the Better
Leveraging AI and automation to streamline knowledge sharing amongst teams is beneficial for any fast-growing business or nonprofit. As these new technologies continue to become more accessible, organizations should consider what areas AI can boost productivity and provide insights to help teams perform better.
---
To hear more about the possibilities of AI and automation, be sure to check out The Junction, a podcast by Venn Technology without the technical jargon: