5 Reasons Why the Role of CFO Has Changed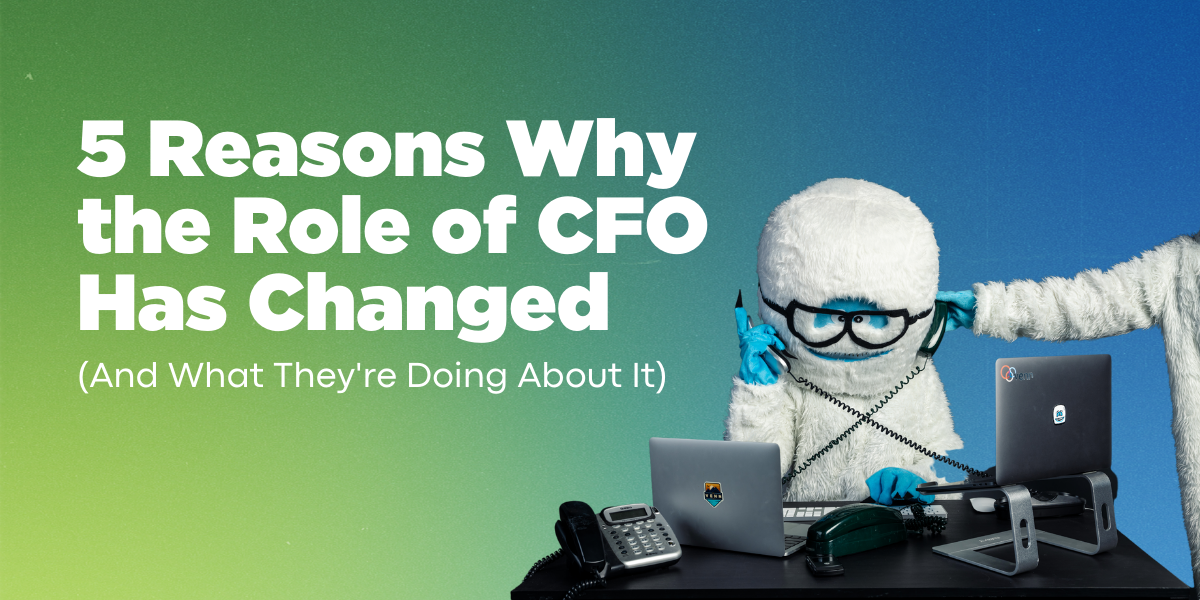 The role of CFOs and finance leaders looks a lot different than it did ten years ago. Technology has drastically modified processes—both improving businesses and creating new concerns. Here are 5 reasons why the role of CFO has changed and what people are doing about it:
1. More technology means thinking more like a CTO
The function of finance teams has rapidly evolved because of a digital transformation happening among businesses of all sizes. According to a Harvard Business Review Analytic Services study from 2021, finance professionals find it difficult to accurately prepare, reconcile, and access high volumes of data.
Frustrating traditional practices often require teams to track information across multiple applications that service different purposes. In fact, another survey revealed the average business worker uses 9.4 applications for daily work. Not only does it require additional time to flip between systems, but there are inevitably some inconsistencies that come with manually-entered data.
To improve finance operations, CFOs are considering what technologies will scale with the organization and provide the most valuable insights for forecasting. According to Gartner, 30% of organizations by 2024 will implement and use some form of artificial intelligence (AI) to automate their financial reporting.
Before going through with a technology implementation, consider an evaluation of your organization:
• Inventory the applications your team uses
• Identify excess spending or unused licenses
• Research new applications that could replace the use of multiple ones
• Consider if an integration could eliminate manual work for the team
2. More cloud-based platforms means more insights available to CFOs for high level analyses
More organizations are adopting cloud-based systems due to a shrinking hiring pool, an increase in remote work, and the need for accurate reporting. A survey featured on Yahoo Finance claimed that 67% of finance institutions have implemented cloud-based general ledgers and enterprise resource planning (ERP) as of 2022.
Cloud ERP platforms offer real-time insights that help teams in performing high level analyses of multiple departments or business entities. With more ways to forecast and plan for the future, modern finance is helping businesses scale as more CFOs—in addition to their teams—are able to proactively respond to risks and new opportunities.
Migrating from legacy systems to cloud-based ERPs might be easier than you think. Acumatica, for example, offers an open API to ensure seamless integrations to your core business applications—so data is always syncing to the ERP.
3. Security measures are a high priority for CFOs in 2022
CFOs are the protectors of data and often find security measures to be a big priority. With increased usage of technology, comes the challenges of making sure financial information stays private.
A way attackers can breach an organization is through targeted business email compromises, ones that fool finance and accounting professionals to transfer funds into accounts that seem legitimate. With worldwide supply-chain issues in 2022, cyber attackers will be more likely to use ransomware to threaten organizations with a hold on their data—causing business leaders to payout before more issues arise on consumer and enterprise levels.
According to Forbes, the best way to account for data security is by setting a benchmark of 7% for cybersecurity in your IT budget, evaluating what solutions and processes are in place, outsourcing cyber risk management to a third party, and more. Most cloud-based platforms provide built-in security, but it's imperative for CFOs to be familiar with the technical aspects and work with their IT department to determine if more stringent measures should be put in place.
4. CFOs are struggling to hire talent and retain employees
There has been an obvious change in the air for a lot of employees and job seekers since the pandemic. Work-life balance, pay range, and other factors now play a huge role in an individual's decision to either stay with a company or leave for another.
A CFO should keep people, processes, and technology in mind when hiring and keeping talent. Leaders who pay too much attention to one or the other will likely run into problems.
Bringing in technology that integrates systems, syncs data, and automates manual workflows to help processes and people is a step in the right direction. When considering what solutions will benefit the team, they should be ones that simplify processes to make your team's job easier and give them time to focus on other responsibilities inside/outside of work.
5. Inflation and supply chain disruptions are forcing CFOs to have tighter budgets
Everything seems to be unpredictable lately—disruptions in supply chain and inflation being the biggest factors harming businesses. A Gartner survey showed that 72% of CFOs will focus more on budgeting as one of their top initiatives of 2022—meaning finance leaders are making significant changes to their budget plans. Gartner suggests "cross-functional and business unit resource allocation reviews throughout the year" and to meet with business leaders to break down budget "ownership." By building flexibility into budgeting and forecasting activities, CFOs are equipped to respond more quickly and effectively to change.
Takeaway
People, processes, and technology will continue to change. Paying too much attention to one of the three causes one or the other to fail. More technology means teams have new processes and more applications to keep up with. It also means CFOs have to make decisions on which technology works, where the budget should go, and what cybersecurity measures need to be in place. Finance leaders are more flexible than ever and are adapting by working closer with all departments and performing business-wide reviews throughout the year.