Workato Automate 2023: Dubbed an era of 'Explosion of AI & Automation' by Workato CEO, Vijay Tella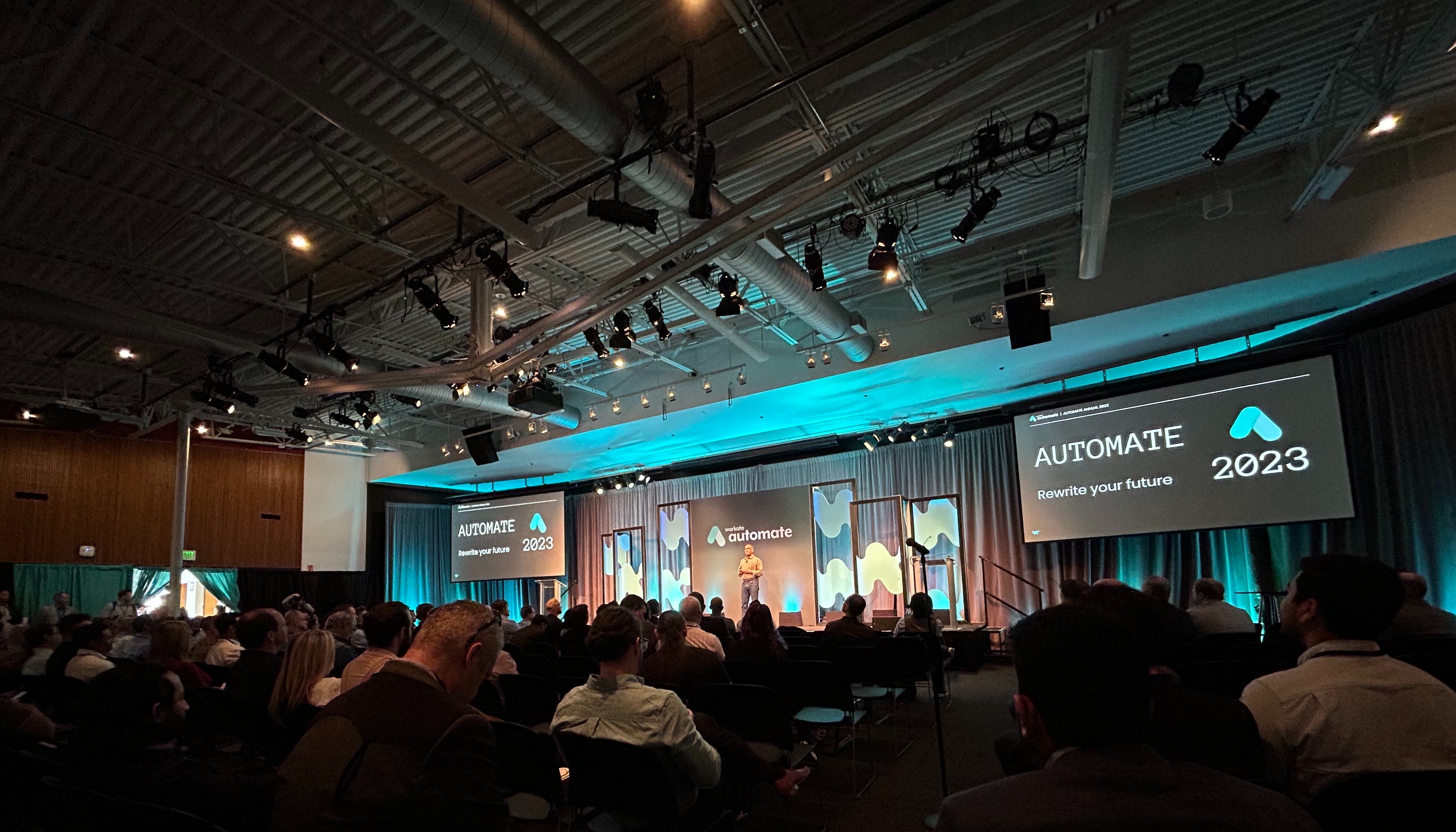 Team Venn Technology attended Workato's first in-person Automate Conference in Google Headquarters' backyard of Mountain View, California. This year's event highlighted the latest advancements in artificial intelligence (AI), business automation solutions, organizational processes, and scalability.
The Explosion of AI + Automation
In the opening keynote, Vijay Tella, co-founder and CEO at Workato, kicked off the conference explaining how AI is positioned to dramatically accelerate the scale of automation.
In recent years, many organizations have felt disruption to their essential business processes—such as Order-to-Cash—due to supply chain issues, tax code changes, and other economic factors. These issues can be felt at all levels of a company, but with the use of AI and automation, teams can spend less time doing manual work and more time improving business performance.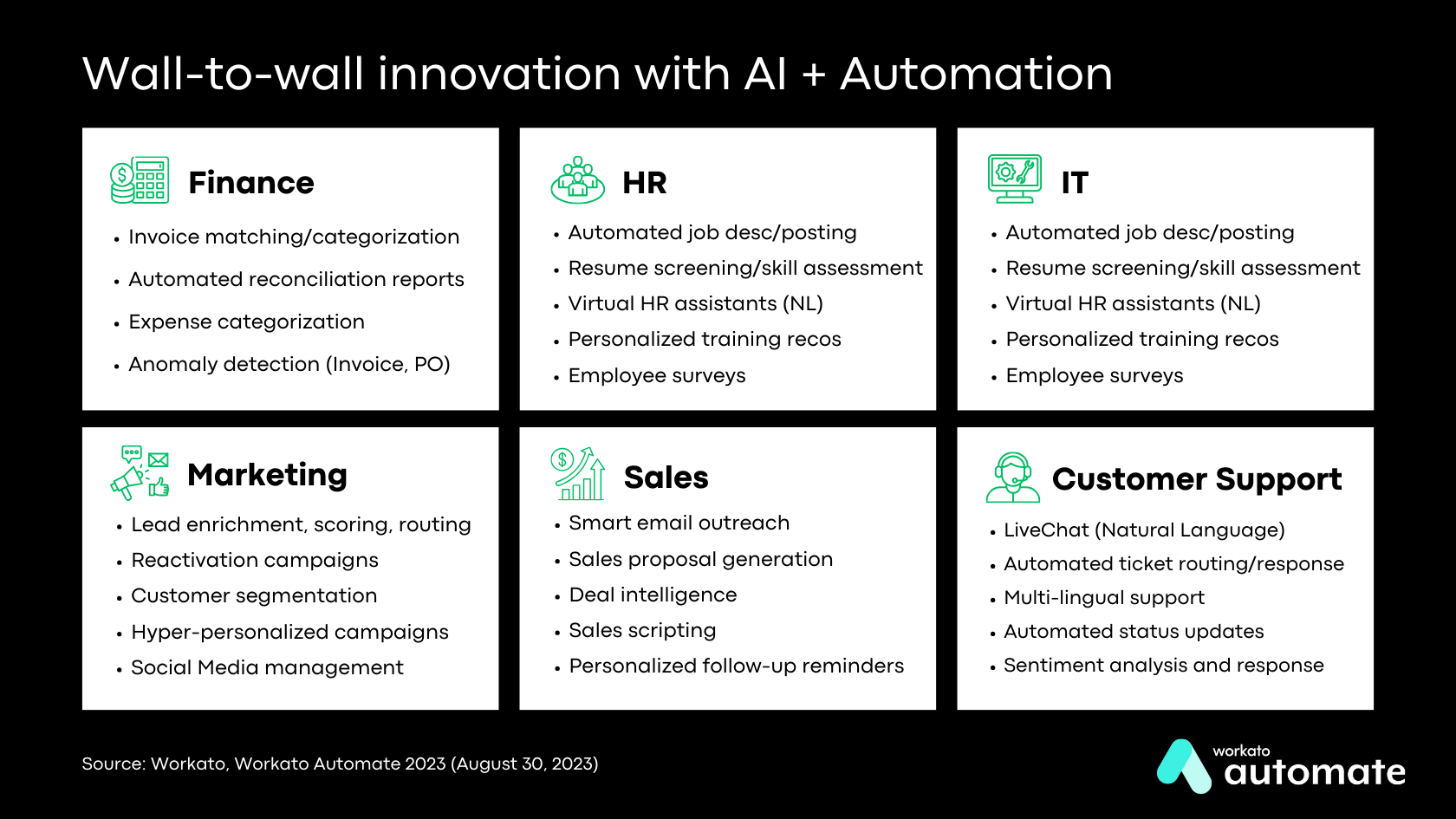 A visual showing where AI + Automation can help businesses the most.
AI + Automation in Practice
Intelligent Order Processing
AI today has the ability to understand natural language, process massive datasets, and form decisions in real time. One Workato customer, Darryl Maraj, CIO at GA Telesis, shared the company's use of AI in combination with workflows in Workato to process 36,000+ customer emails, analyze buyer intent, create marketing content, and more. This innovation eliminated delays in email response times tied to strict service level agreements (SLAs).
Intelligent Invoice Processing
Another Workato customer innovation demonstrated how a large language model (LLM) can be used for faster invoice processing. With more than 100,000 invoices per month and the onboarding of new suppliers, manual efforts are not a sustainable option for a company looking to scale. By training the LLM with all invoices and instructions on how to handle them, finance teams now have insight into financials for faster forecasting and decision-making. Once fully trained, the company's invoice LLM is expected to save them more than $1 million annually.
Providing personalized experiences that reduce churn
Workato customer, Gabriel Enright, Principal Integration Architect at Vodafone, explained how the company is using AI and Workato to deliver more personalized ads for customers following a large merger. With tens of millions of customer records, they knew they needed a more sophisticated solution for efficiently segmenting data to deliver targeted offers to keep their best customers from churning.
The new model now allows the company to summarize customer information into a single view, create promotions specific to that customer–including creating a targeted offer with product matches–and send it via their preferred communication method. With the success of this program, Vodafone is now exploring using AI for fulfillment for streamlining the user experience upon renewal.
"AI will be nothing without our collective imagination. You need to understand the correct time to inject it to maximize its potential." — Gabriel Enright, Vodafone
Workato AI: Copilot & Workbot GPT
In addition to multiple new product releases, Workato shared a live demo of Workato Copilot, a solution that uses generative AI to supercharge the integration process. This addition will expedite the time it takes for users to identify and manipulate code. Instead of relying on a subject matter expert, Copilot can provide an explanation of code snippets in natural language.
When building recipes from scratch, users can explain which applications they're integrating or processes within those that they want to automate, and Copilot will retrieve the correct code. At every step of the recipe-building process, Copilot offers AI-based recommendations for the next steps and data mapping.
Live demo of Copilots and WorkbotGPT 🤖

Co-founder & Head of Engineering Harish & Group Product Manager Bennett going through the new AI@Work tools and how they preserve security posture ✅ pic.twitter.com/ZfFX8uIvfM

— Workato (@Workato) August 30, 2023
Lastly, a demo was shown for Workbot GPT, a chatbot for Slack and Microsoft Teams. This provides a quick way for teams to trigger automated tasks inputted through Slack or Teams. Workbot GPT can summarize meetings, form to-do lists, and more.
Venn Technology Booth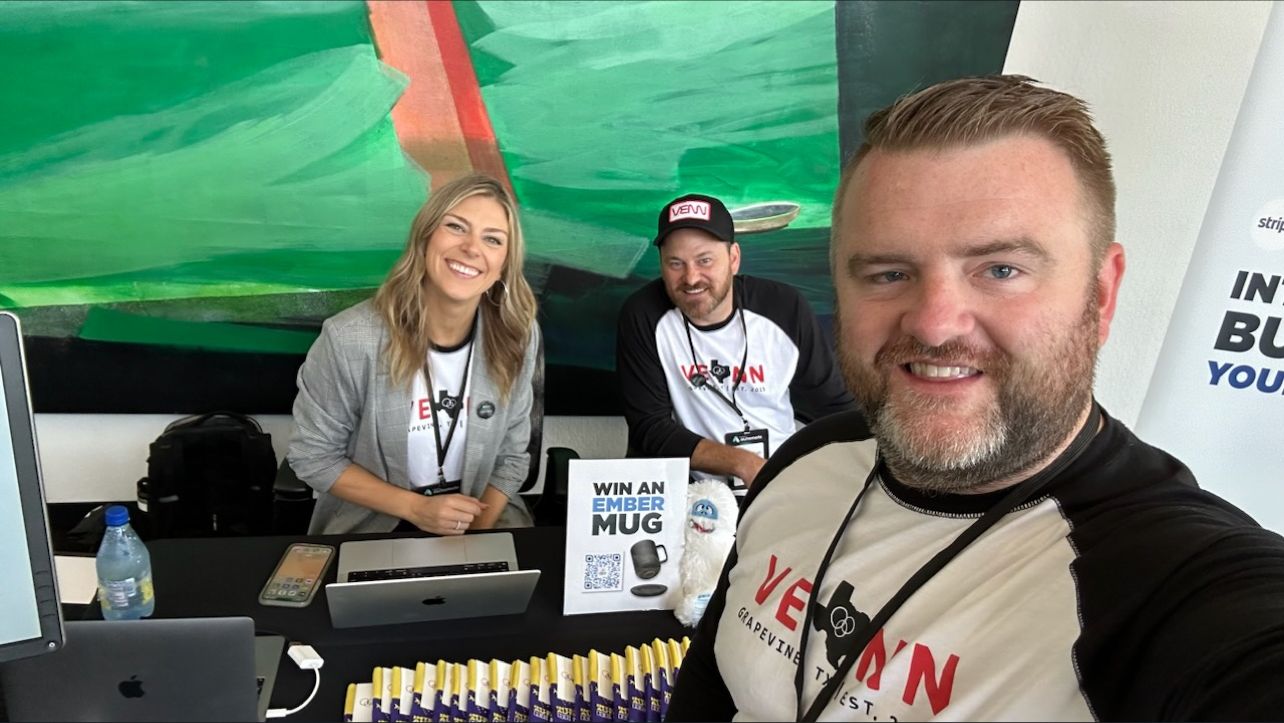 Members of the Venn Technology team (Mel, Scott, & Chase) at our conference booth.
Did you know Venn Founder, Scott Hollrah, first discovered the Workato platform when he started the company in 2015? A Salesforce firm focused on implementation services, Scott started getting requests from clients to integrate the world's most popular CRM with other B2B platforms such as Sage Intacct. He saw immediate potential for using this no-code/low-code platform as a viable option for building integrations between apps for clients.
As Workato's first partner, Venn Technology works with midsize organizations to automate their most frustrating, manual workflows. Workato Automate gave us an opportunity to share and learn alongside other companies by discussing the various ways to use the platform for greater organizational efficiency.
If you need support building integrations on the platform, or could simply use some extra hands to tackle a backlog of requests, we're here to help. Our managed integration service plans are designed to fit your needs on an ongoing basis.