Venn Technology Named to the 17th Annual Aggie 100, Honored as Fastest Growing Company
COLLEGE STATION, TX, October 22, 2021 – Venn Technology of Grapevine is among the top 100 companies from around the world selected for the 17th annual Aggie 100 which honors the fastest-growing companies owned by former students of Texas A&M University. Venn Technology was recognized as number 23 with a compound annual growth rate of 67.8%. The Aggie 100 is founded and sponsored by the McFerrin Center for Entrepreneurship at Texas A&M University.
Venn Technology specializes in building integrations between Sage Intacct and other core applications within small- to medium-sized businesses and nonprofits. Plus, we're pros at implementing and customizing all things Salesforce. The solutions streamline month-end close and provide real-time visibility that fosters smart business decisions, shorten sales cycles, and eliminates manual operations that cause continual frustration and put organizations' reputations at risk.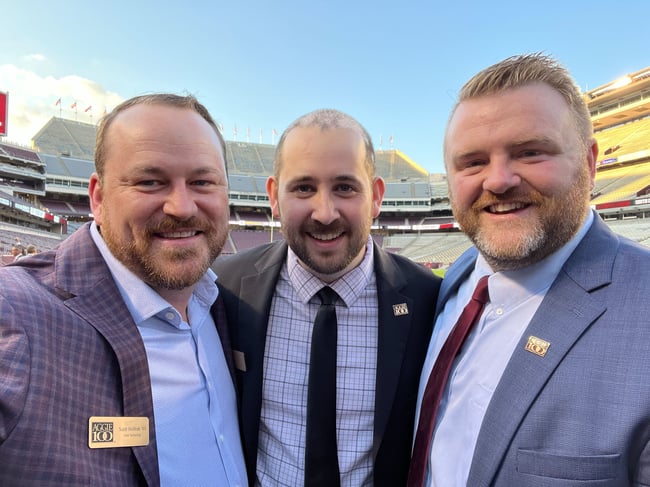 From left to right: The Venn Technology Texas A&M University Alumni include Scott Hollrah (2003), Founder and Managing Partner, Bradley Delaune (2013), Director of Integration Services, and Chase Friedman (2016), Managing Director.
"Of the awards we've received this year, this one is probably the most meaningful to me, personally. We have an incredible team doing great work for our clients, and it is an honor to be amongst so many other successful Aggie-owned companies," said Hollrah.
The 100 Aggie-owned companies with the highest compound annual revenue growth from 2018 to 2020 were recognized at a formal celebration at the Hall of Champions at Texas A&M University's Kyle Field on Friday, Oct. 22, 2021. The honorees were joined in celebration by family, friends, employees, faculty, administrators, current students, and fellow entrepreneurs.
"As we mark our 17th Annual Celebration of the Aggie 100TM program, we applaud the ingenuity, determination, and success of Aggie Entrepreneurs across the globe by raising up our newest class of Aggie 100TM honorees. Despite the tremendous challenges that all businesses have faced in the recent past (and present), the astounding levels of growth and prosperity exhibited by each member company in the Class of 2021 demands our respect, our recognition, and our privilege of welcoming them as the newest additions to our Aggie 100TM family" said Blake Petty, Executive Director of the McFerrin Center for Entrepreneurship.
A complete Aggie 100 list can be viewed at www.aggie100.com.