2021 Sage Transform Conference Highlights
Our favorite moments from the week
Our journey to Transform had us jumping for joy (no, seriously, we caught it all on video) to see partners and clients for our first in-person conference since 2019! Hats off to the Sage Intacct team for offering a hybrid approach for those who joined virtually. There was a ton of content for either format, and we were excited to have been able to participate at some level in both capacities.
Now, let's get into some of our most memorable moments from the conference.
Marketplace Partner Summit
We kicked off Day 1 of the conference hearing from members of the Sage Intacct Partner Team about partner engagement strategies. The two-hour session touched on new enhancements to the platform, including its competitive advantages in the space, and how to leverage the Intacct Marketplace Community to create synergy with other partners.
Sage Intacct CTO, Aaron Harris, spoke about the four principles driving the technology roadmap:
1. Scaling Sage Intacct
2. Expanding beyond financials
3. Scaling through platform
4. One global solution
He explained that this strategic framework is founded on Sage Intacct being the trusted network for small and mid-sized businesses. "Design and experience will supersede technology, driving committed customer relationships and an even more robust partner community," said Harris.
It's clear to us that Sage Intacct has big plans to continue investing in its partner program, and Venn is thrilled to continue being a part of that growth.
Also worth noting: Just before the session wrapped, we were surprised to learn that we won Marketplace Partner of the Year: Customer Hero! See what our Founder, Scott, had to say about the award.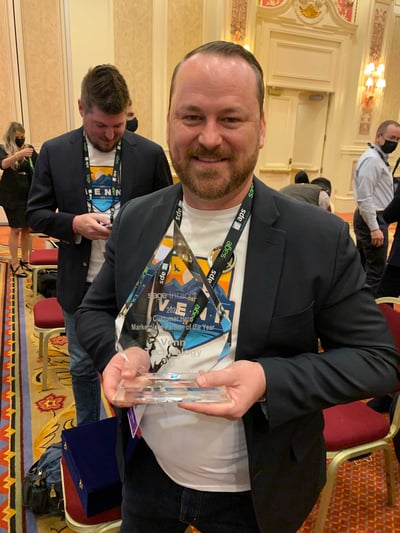 Keynote sessions: AP automation, vertical-specific capabilities, and the global impact of technology
Day one keynote
The first keynote session of the conference was all about investments in the platform that will continue streamlining financial processes of small and medium-sized businesses. Led by Dan Miller, EVP for Sage Intacct, the session featured a panel of company executives focusing on the key ways Sage Intacct helps finance leaders:
1. Own their own time
2. Grow their own way
3. Empower their teams
Global vendor payments
One of the biggest reveals was the news around global vendor payments to further automate payment processing via Sage Intacct Vendor Payments. Now available for early adopters in the US, execs expect customers to make quicker payments to vendors for faster reconciliations with more ways to pay. In fact, Sage Intacct expects customers to save 25 percent or more per payment with this new feature.
Integrated planning and accounting
Also announced during the keynote was a product name change. Sage Intacct Budgeting and Planning is now Sage Intacct Planning.
"One of the key benefits that our customers see from Sage Intacct Planning is the integration between the accounting and planning functionality. And honestly, analytics is built right into the accounting platform today. There's obviously a huge value in running your reports from one place, not having to deal with multiple systems to do that."
- Andre Lafayette, VP of product, Sage Intacct Planning
More than a name change, Sage Intacct Planning aims to give financial professionals more flexibility to expand reporting and forecasting activities to increase visibility more efficiently than alternative methods such as Excel spreadsheets.
Growing out, growing up
Another key takeaway from the first keynote session was how Sage Intacct plans to expand its functionality horizontally into new industries and vertically in its existing one. Some of the new features mentioned during the session included more robust AP and payments automation, contracts management, and its reporting and analytics capabilities. The plan for expansion includes new partnerships with companies specializing in wholesale distribution and construction.
Mobile optimization
Sage Intacct executives also unveiled new and improved mobile capabilities designed to optimize the user experience. Now, users can scan receipts using their phone for expense reporting.
Day two keynote
Spearheading the second keynote of the conference was Aaron Harris, chief technology officer, Sage Global. Harris kicked off the session sharing global stats about the global economy as it relates to technology.
"Technology is cheap and abundant. The abundance of cheaper technology comes with great expectations."
He reiterated that as trust in technology companies continues to decline, there exists an opportunity to create networks for more responsible growth.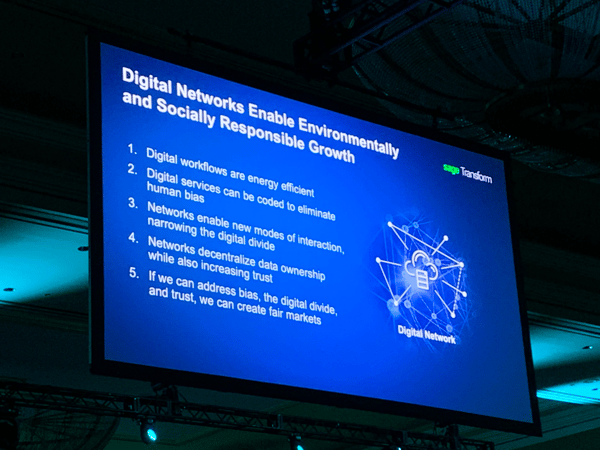 Harris was eventually joined on stage by Elena Sinel, Founder & CEO of Teens in AI, to discuss how she's built a movement to inspire teens to explore a future in technology and AI through collaborative, hands-on learning experiences.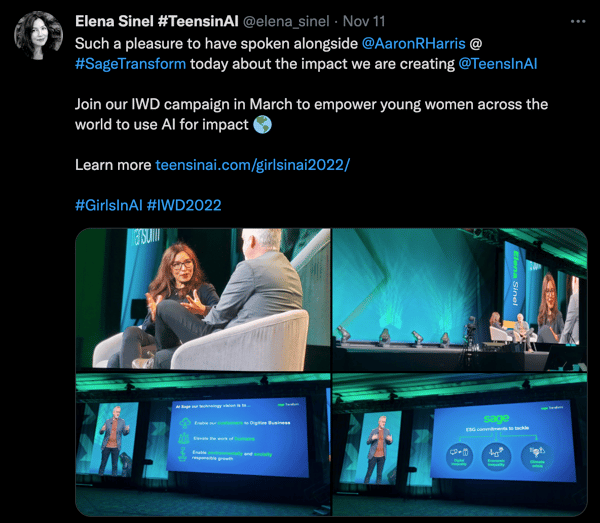 Here's what attendees wanted to know about Venn
Hands down the most common questions we had on the show floor were:
1. What systems do you integrate with Sage Intacct?
2. Are you a services or solutions provider?
3. What's with the mullets?
Integrate Sage Intacct to anything with an API
Have an FTP file that you need to import (automatically) into Intacct? We've built an integration for that. Need to sync deal information from your CRM to Intacct? We've built an integration for that one too. Have an online storefront but need to generate invoices from your accounting system? Our team has been there and built an integration for that.
Some of the most common integrations we build for clients include:
Salesforce to Sage Intacct
Salesforce Nonprofit to Sage Intacct
Stripe to Sage Intacct
Shopify to Sage Intacct
HubSpot to Sage Intacct
Visit our Integrations page to learn more about the types of integrations we can build for your organization.
Mostly services, some products
Venn Technology is a services provider that builds solutions for integrating and automating a business' core applications. Our integration consultants have certifications in Salesforce, the middleware tool Workato, and have a deep understanding of the Sage Intacct API. This enables us to dig into a client's workflows and build custom integrations between Intacct and virtually any other application in a way that fits their business needs.
As far as products go, we've developed our own custom connectors in Workato that are available to clients who contract for services with us. We've also developed our own timesheet and payments portals, which can also be customized and implemented for clients with a need.
The mullet of consulting
Let's address the mullets head on. Once upon a time, our Founder, Scott Hollrah, said, "Venn Technology is the mullet of consulting. Business in the front. Party in the back." Naturally, our Content Marketing Manager filed that quote away for a rainy day. Then, what began as our company mascot, Bjørn, donning a mullet in social media posts promoting our booth at Transform, eventually snowballed into a carefully-selected mullet for everyone attending the event.
Giveaway winners
As is tradition, we entered Transform attendees who stopped by our booth for a chance to win one of three Yeti® coolers… from a yeti. Congratulations to our winners! Could they be any cooler?
Still have questions about how Venn Technology helps organizations build integrations and automations with Sage Intacct? Schedule a brief 15-minute consultation to get acquainted and learn more about how we can help.