Integrating Shopify + Sage Intacct for Small to Medium-sized Businesses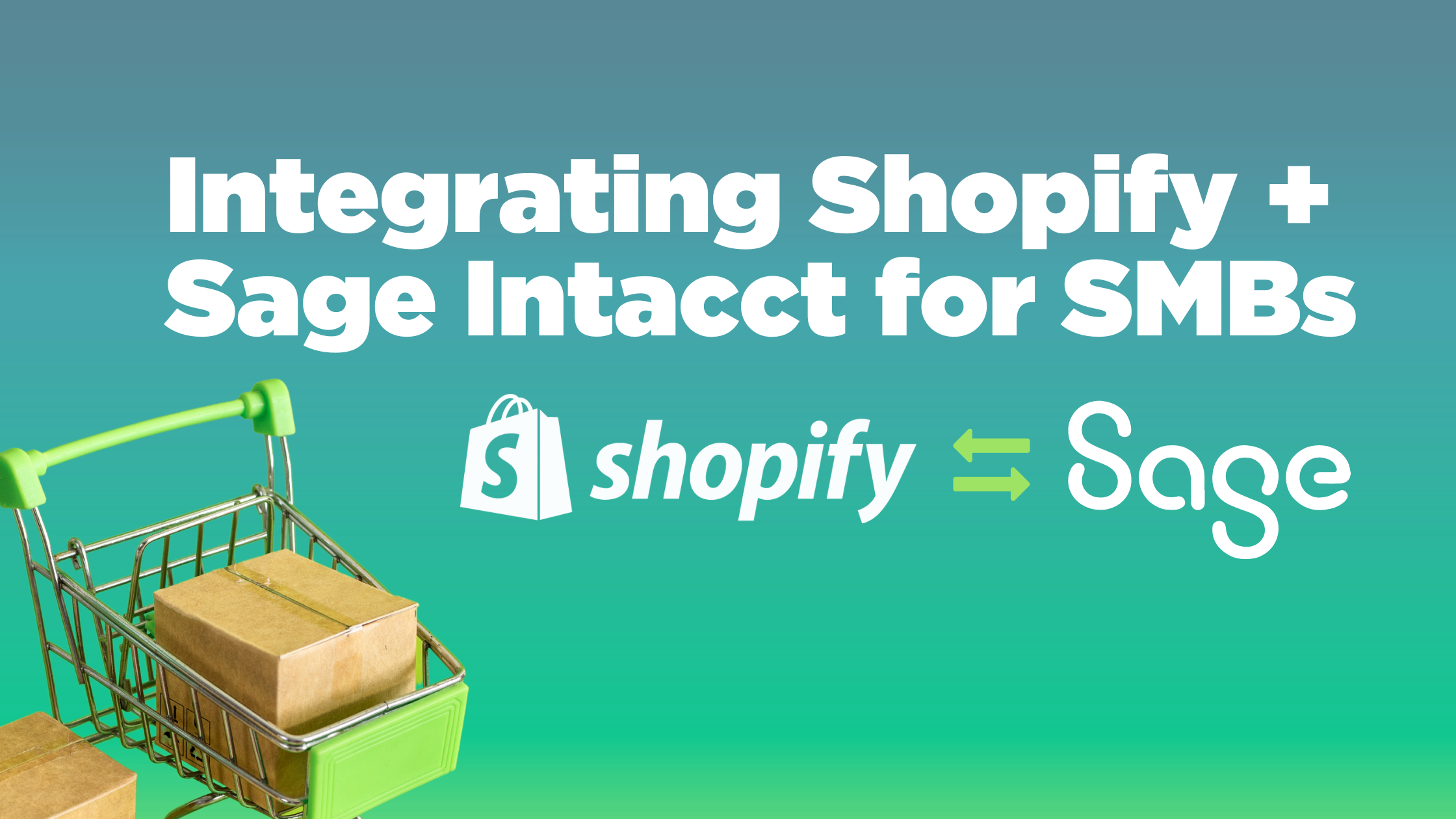 Did you know it's estimated that 95% of all purchases will be through eCommerce by the year 2040? If you're one of the more than 9 million businesses in the world already doing business online, you know how cumbersome it can be to keep orders, payments, and inventory in sync—especially if your eCommerce solution isn't integrated with an ERP or accounting software. Without an integration between applications such as Shopify and Sage Intacct, departmental teams often resort to manual, error-prone processes to get the transactional data they need for month-end reporting and forecasting.
An integration between Shopify and Sage Intacct can ensure transactions, orders, and inventory remain in sync when a purchase is made from your online store. This results in huge time savings and fewer errors since orders and payments are synced into Sage Intacct, invoices are generated automatically, and inventory values are updated.
What goes into Sage Intacct?
In the most common use cases we see, the customer and order information from Shopify usually ends up in the Order Entry module in Sage Intacct. Whether you want data synced in real-time, hourly, or daily, integrations are customizable to fit your needs.
What if you need data in other places too? We've done summarizations in the general ledger, refunds, credit memos, inventory, and just about any scenario that works best for your finance teams. Additionally, if you're fulfilling products and replenishing products from Intacct, the integration will let Shopify know the exact impacts.
Watch the demo for a Shopify + Sage Intacct integration:
Let's get straight to it: what could this integration look like for your business? Jump straight to the demo in the video at 10:30.
1. Create item
You can start in either Sage Intacct or Shopify. For the purpose of this demo, we created an item in the Sage Intacct Order Entry (OE) module.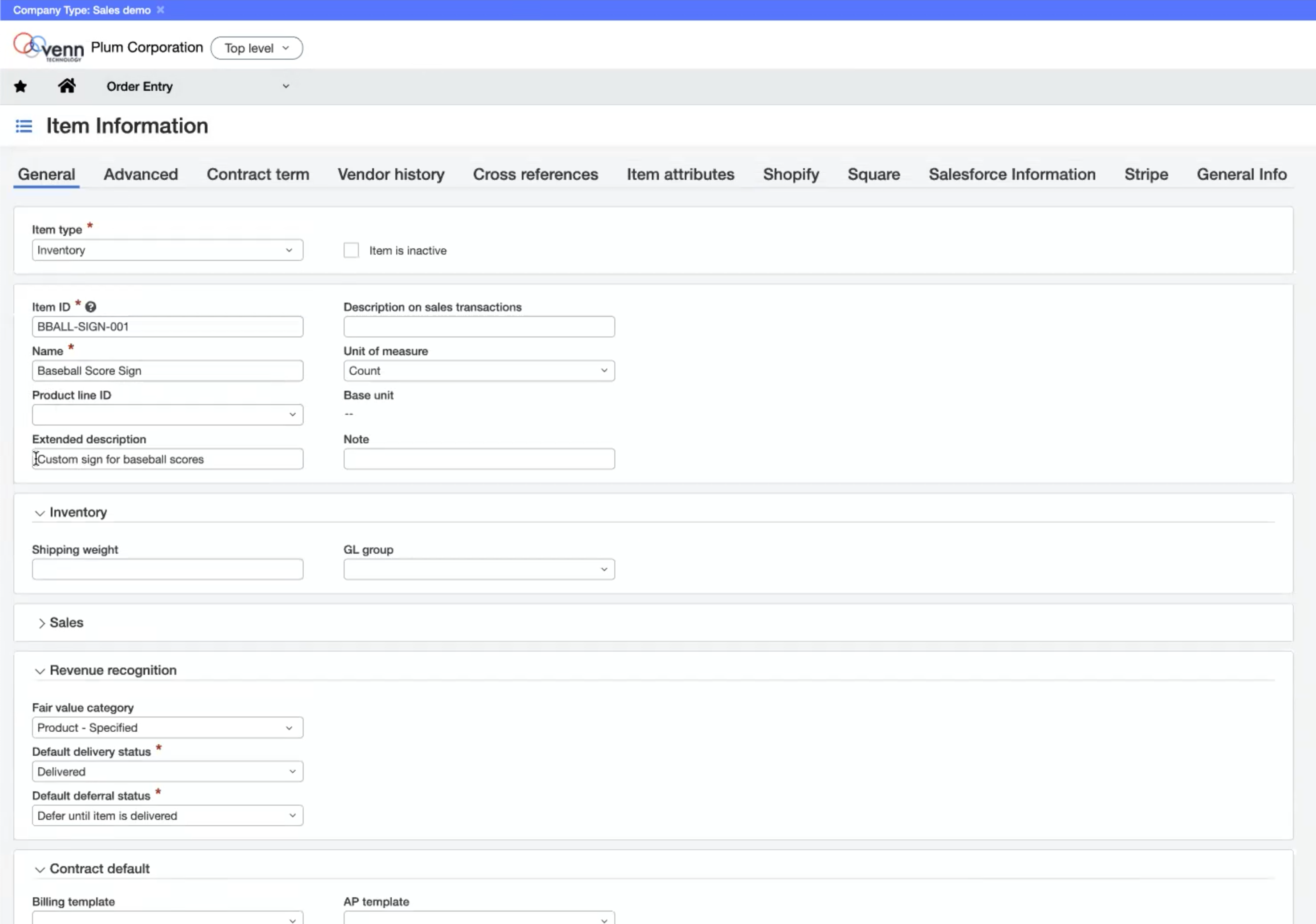 Specify item type, description, name, shipping weight, base price, and more.
It's important to differentiate between 'Product' and 'Variant' when creating new items. For example, we might create a new product called Shirt, whereas the variant might be the color or size of that particular item.
2. Customize item and sync settings
In the Shopify tab in Sage Intacct, we have the ability to update the Shopify Variant Name, SKU, and specify how often you want the integration to run among other things.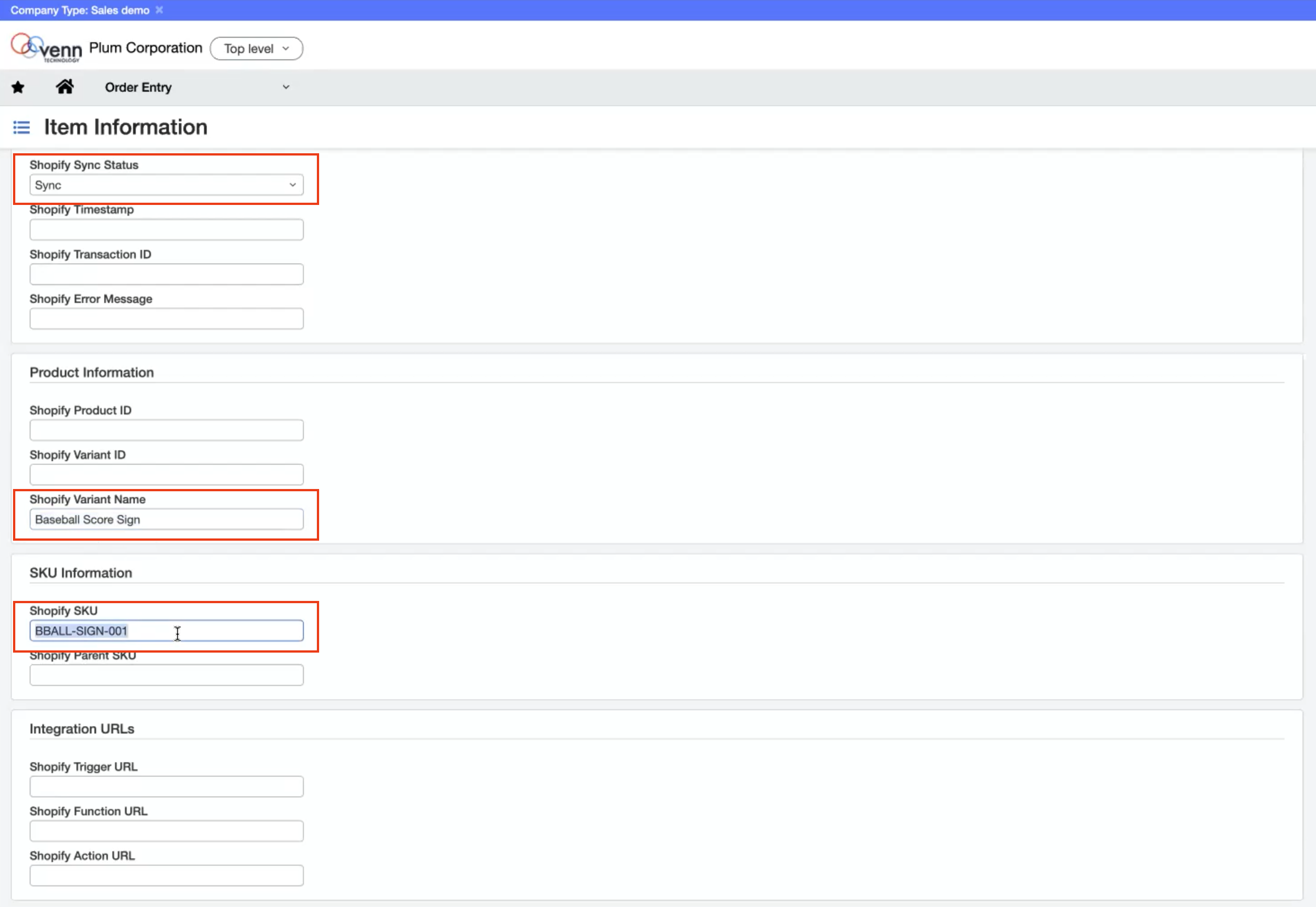 Select sync settings and customize variant and/or SKU
3. Test item sync
Once we've created the item in Sage Intacct, it's time to jump over to Shopify to confirm it synced. We can do so by searching on the item name or ID in the Products tab.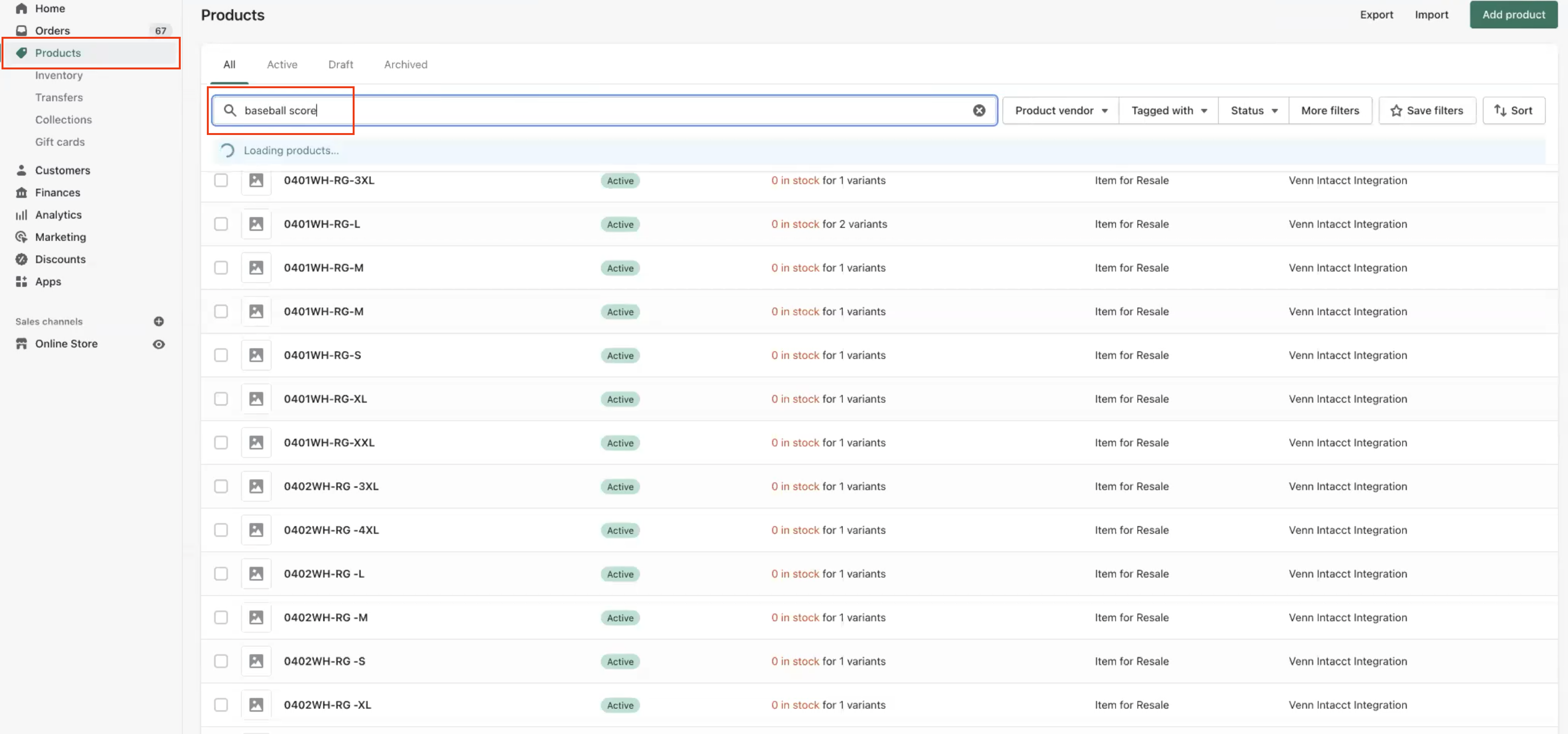 Verify the product/item sync from the Products tab in Shopify
4. Add media
If we had a product image for the item you created, that can be added to the product in Shopify. Note: our standard Sage Intacct to Shopify integration doesn't support syncing images over to Intacct from Shopify.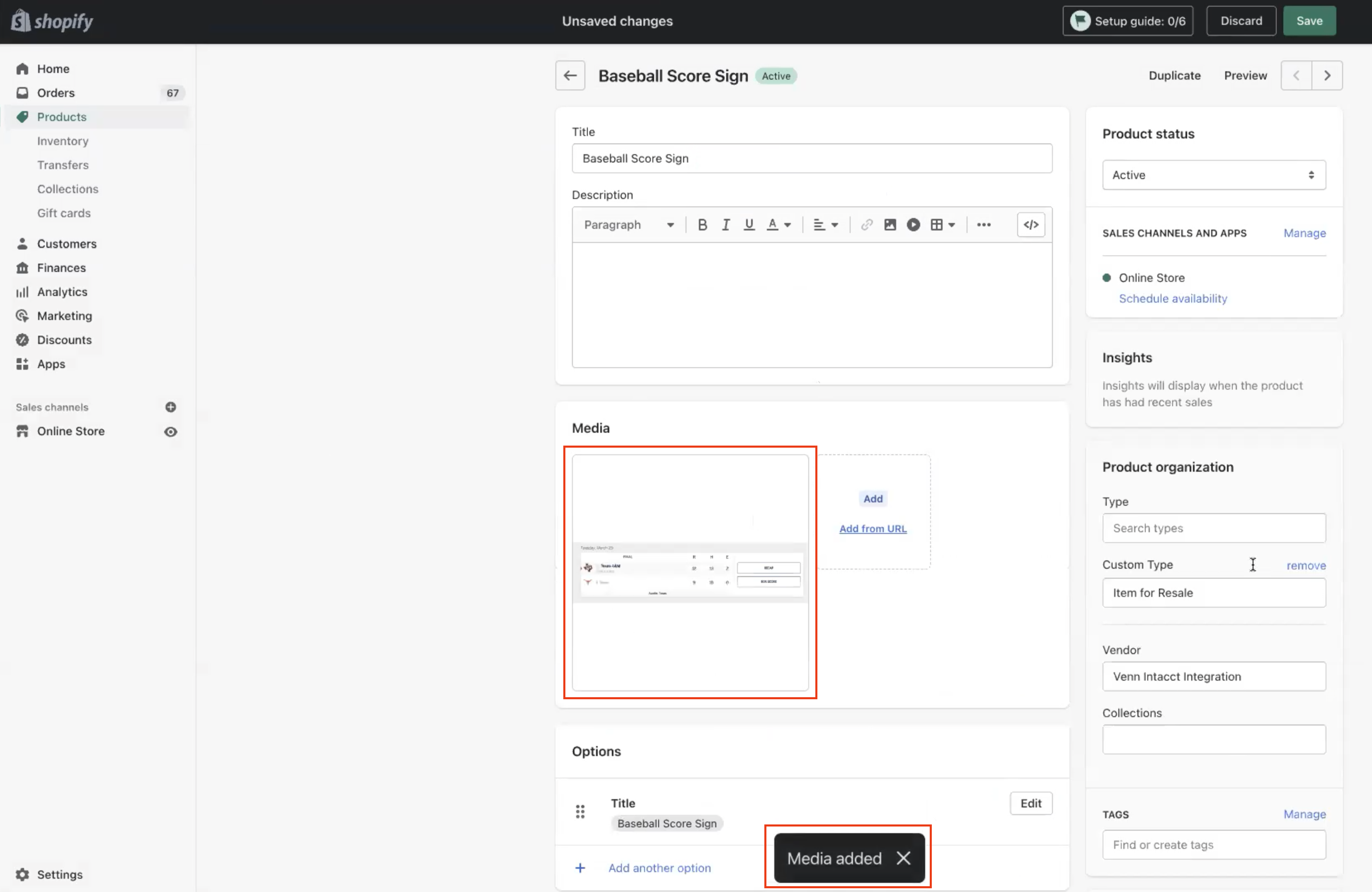 Media can be added by simply dragging and dropping an image into the Shopify product listing or by adding a web URL
5. View/buy product from online store
To ensure the purchase syncs back to Sage Intacct, we'll test it by navigating to the product listing on our Shopify storefront and adding the item to the cart.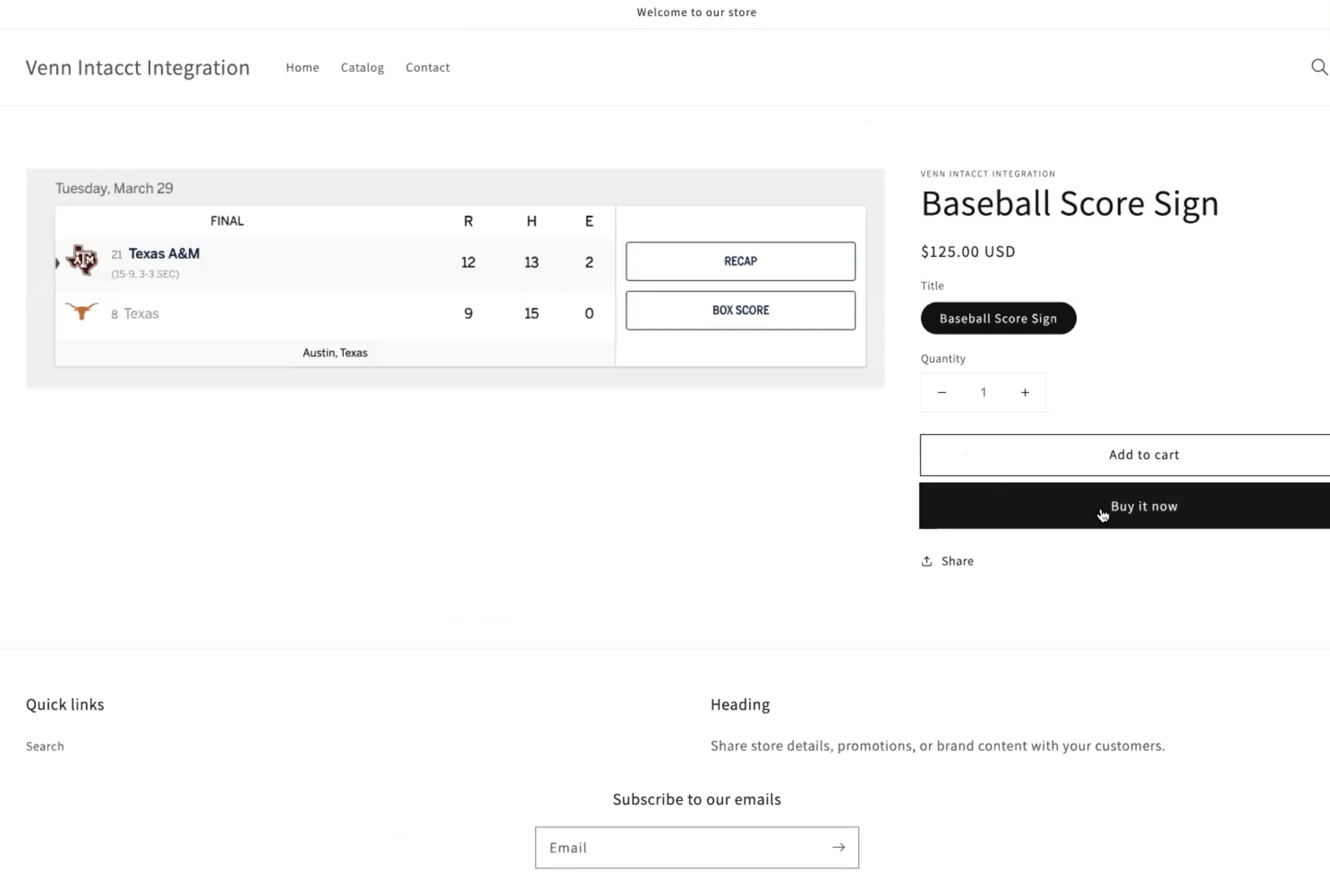 Select quantity and proceed by adding to cart or by selecting 'Buy it now'
Next, we'll proceed to checkout and complete the fields on the checkout screen as if we were a live customer.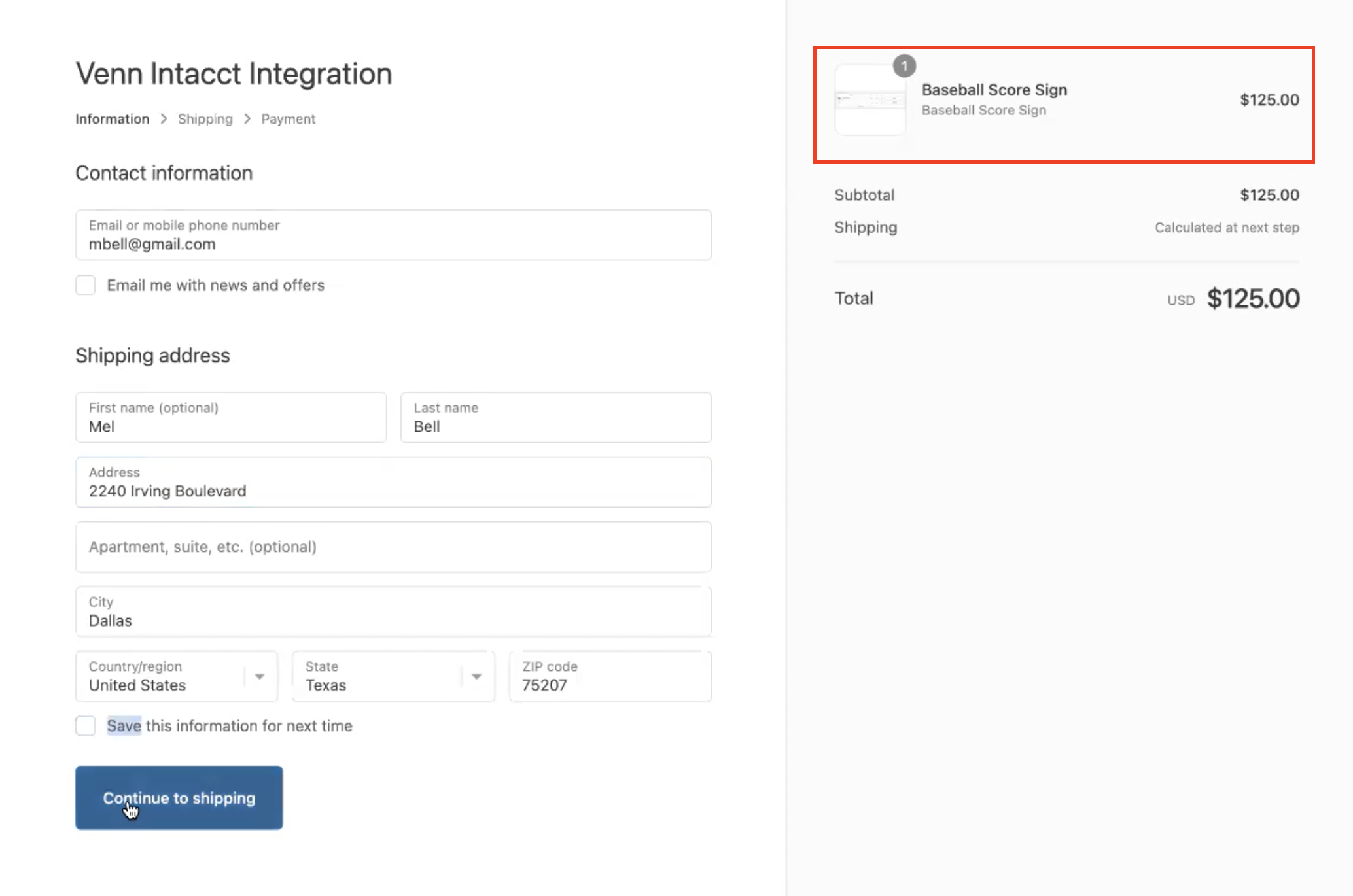 Using test data, fill out all required fields and select 'Continue to shipping' to proceed
This integration is also designed to pull in any shipping fees, taxes, and discounts into the subtotal lines within the Shopify order when the sales order document is created in Sage Intacct.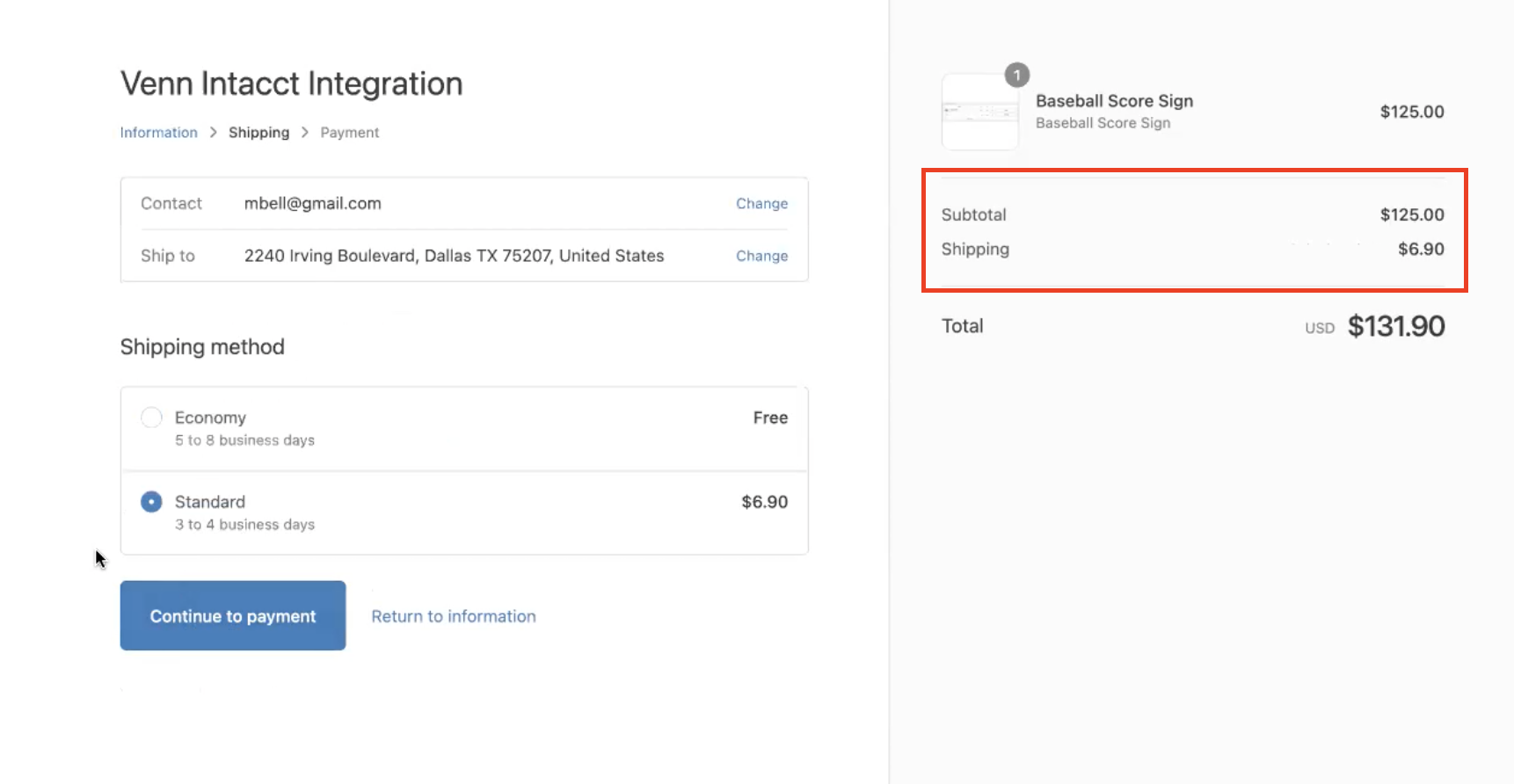 All taxes, discounts, and shipping are listed in the subtotal when applicable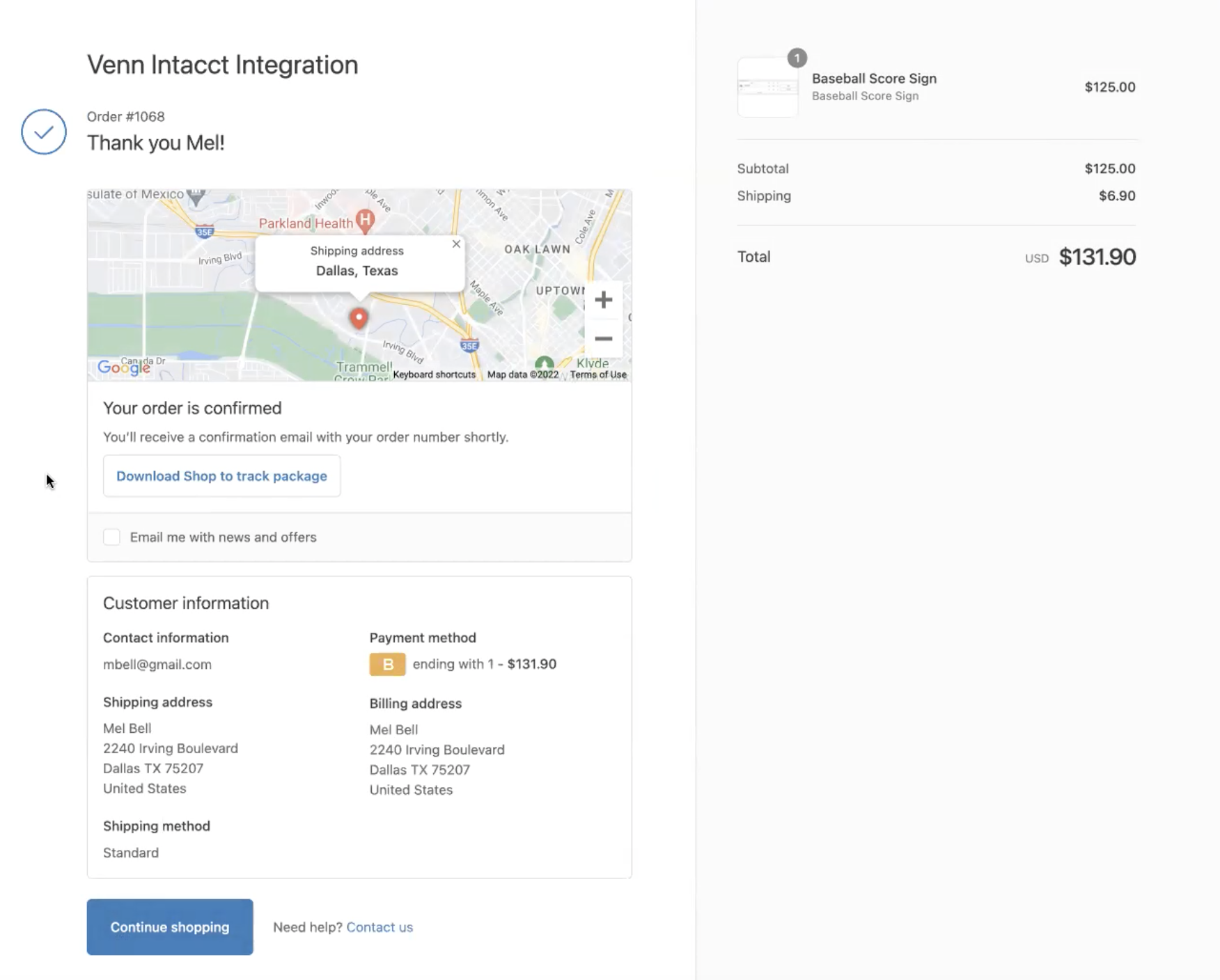 The order confirmation summarizes the item(s), payment method, and billing and shipping addresses
Once the Shopify order is placed and synced, it will create a line item for the item ID, subtotal line, and order total in Sage Intacct. It will also create a customer in Sage Intacct from Shopify using the customer information provided on the order. Alternatively, orders may be associated with a generic or "catch all" customer if the detailed customer information isn't needed in Intacct.
6. Review invoice
To view the demo order from the Shopify store when the integration is installed, we can navigate to the Shopify Sales Invoice tab from the Order Entry module in Sage intacct.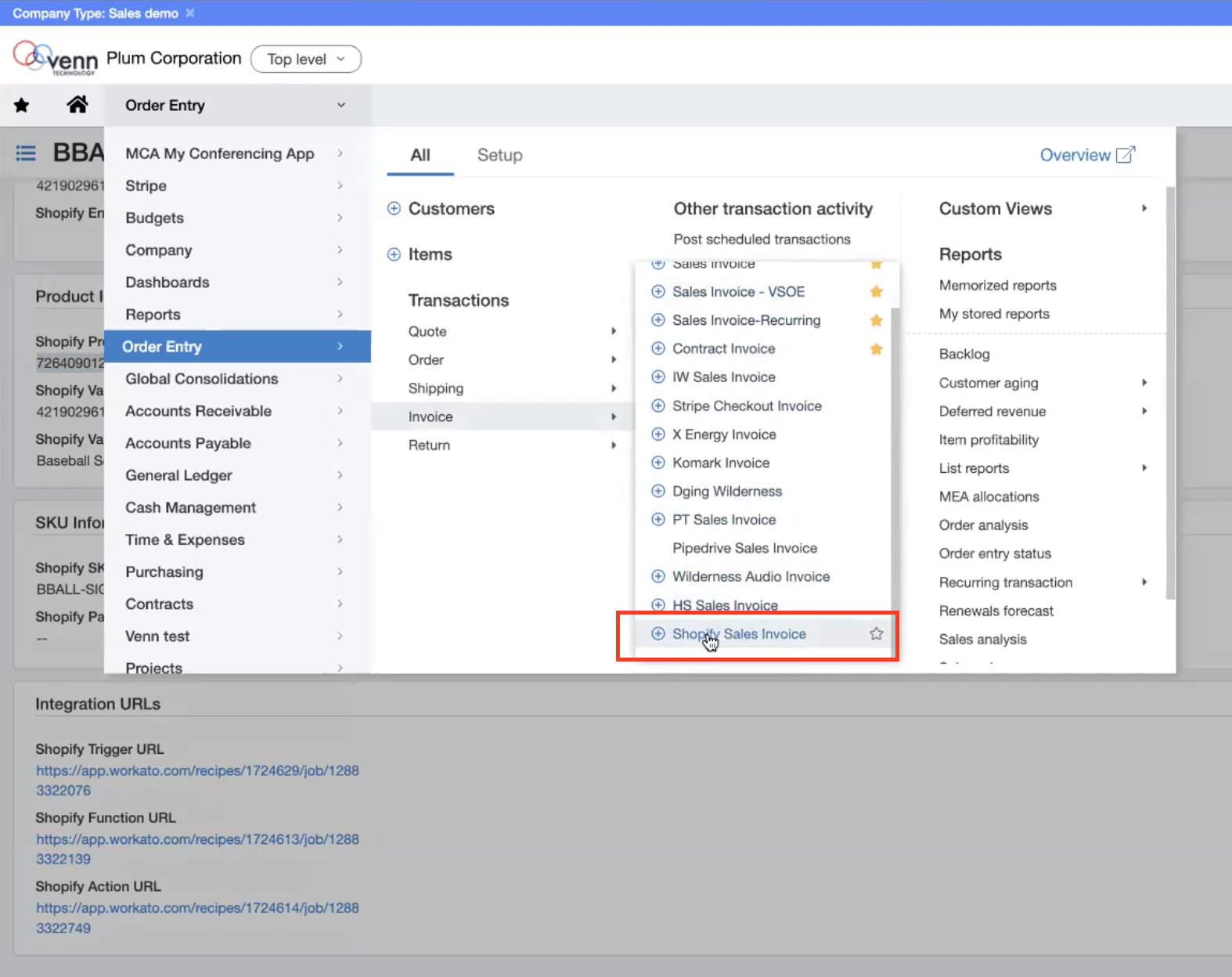 Shopify Sales Invoice is visible from Order Entry when the integration is installed
Depending on how the integration is set up, Intacct users can now see all the information on the Shopify order, including due date, contact information, quantity, subtotals, payment details, and more.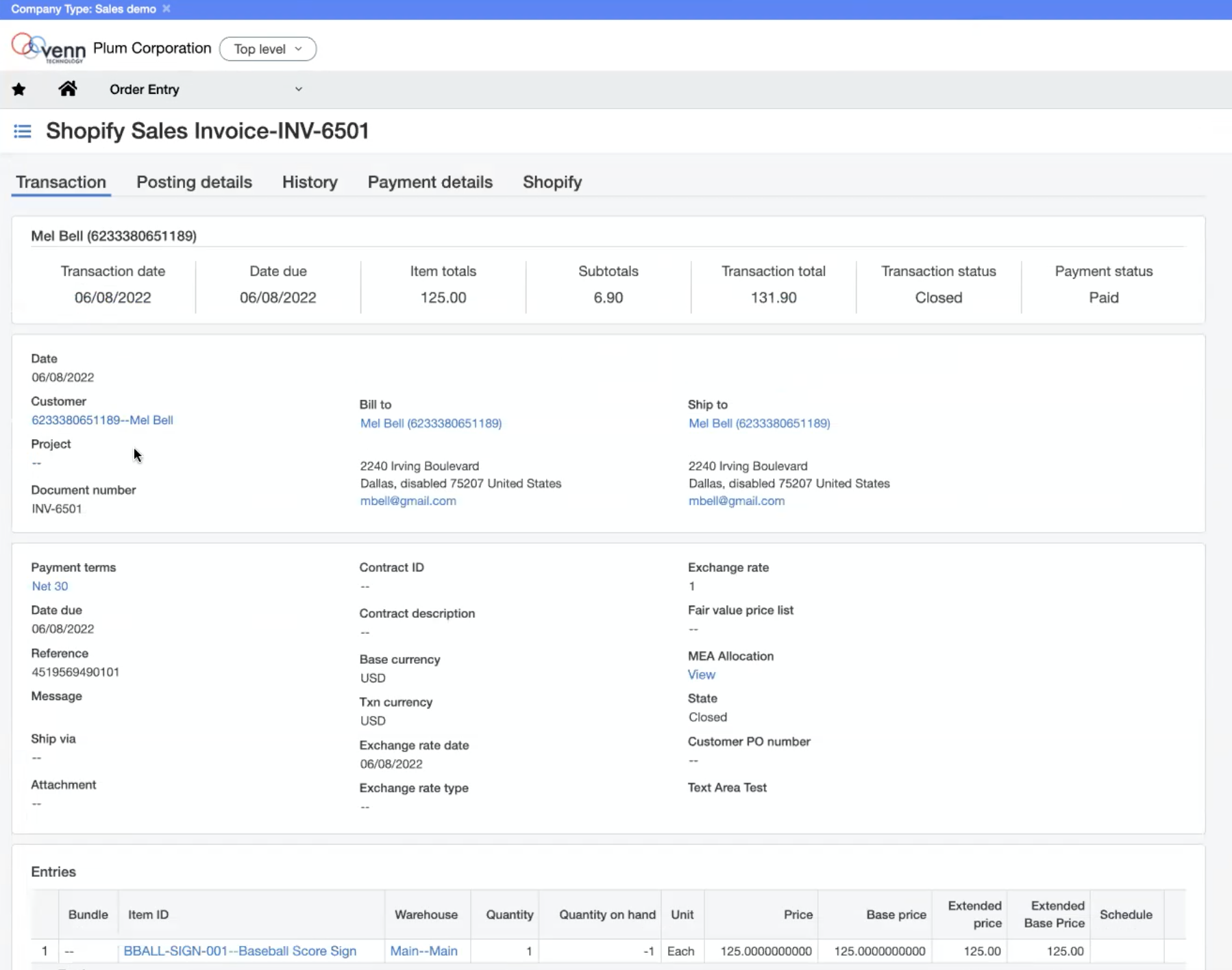 Shopify transaction details are viewable in Intacct
Bonus: Inventory Add On
There is an add-on option available for the Sage Intacct to Shopify integration to enable one-way or bidirectional sync with the Inventory Control Module. This can pull in receipts, transfers, and adjustments, depending on your business requirements and workflow.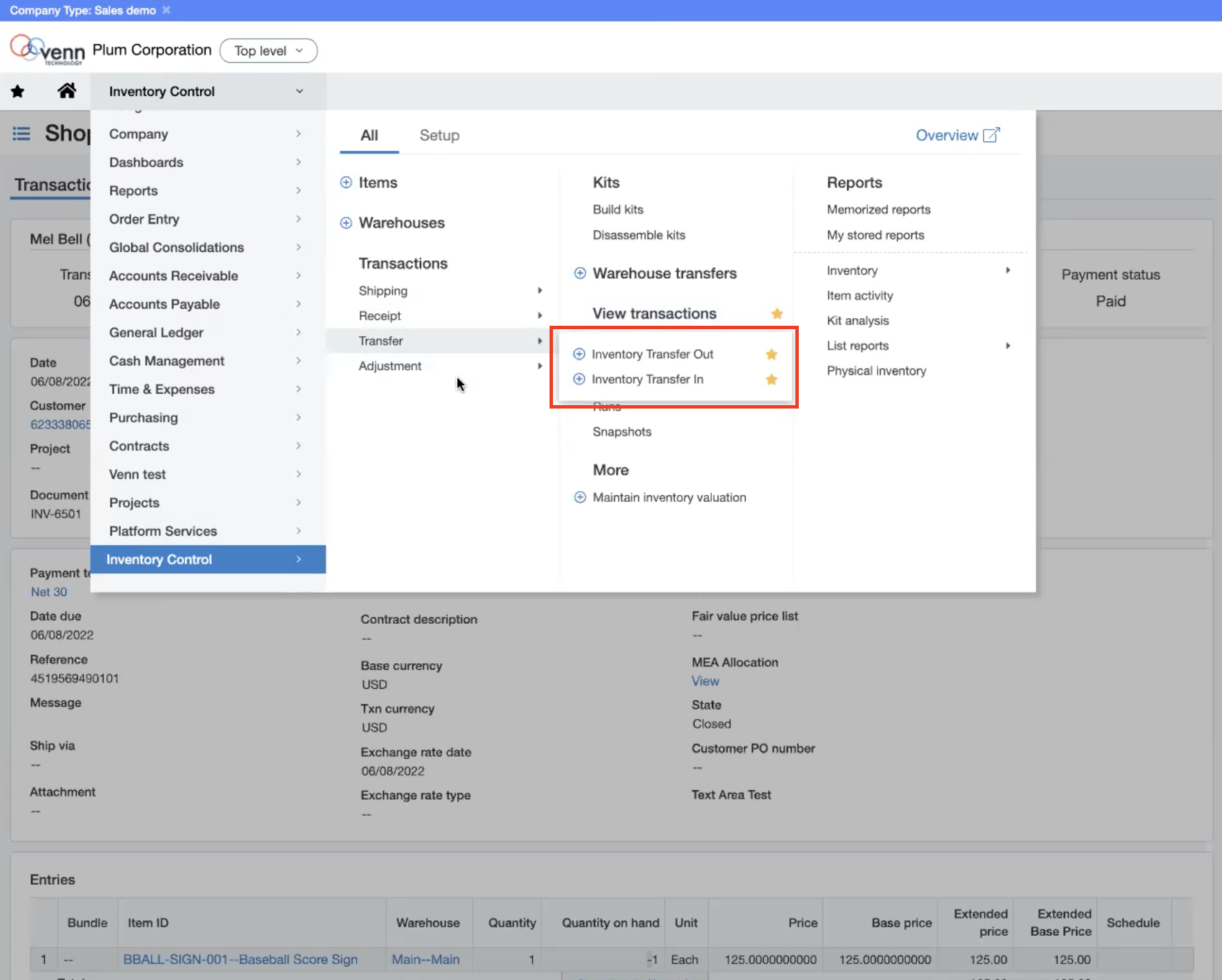 Inventory Control is available as an add-on to our standard Shopify Sage Intacct integration
Frequently asked questions
Q: Will an integration be expensive and what are my options?
A: The fastest and most affordable way to implement an integration is with middleware. The biggest difference between middleware and other methods is the amount of effort needed for customization. Not sure what the right approach is for your organization? Download our ultimate guide to learn about different integration models and tips for getting started.
Q: How long does it take to implement a Shopify Sage Intacct integration?
A: Our standard integration can be up and running in as little as four to six weeks once the contract is signed. The process includes a collaborative approach to gathering detailed requirements and testing before pushing the integration into production.
Q: Can you let Sage Intacct know about discounts applied on the order?
A: We do discounts in a variety of ways—ideally as a subtotal. You might also apply a credit to an order that's already been processed. Specific line items in the order can be modified.
In a similar situation, if a customer makes a purchase with a gift card, you already have the money, so there's a unique process that we can set up to automatically update transaction information like this in Intacct.
Q: If I have multiple Shopify stores, including brick and mortar locations, how can all of my separate data be represented inside of Sage Intacct?
A: Typically, with logic that's provided by the client, we can use multiple transaction definitions to represent multiple sales channels. For example, you may have a brick and mortar store (or many) running Shopify POS. In scenarios where you want to use a different transaction definition than your online store, we have the ability to customize the integration to fit whatever workflow you need.
Q: Can the integration manage pre-orders or products that are not yet in inventory?
A: If Shopify can handle it, so can Sage Intacct. The challenge about selling a product not in inventory yet is you have to make some modifications to the setup to allow for that purchase to go through. If you have an inventory item in Intacct, you cannot sell it if you don't have the quantity available. However, there is a setting in the order entry that allows you to go into the negative. Going into the negative can definitely be risky if your inventory isn't replenished, but the integration can be customized to fit needs like this if necessary.