Sage Partner Summit 2022 Recap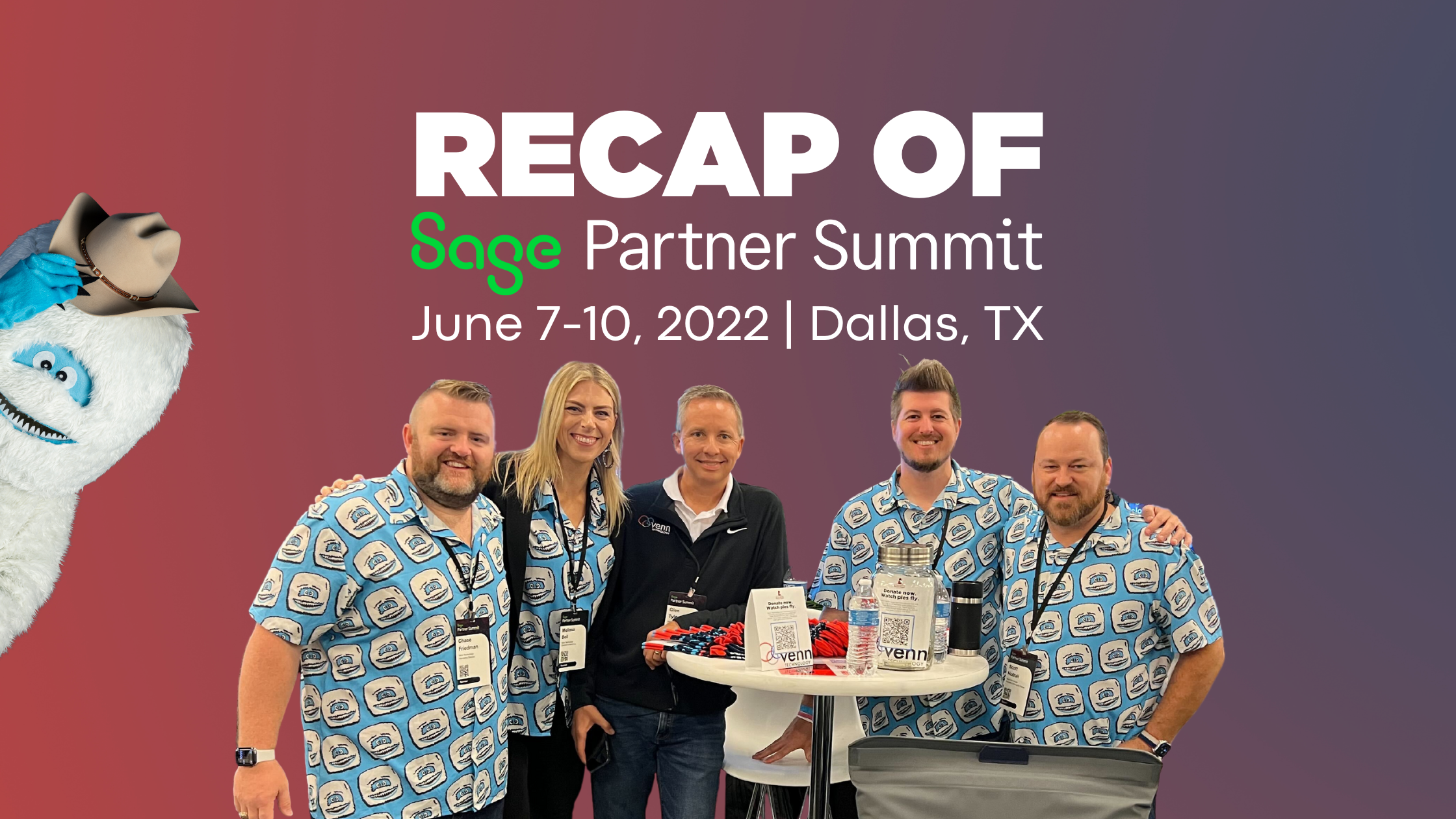 In-person Sage events are back and the excitement is real! The 2022 Sage Partner Summit felt like one big family reunion for us Sage Partners. Here's a recap of our favorite moments throughout the week.
Day 1
Boots, Brews, & BBQ Co-Sponsored by Venn Technology & Workforce Go!
This year, the Summit was located in Dallas, TX, right in our backyard. This got us thinking we needed to treat our out-of-town value added reseller (VAR) partners to a Texas-sized shindig for the books. To make it full-fledged Texas-themed, we wanted there to be (A) top-notch BBQ, (B) locally-crafted beer, and (C) everyone wearing the best leather boots they own.
Together with Workforce Go!, we hosted the "Boots, Brews, & BBQ," event at Community Beer Co. in downtown Dallas. More than 230 people from the conference joined us for the festivities! We'd like to thank everyone who joined us for the event. Stay tuned for more fun at Sage Transform 2022 this Fall!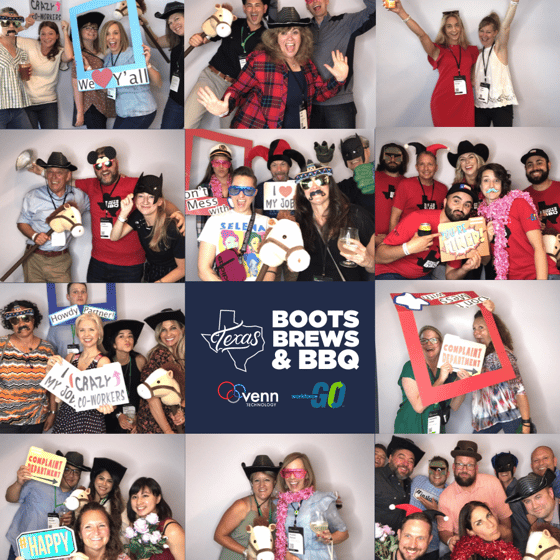 Day 2
Opening Keynote: Aziz Benmalek, Derk Bleeker, & more
The opening keynote presentation kicked off with a star-studded panel of Sage executives, including Aziz Benmalek, President North America and EVP Partners and Alliances, Derk Bleeker, President - EMEA, and other members of the leadership team. From the hotel lobby to the main stage, the Sage rebrand could be seen and felt in every aspect of the event throughout the week.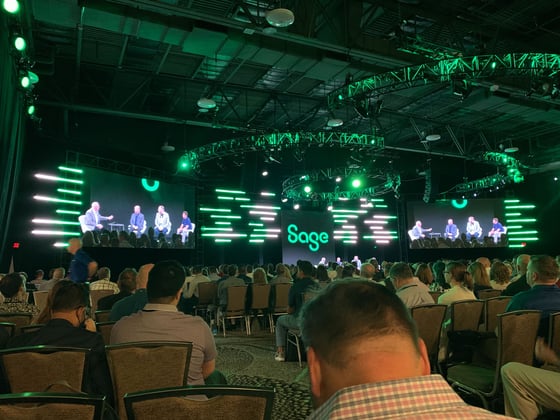 The main topic of discussion for the week: digital transformation.
"This event is about showcasing the opportunity ahead of us. We are in the foothills of digital transformation with small and mid-sized businesses." – Derk Bleeker
The amount of organizations using cloud-based softwares has increased significantly with 81% of SMBs expecting to return to pre-pandemic revenue levels.
With more than 800 VARs and 300 ISVs from across 25 countries, Sage Partners represent 45% of Sage business and the future looks bright.
What Sage is doing now to capitalize on opportunities:
Heavy investment in public relations, demand generation, and marketing efforts
More emphasis on self-service tools and enablement, including a new developer portal
Investment in partners and global initiatives for talent recruitment in the ecosystem
Scaling Sage Intacct into new markets and diving deeper into existing verticals
Expanding beyond financials by bringing finance and HR together and expansion into budgeting and planning
Delivering a digital network to SMBs and nonprofits
Then onto a partner panel on customer experience with leaders from PwC, Blythe Co., and Datel. They led a discussion on some of the biggest challenges for our client base: staffing shortages, compromised margins, and security vulnerabilities. A key theme throughout the discussion was strategies for moving clients from on-premise solutions to cloud-based solutions.
Lastly, a product panel featuring Dan Miller, Robert Sinfield, and Luc Mathiot from Sage.
"How do we bring solutions to market and how do we look at what we're doing? There has been a focus on innovation since the beginning of Sage." – Dan Miller
The role of the digital network was a key component to the discussion: how does sage automate the workflow and connect customers to their suppliers? Why does the digital network matter? Because it opens up an immense number of possibilities to sell more and eliminate challenges.
Venn Technology in the Intacct Neighborhood
The Venn team started a great week at Booth N10 with lots of great conversations. One of the highlights was hearing people's excitement about our company mascot, Bjørn the Yeti, and the excitement surrounding our limited edition Texas-themed socks. If you know, you know.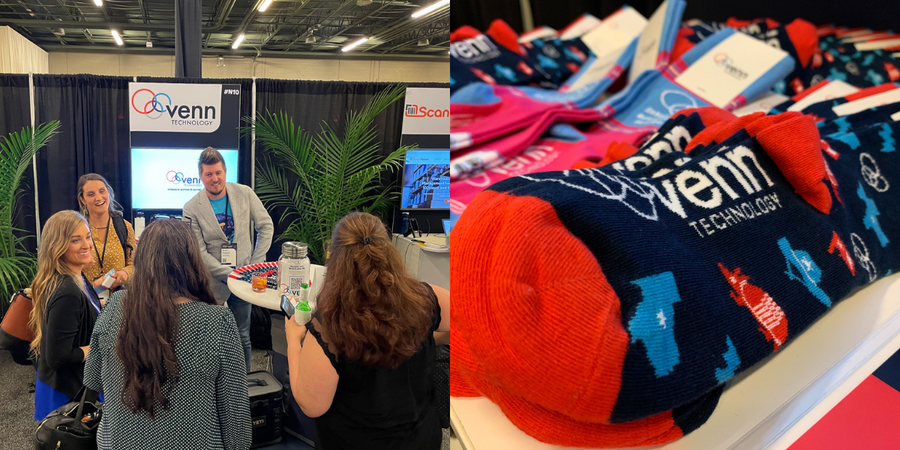 Day 3
Sage Foundation 5K Run
Founded five years ago, the Sage Foundation runs a number of programs through fundraising and education aimed at breaking down barriers to digital and economic inequality. The Sage Foundation Partner Program engages and empowers Sage's Business Partners to give back to their communities. Thursday started out early at 5:30 a.m. for team members Melissa Bell, Director of Marketing, and Glen Tyler, Account Executive, who represented Team Venn during the Sage Foundation 5K run.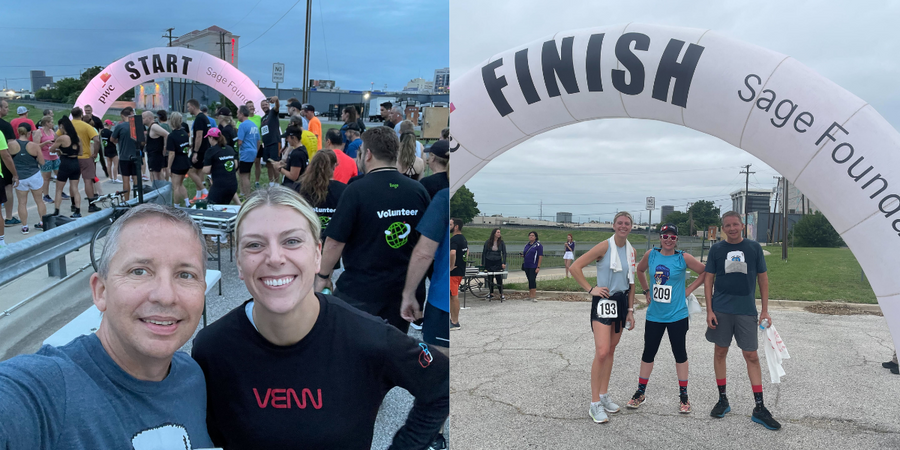 Venn Technology Booth
If you know anything about Venn, then you know we never miss an opportunity to rep the brand. The team was swagged out in our Bjørn shirts for our Win a Yeti from a Yeti giveaway:
Sage's Marketing Greatest Hits
In the afternoon, a breakout session led by Dawn Westerberg, Sage Intacct Senior Channel Marketing Manager, highlighted successful marketing campaigns by Sage partners. Venn Technology, among an all-star roster of other Sage partners, was invited to present on our Impossible Bjørn Puzzle campaign.
Melissa Bell, Director of Marketing, shared how the idea originated as well as key learnings, metrics, and outcomes of the campaign: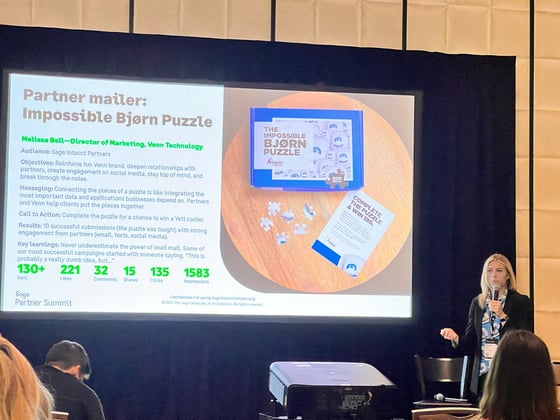 Win a Yeti from a Yeti
As tradition, we entered Summit attendees who stopped by our booth for a chance to win one of three Yeti® coolers… from a yeti. Congratulations to our winners! Could they be any cooler?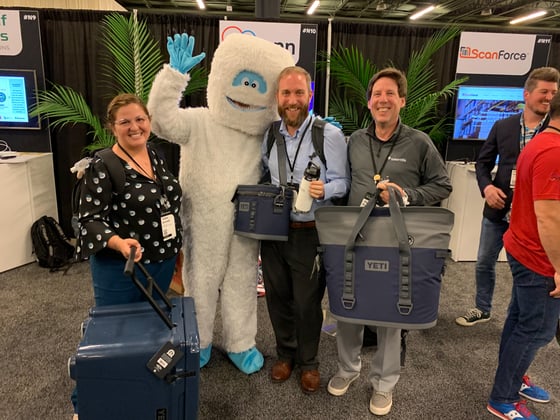 St. Jude Fundraiser results in $15,000 donations and pie everywhere
We love a good competition. Which is why we dared Workforce Go! to try to raise more money than us for St. Jude Children's Research Hospital. At Sage Partner Summit two years ago, we paired up with Workforce Go! to do this fundraiser for the first time. Unfortunately, Venn lost that year and our founder Scott Hollrah had a pie thrown in his face.
The competition this year though, it got a little TOO heated. Here's a crazy interaction between Venn team member Brent Bertolio, Account Executive, and Chris Goheen, President, Workforce Go!: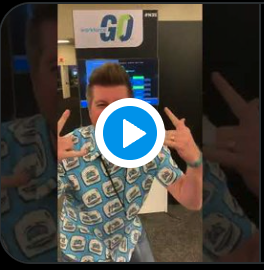 At the end of the day, the final tally of donations for both teams was made, and the winner turned out to be… Venn Technology! Our comeback story became true thanks to all of our generous donors. Together with Workforce Go, we raised over $15,000 for St Jude! We appreciate your generosity so much. Here's what Scott and Chris had to say following the fundraiser event:
Day 4
Keynote: Aaron Harris, Sage CTO
To wrap up a great week, Aaron Harris, Chief Technology Officer, Sage, gave a final keynote about the Sage brand, new product updates, benefits of automation and artificial intelligence, and continuous innovation.
"Breakthrough architecture for the digital era is the digital network." – Aaron Harris
By digitizing the workflow and connecting individuals, organizations, and data through a globally shared directory, Sage wants to be the trusted network for SMBs–an integrated experience of human and digital connections. Harris also emphasized the responsibility of software publishers like Sage to provide equitable access to financial data and services.
"If we do it right, this network can create trust and build more fairness in our markets."
Other key priorities for Sage discussed by Harris include: prediction and forecasting, embedded accounting, more API services, metaverse, and blockchain.
See you at Sage Transform 2022 this Fall!