Sage Intacct Integrations: 5 Ways to Avoid Delays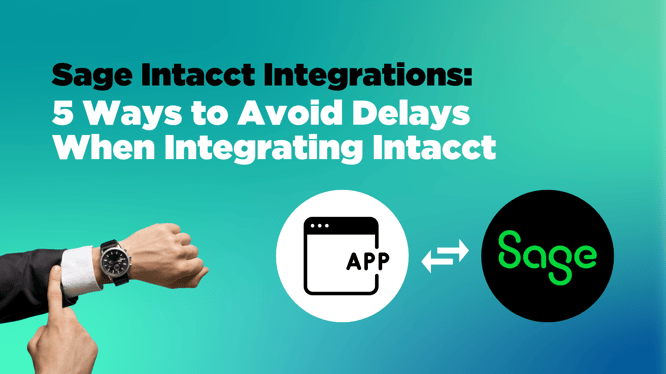 As a longtime Sage Tech Partner, we've integrated hundreds of business tools and applications to Intacct. Depending on a number of factors, Sage Intacct integrations can take weeks or even months to complete. Below, we've identified five ways your team can avoid delays and ensure the success of an integration to Intacct.
Ensure cross-functional processes are documented
A practice every business should be doing, especially before integrating their tech stack, is identifying processes performed by teams. If you're a growing small to medium-sized company, you may not have every process nailed down just yet, and that's okay, we've been there.
Before an integration project, it's important to consider how your team transfers data or information from one application to another (or multiple). If you plan to integrate Sage Intacct and your CRM for instance, sales and marketing teams should collaborate with your finance team to identify which processes—once automated—would add the most value.• How many systems are being integrated?
To get you thinking, here are accounting-specific areas where teams should have documentation of processes:
• Payment Collection
• Accounts Receivable (AR) & Accounts Payable (AP)
• General Ledger
• Adjustments
• Invoice Creation
• Returns & Refunds
• Preparing Financial Statements
• Closing the books
Identify key decision-makers
Have you ever heard the phrase "too many cooks in the kitchen?" Technology projects can become tricky when not everyone is on the same page and integrations are no exception. To ensure that the project remains on track with your organization's goal, it's important to assign key decision-makers that have ownership over how the final solution functions.
These project stakeholders should be able to advocate for the team, making decisions related to:
• Core business processes
• Budget
• Project timeline
• Scope changes
Obtain a Web Services License
One of the great things about Sage Intacct is its flexible, open APIs that make connecting to other third-party applications easy. In order to access the API, customers will need to ensure they have Web Services User and Sender ID.
Before learning how to obtain your Web Services Sender ID, let's define what it is and the purpose of having one as a Sage Intacct user.
A Sender ID is a Web Services credential that enables controlled usage of the Sage Intacct API. Essentially, this is a security measure required before connecting and syncing other applications to Intacct. It tells Intacct that this user is a verified source, allowing API calls to be exchanged back and forth between systems. Without a Web Services license, you are unable to integrate other applications to Intacct.
Where can I find my Web Services Sender ID and password?
It's not uncommon for Sage Intacct users to already have a Web Services Sender ID and password. If you purchased Intacct directly from Sage, you'll want to contact your account manager to locate your web services license or add one to your account.
Some value-added resellers we partner with indicated this is often included in the overall agreement for new Intacct customers. That being said, if you purchased Sage Intacct from a reseller, they should be able to confirm if you already have a license or assist in obtaining one.

Communicate who has admin access to the different apps/systems
Every software application, like Sage Intacct, has a number of security checkpoints that work to protect its users' confidential information. At most companies, different departments have specific access to the systems they use the most.
Definitely when working with an outsourced integration provider, certain stakeholders of the integration project–like those responsible for connecting the APIs–will need access to the systems. It's best practice to work with department heads and key decision-makers in advance to create a list of contacts with administrative permissions to provide your integration partner access when needed.
Assign multiple project stakeholders
Small teams—this one is especially for you! No matter the size of your organization, we recommend assigning at minimum three individuals to the integration project. Depending on project scope and complexity, an integration could take weeks or even months to complete.
That being said, members of your team could run into schedule changes during the project. They could be out of office some days or have moments where they need to shift priorities. When moments like that happen, the other project stakeholders can provide coverage to keep the project on track.
Venn integrates any app with an API to Sage Intacct
We've integrated hundreds of applications to Sage Intacct. As a two-time Sage Intacct Marketplace Partner of the Year winner, our expertise goes beyond integrations. Before doing anything to your technology, we work alongside your team to understand how manual processes affect their work. That way, we can tailor a solution that saves time, improves cash flow management, limits risks, and ultimately drives business performance at scale.
Want to integrate your apps to Sage Intacct but aren't sure where to begin? Schedule a consultation with a member of our team to find the right solution for your organization.