Venn Open House Recap
On March 24, we celebrated two huge milestones for our company: (1) We entered our seventh year in business, and (2) we bought our own building.
Venn Technology has evolved into what it is today because of relationships forged over the years with partners, clients, team members, family, and friends. We hosted an Open House at our new building to celebrate the occasion.
Around 200 people attended the event, with many traveling from all parts of the country to join us. That being said, we have so many people to thank. Here is a short message from our Founder, Scott Hollrah:
Thank you to our partner Sage Intacct for sponsoring our Open House. We were able to make the day extra special because of our friends from Intacct.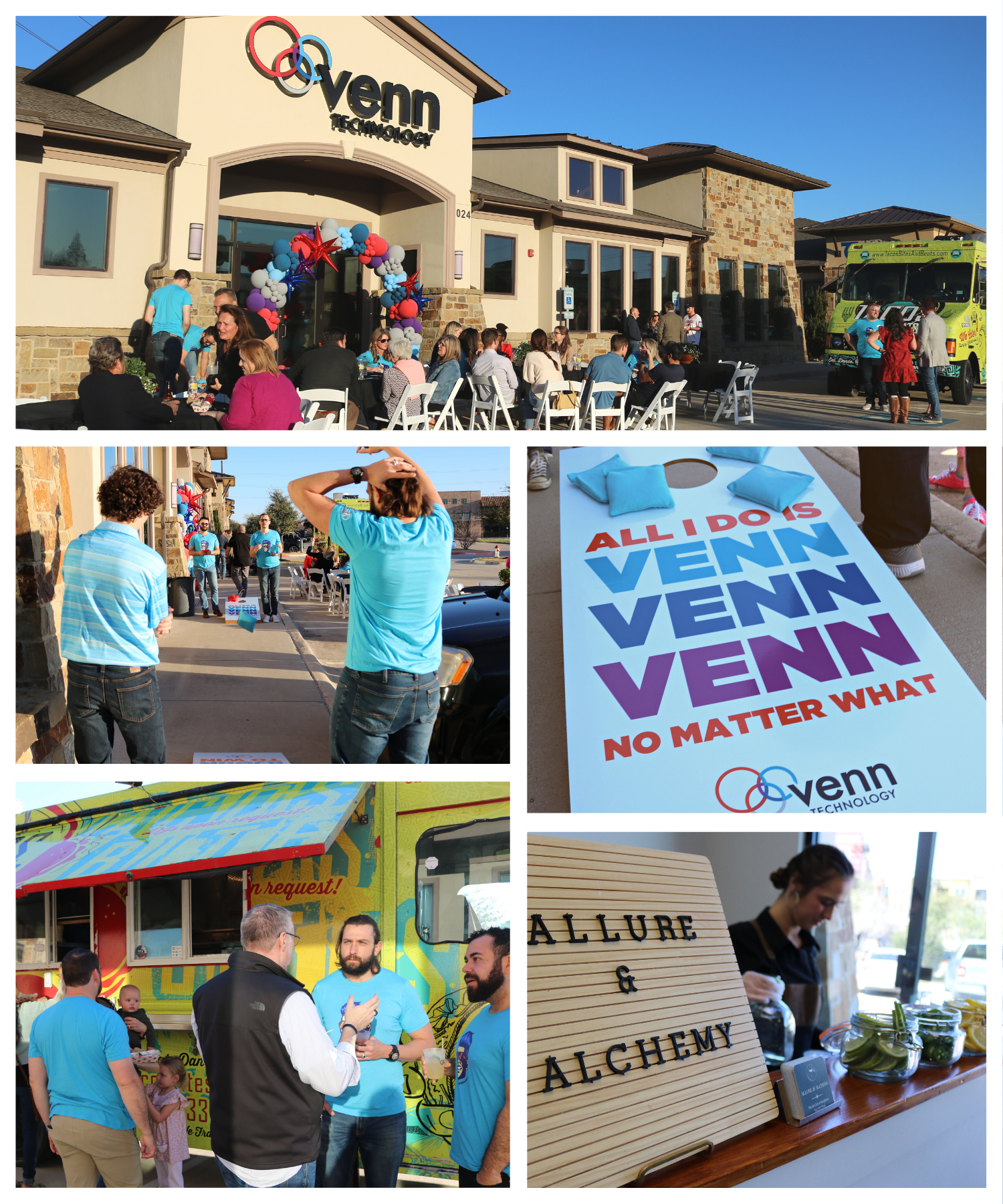 A Blast From the Past Series
Over the course of four weeks leading up to Venn Open House, we started a series on social media to show our journey since some humble beginnings in 2015.
#1 Scott's Home Office (2015)
There wasn't really a "team" starting out—just a one-man show over 7 years ago. Scott Hollrah founded the company as a Salesforce consultant right from his home office. Later hiring his first full-time team member and seeing the potential to grow, Venn continued to expand the team even more.
#2 Old Main Place - Grapevine, TX (2017)
Our first office at Old Main Place was a 350 square foot room. We decided to break the space up by adding in a wall so our 3 team members could work comfortably. Yet, we still did all of our project brainstorming, video recording, and break-taking all in the same area. We got to know each other very well!
#3 Capital Center - Grapevine, TX (2018)
As we began to dive more into Salesforce and Sage Intacct integrations, things were picking up. This larger office was located in Capital Center, which gave us the opportunity to display our logo for the first time. Our team was up to 7 and 1 remote at the time.
#4 BOSS Office + Coworking - Grapevine, TX (2020)
While searching for a building of our own, the team temporarily moved into BOSS located in Historic Downtown Grapevine on Main Street. The shared-office space was a great fit for the young vibe of our company, but once our team grew to 16, it was time to move into our own place.
#5 1024 Texan Trail - Grapevine, TX (2022)
Venn moved into our current office in November 2021. Over the last few months, we've been adjusting to the new space by adding our own touches. To name a few, we added new furniture, interior and exterior signage, a lounge room with games, and more. Our exterior signs are our biggest milestone yet, take a look:
Thanks again to everyone who joined us for the Open House. We look forward to many more years in business to come!