Integration Trailhead: Venn Technology Integration Project Methodology
Since 2015, we've worked with hundreds of organizations to build integrations that automate processes, freeing teams to focus on what they do best. In our experience, the most successful projects are highly structured to maximize efficiency and collaboration.
Introducing Integration Trailhead, Venn Technology's integration project timeline. Along the journey, we stop at a total of six key project milestones: Design, Build, Test, Deploy, Hypercare, and Service Plan.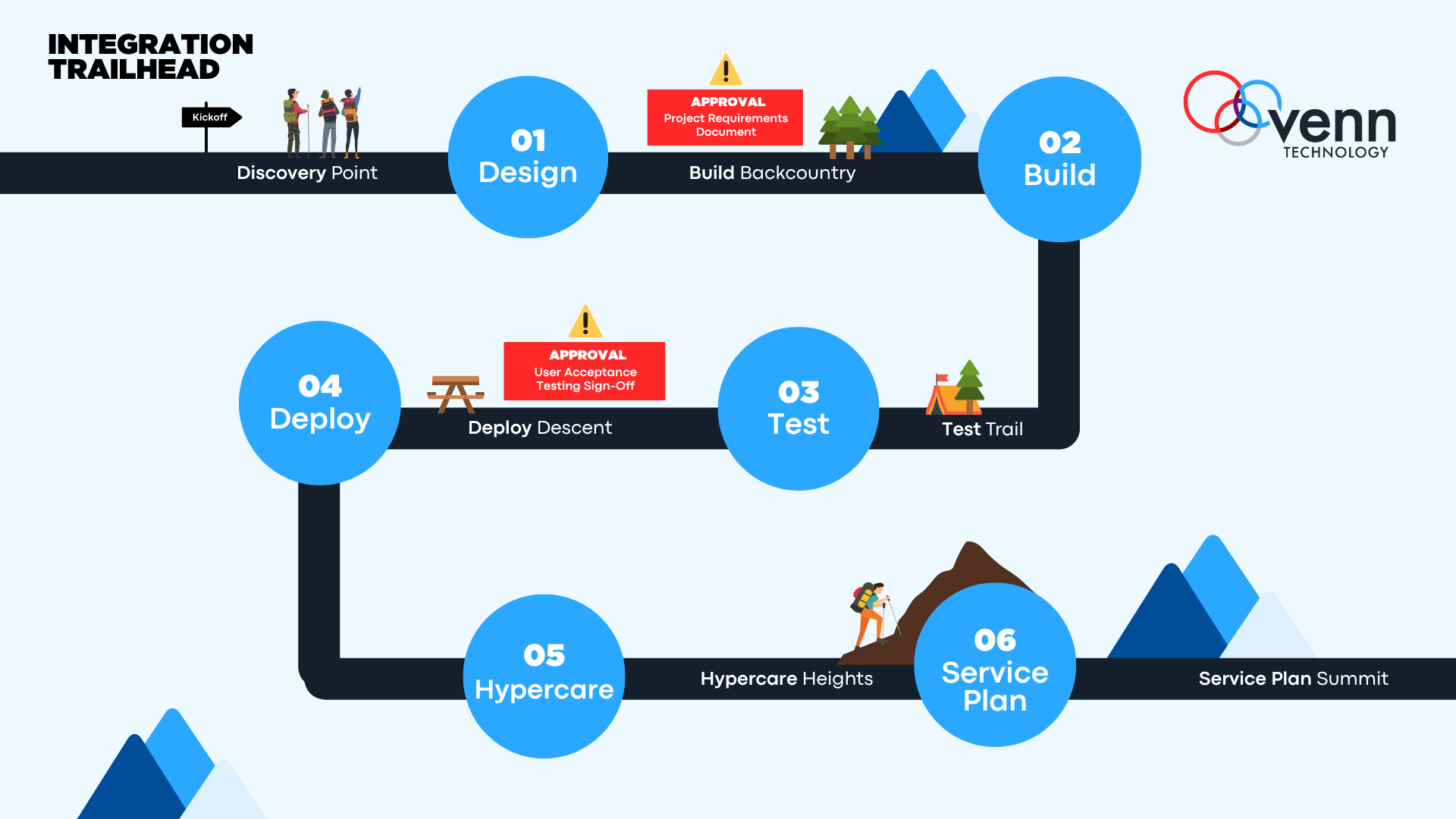 Let's take a closer look at each milestone up ahead:
Project Kickoff
After signing for a project with us, a member of our team schedules a Project Kickoff Meeting with your team. During this meeting, your project manager and a technical consultant will discuss timelines, upcoming approvals, and set collaboration expectations.
Phase One: Design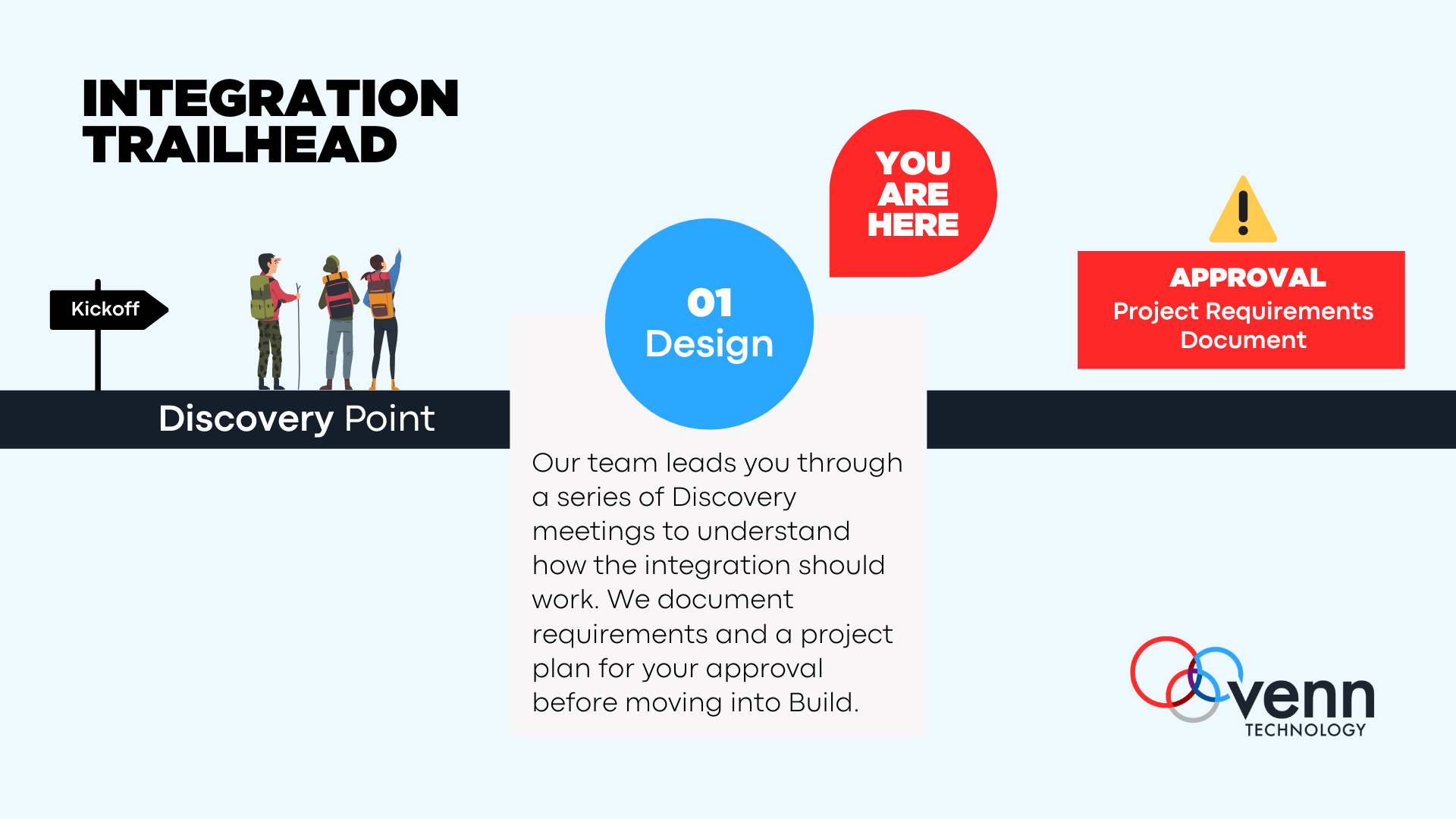 After Kickoff, it's time for the first project phase, Design.
This phase includes a series of Discovery calls to better understand what you are trying to accomplish with your integration. We dig deep into your systems and processes to uncover how automated workflows can work best to support your team.
We ask a lot of questions during this phase to ensure the design of the integration is optimal. Your answers are compiled into what we refer to as a Requirements Document.
Before moving on with our journey, we need your team to review and sign off on all requirements, project milestones, and an agreed upon go-live date for deployment.
Phase Two: Build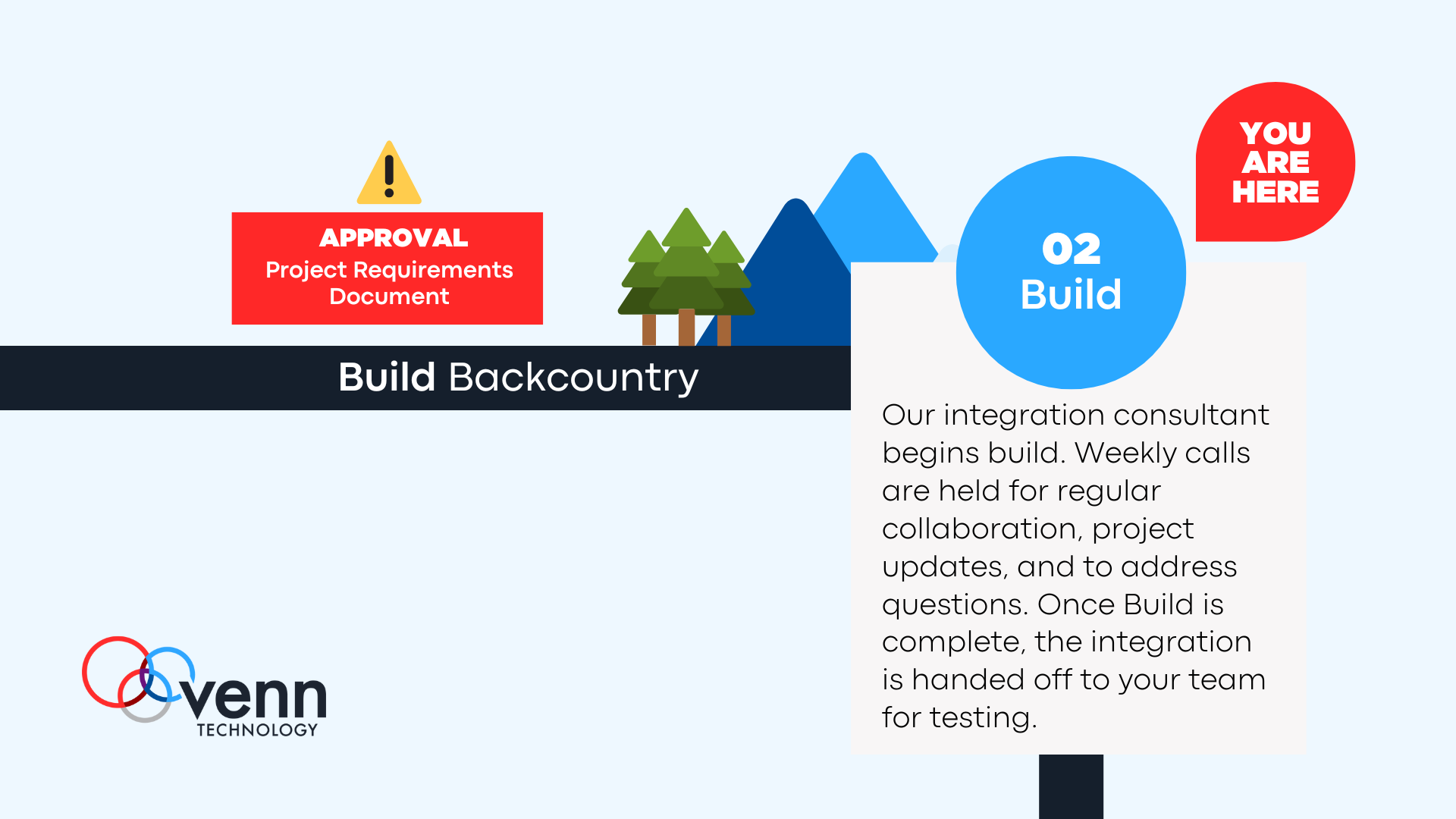 Once the Requirements Document has been approved, we move into the Build phase.
During this phase, our integration consultant is building out your integration. Weekly calls are held for regular collaboration, status updates, and to address questions.
After the integration is built, it's time to put it to the test!
Phase Three: Test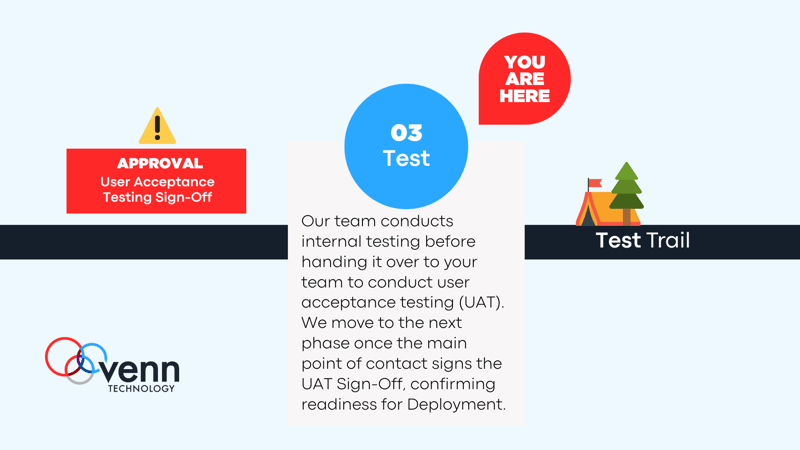 Testing is a pivotal part of the integration process. Not only do we test the integration through and through, we ask that your team does the same.
Why do we ask you to test? Because you know your business the best. You and your team are the experts on your processes, so testing will help everyone call out what needs to be tweaked or improved before moving it into the live production environment.
If you do come across something that doesn't work (we call these bugs), we have workflows that make it easy for you to report them so our team can address it. Weekly meetings continue throughout the testing process until your integration is running smoothly.
Once everything has been tested top to bottom, we look to you to confirm if the integration is ready for deployment. This is accomplished by signing the User Acceptance Testing (UAT) Sign-off Document. Once we get your signature, we are set for go-live!
Phase Four: Deploy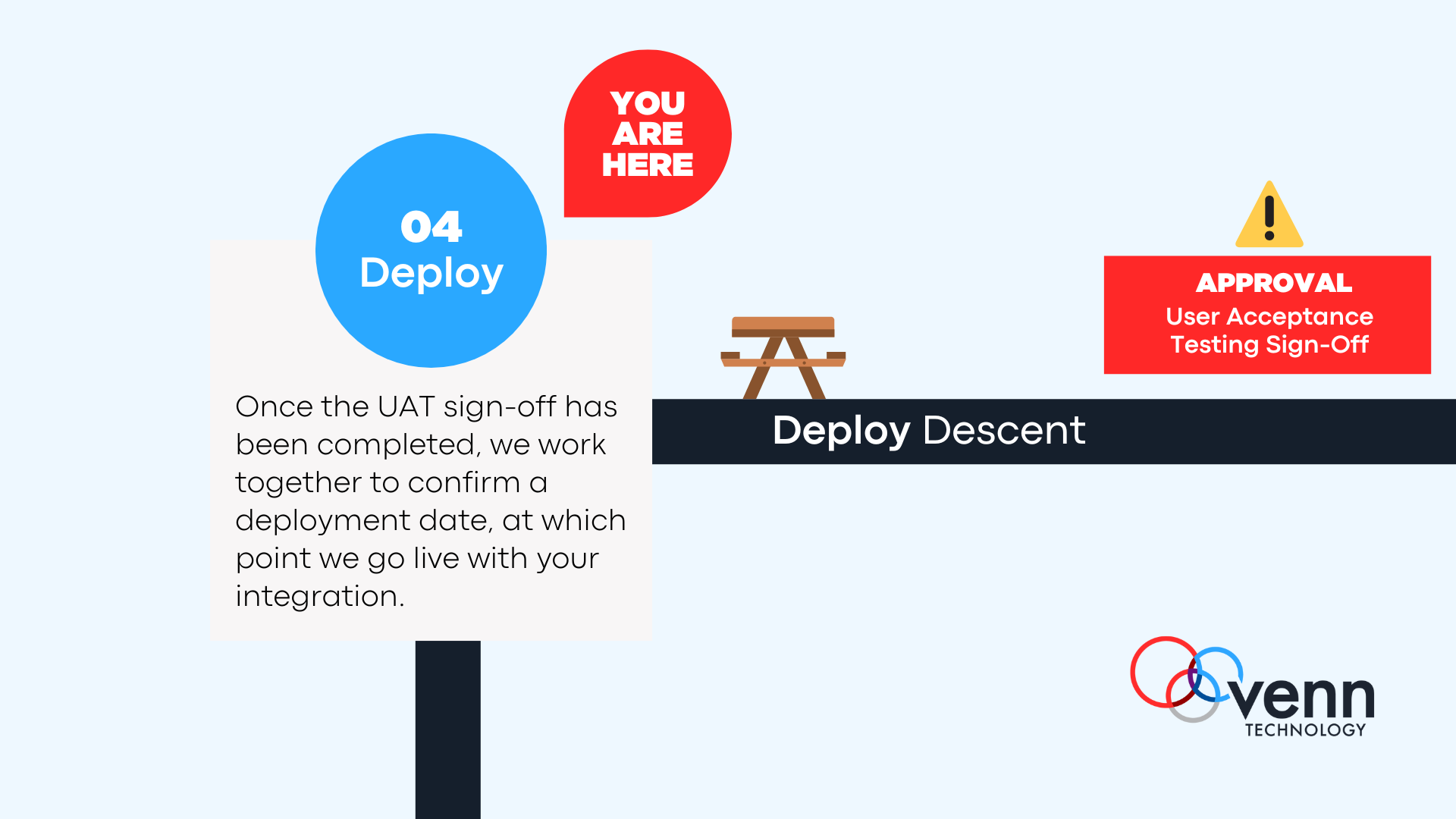 Way to knock out testing! It's finally time to see your processes automated and working in real-time!
In the Deploy phase, your integration is moved from the testing environment to the live production environment. Don't worry, this doesn't mean we just hit publish and leave you to it. After everything is live, we enter into a two-week customer care period called Hypercare.
Phase Five: Hypercare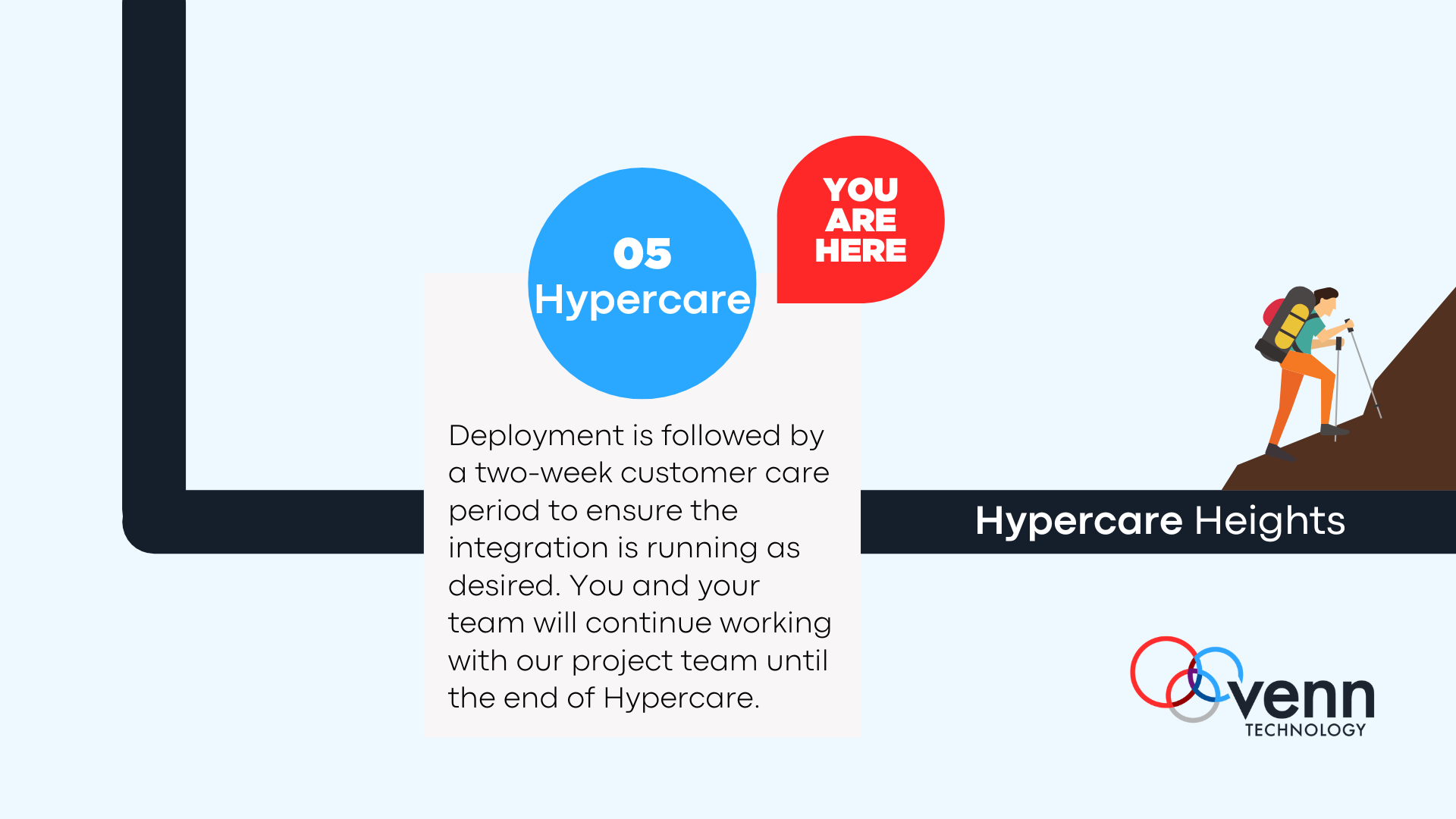 As you likely already know, technology can have its moments. That's why we provide two weeks of intensive customer support (Hypercare) to ensure the integration is running as desired.
Though we no longer meet with your team on a weekly basis, our team is still available for support. Any bugs your team comes across should be reported using the Bug Testing Form.
Once Hypercare is over, your project manager will be in touch to schedule a Project Closeout Meeting to discuss the final phase Integration Trailhead, Service Plan.
Phase Six: Service Plan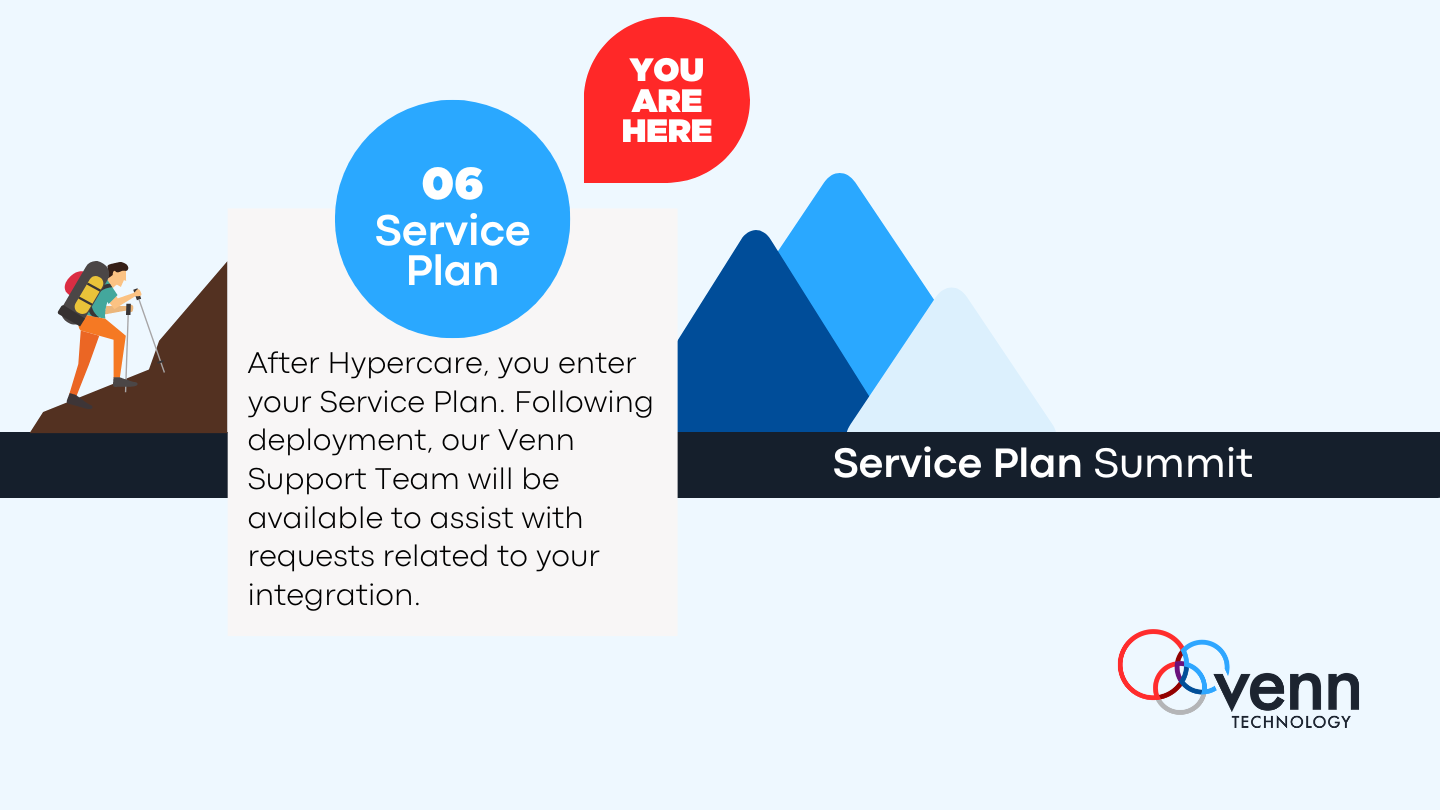 Good news, your journey with Venn doesn't end here. During the final phase of the project, Service Plan, a Project Closeout Meeting is held to discuss what went well, what didn't, and any next steps.
During this time, one of our Account Managers will also introduce you to our Service Plans, which are designed to help cover any issues that might come up after deployment. Whether or not you decide to add a Service Plan, as long as you have an active integration with us, you can report any issues that might come up to our support team.
For new project inquiries, you'll need to contact your designated Account Executive or Account Manager.
See you at the kickoff!
We believe every part of Integration Trailhead is vital to successfully freeing your team from inefficient processes. Our goal is to ensure that our team takes good care of you, learns from you, and betters themselves for you throughout the project.

If you have questions or would like to explore integrations for your scenario, book a 1:1 meeting with us here.