Hired: Randy King Jr., Salesforce Customer Advocate
Hired is a video series that gets new team members' take on what their first 30 days on the job are like at Venn.
Meet Randy King Jr., Salesforce Customer Advocate. We ask him all the big questions every job applicant needs to hear—from company culture to role-specific opportunities.
What do you like about your position so far?
As a Salesforce Customer Advocate, I enjoy the opportunity to connect with our clients and understand the inner workings of their businesses. It's also rewarding to leverage the technologies we use at Venn to simplify their lives and improve efficiencies for their teams.

Do you feel welcomed by the team so far?
Absolutely! Right from the interview process, I felt welcomed by the team. On my first day at the office, I was pleasantly surprised to see my name on the TV, welcoming me to Venn. It instantly made me feel like I was part of a team that genuinely values their employees.

What do you think about the company culture?
I absolutely love the company culture so far. We take our work seriously, focusing on delivering high-quality services to our clients. However, we also understand the importance of having fun while doing it.
This balance between productivity and a positive work environment is exactly what I was looking for. Venn's culture is one that encourages growth, collaboration, and a strong sense of camaraderie among the team.

Has anything surprised you since joining the team?
One surprise that caught me off guard was seeing Bjørn (Venn's mascot) casually biking around the office premises the day I came in for an interview. This unexpected encounter perfectly describes the kind of office environment we work at.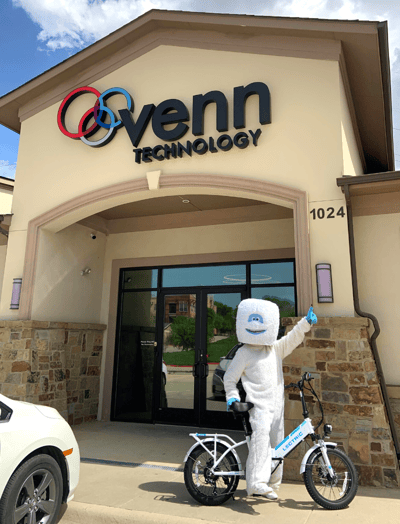 The day of his first interview, Randy recalls seeing Bjørn (Venn's mascot) riding an electric bike from Lectric eBike, Venn's client.
Also, it's been nice to see how approachable the leadership team is here at Venn. They've been actively involved in my day-to-day activities and have checked in on me to see how I'm doing.
Do you feel like you have the resources to be successful in your role?
From day one, I've had the resources I needed to excel in my role.
Bradley, Director of Operations, has guided me whenever I need it. And when he's not around, I have the privilege of using ChadGPT, our in-house "AI assistant," for additional support.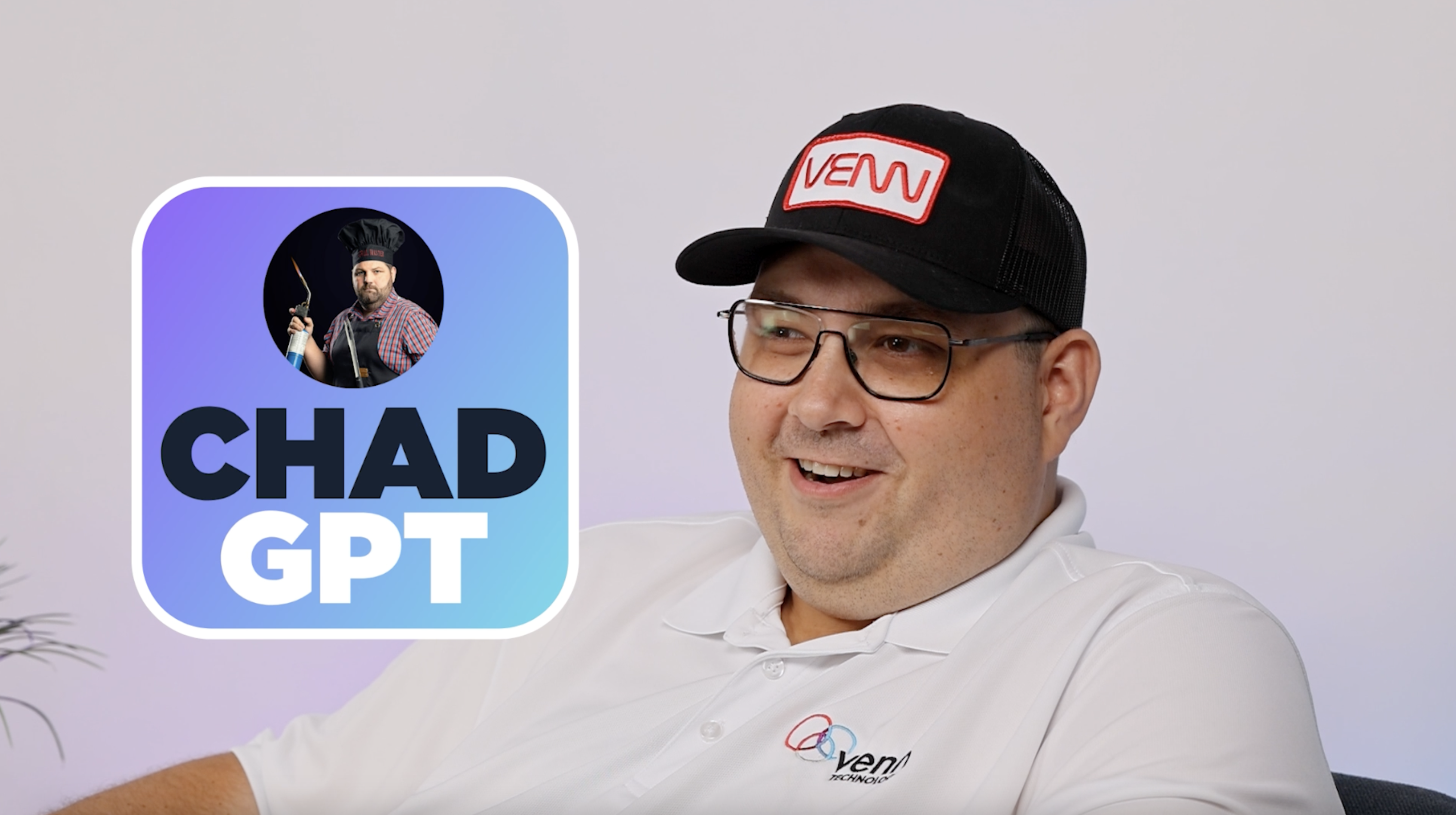 Randy jokes about ChadGPT being one of his most useful resources at Venn.
The entire team has been incredibly welcoming and supportive, always ready to lend a hand whenever I need it. The equipment and monitor setup provided was also a plus—especially for someone who's blind as a bat like me.
What motivates you to keep coming to work every day?
For me, it's just being able to make our clients' lives just a little bit better every day. Whether it's creating a report for them or setting up an automation, it saves them time. And, over the course of a year, it could save them a ton of time. I like doing that kind of work and seeing the appreciation our clients have for it.
What are you hoping to accomplish in the next 30 days?
I'd like to keep pushing myself to learn more about the technology we use at Venn. I'm definitely looking forward to getting involved in more projects and supporting our clients as much as possible.
Is there anything else you'd like to add?
If you're considering joining the Venn team, I encourage you to take that step. You will discover a supportive environment that values your growth, encourages collaboration, and celebrates your achievements.