Acumatica Payments Integration with Stripe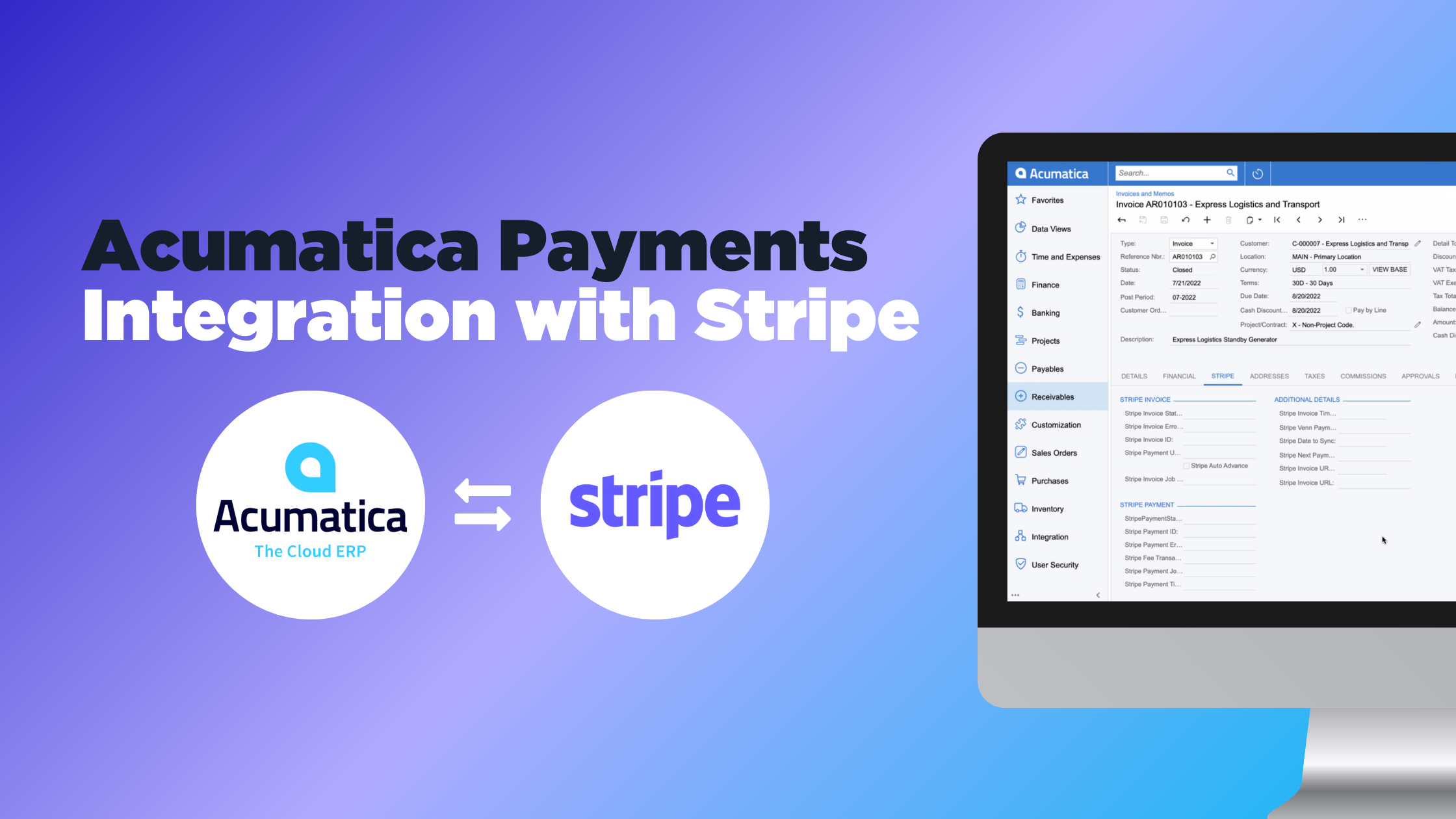 A key part of any business is securely managing payments and financial information without manual effort or mistakes. If your business uses multiple applications to manage customers, payments, and orders, there's real value in using automation to ensure data is recorded accurately and efficiently.
If you're a scaling business using Acumatica Cloud ERP, an integration to a payment processor like Stripe can significantly reduce the amount of time it takes to manage the books. Once automated processes are in place, teams can focus more on improving the customer experience (ie. automatic email receipts or providing multiple payment options).
Does Acumatica have an integration with Stripe Payment Systems?
For midsize organizations looking to bring the power of other Stripe features into Acumatica, a custom integration may be the solution. While Acumatica supports Stripe for credit card collections in the UK, many midsize companies need to leverage Stripe's features globally. Developing a custom integration between Acumatica and Stripe can provide the flexibility to use Stripe's payment processing, recurring billing, and other features effortlessly from within Acumatica. This avoids the need to switch between the two systems to manage payments.
A customized integration might map customer, order, and invoice data from Acumatica to Stripe to enable payments within the ERP. It can also pull transaction data back into Acumatica for reporting and reconciliation. Ultimately, an integration between the two platforms can be designed specifically for the organization's unique needs and workflows to unlock the full power of Stripe globally in their Acumatica ERP.
Advantages of Acumatica Payment Processing with Stripe
One of the biggest benefits of integrating payment processing with an ERP is time savings—that comes with a lot of benefits. Here are some areas Acumatica Stripe integrations address:
Visibility to Financial Data Across Systems
Through integration, teams gain centralized control over all payment activities. Rather than managing data manually between Stripe and Acumatica, automated workflows synchronize information between the two systems. Since these processes happen in real-time, businesses can make more timely decisions, track financial performance faster, and better serve customers with detailed payment histories.
Faster, More Accurate Accounts Receivable
When systems like your payment processor and ERP aren't in sync, accounts receivable processes are siloed and take longer to ensure accuracy. The integration can generate and send invoices automatically, reducing the risk of late payments or missed invoices. Businesses can also avoid payment delays by creating a unique payment URL or "pay now" button to send to customers. Collect on invoices faster and get paid sooner!
Simpler Reconciliation and Reporting
The integration matches payment transactions with invoices and updates corresponding records in Acumatica, reducing the time and effort required for manual reconciliation. Businesses can additionally generate detailed reports on payment activities, settlements, and chargebacks directly from Acumatica, providing valuable insights into financial performance.
Happier Customers
Integrations not only improve workflows for internal teams, they also create opportunities to enhance the customer experience. Stripe offers a user-friendly checkout experience, and on top of that, businesses can provide multiple payment methods (e.g. Apply Pay) and pay later alternatives. Thanks to automation, there's less friction in managing all kinds of payment preferences out there.
Scalability and Adaptability
Cloud-based applications such as Stripe and Acumatica are built for scale, so integrations should be too. If core business processes change for any reason, the integration can be customized to meet specific needs.
What fields sync between Stripe and Acumatica?
Acumatica users who don't have an easy way to send payment URLs should consider integrating Stripe to speed up the payment process. The "Pay Now" workflow generates invoices in Stripe automatically and returns the hosted payment URL to the Acumatica invoice for the end customer to click and make a payment on.
For Venn Technology's Stripe to Acumatica integration, objects are all one-way syncs (including a writeback to the source system):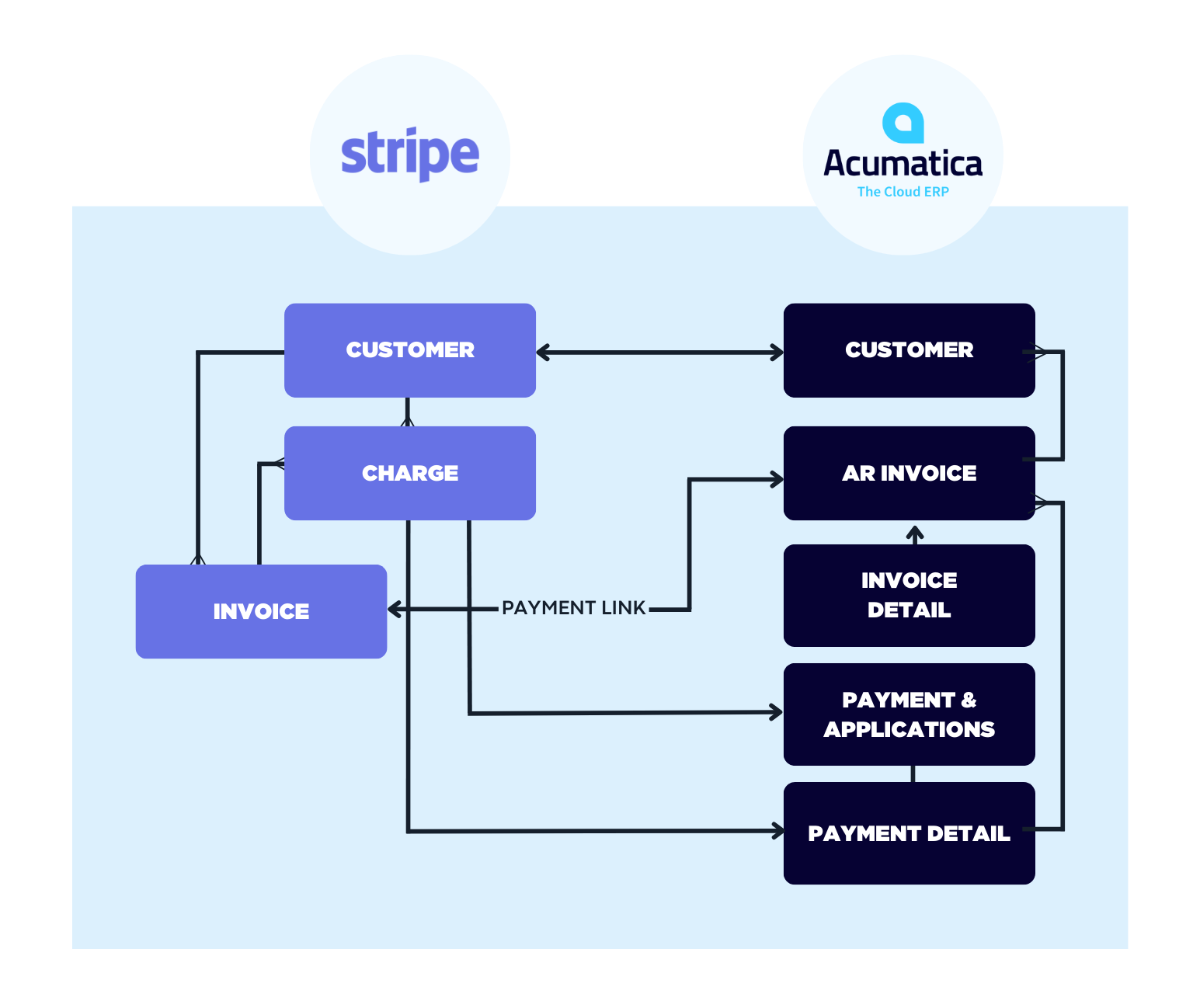 Stripe + Acumatica Integration Entity Relationship Diagram (ERD)
How long does it take to implement a Stripe and Acumatica integration?
Our standard Acumatica Stripe integration can be up and running in as little as three weeks. However, the timeline for the project could take longer depending on your business's unique requirements. We take a collaborative approach throughout the build phase and testing before pushing the integration into a live environment.
Managed Integration with Venn Technology
As a proud Stripe partner with years of experience helping organizations build and maintain their integrations, we're to help teams get back to what they're best at. If you're interested in connecting your Stripe environment with Acumatica, schedule a consultation with us below.
Book a Consult