Optimizing Financial Performance with Accounting Software Integration
To scale a business and lead teams to success, finance leaders must understand that traditional financial management is no longer sustainable or scalable.
Today, CFOs are tasked with more involvement in areas outside of their expertise—including IT, cybersecurity, procurement, and more. Yet, 30% of CFOs indicate they don't have enough time or resources to lead digital transformation efforts. To meet changing demands, CFOs can rely on accounting software integration to keep financial data in sync and provide teams with accurate insights faster.
In a recent webinar, we discussed the benefits of integrated accounting software, common use cases, and why organizations should focus more on building a strategy for their technology. Watch a recording of the webinar and view key insights below:
The role of the CFO has changed
A CFO is no longer just a financial controller at their organization. Because of changes in technology, economic factors, and more, a CFO is now seen as a strategic advisor—overseeing multiple parts of the business that drive financial performance.
A study from Productiv shows that scaling companies today use on average 242 SaaS tools, such as Salesforce, Shopify, Stripe, and more to run their business.
It's been reported that the average scaling company uses 242 SaaS applications to run their business. This increase in technology use now requires CFOs to have a deep understanding of software and how it can be leveraged to improve financial processes and reporting. Additionally, they're now being asked to focus on cybersecurity and ways to limit risk exposure.
Reasons CFOs should lead efforts to integrate their organization's tech stack
With the rise of cloud-based accounting and the many tools businesses use today, software integration is necessary for faster, more accurate collaboration. When systems aren't in sync, teams adopt siloed processes to transfer data from one place to another manually. This leaves room for human error and creates delays in gathering important business insights needed to remain competitive in today's fast-paced environment. Instead, teams spend time correcting errors while new opportunities are missed or overlooked.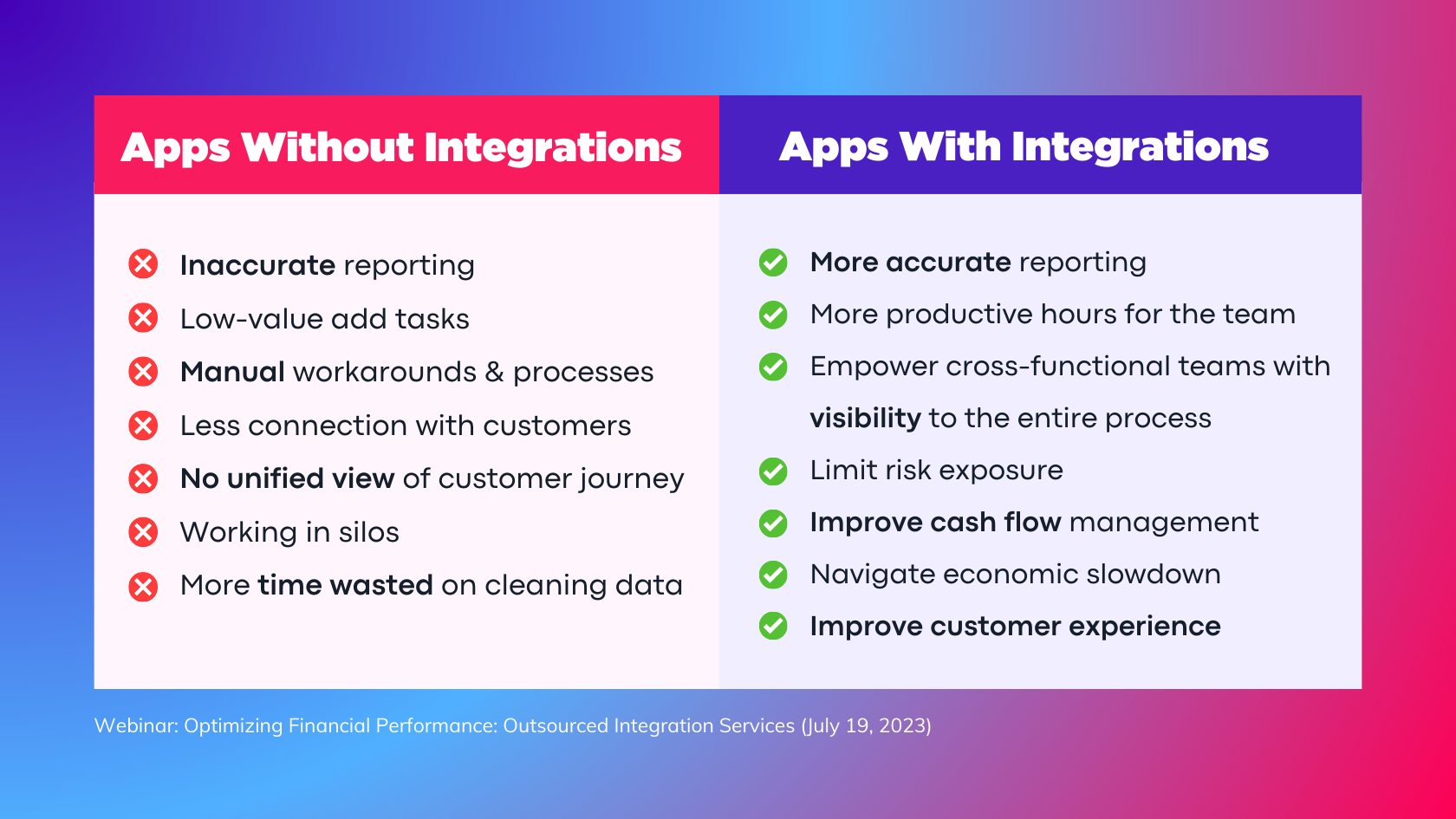 After adding integrations between other software applications and an accounting or finance management system, teams can set up automated workflows to streamline data management, improve decision-making, and focus more time on value-added tasks.
Brent Bertolio, Director of Business Growth at Venn Technology, shared that CFOs now have the opportunity to work with cross-functional teams to strategize technology usage across the organization.
Accounting software integration use cases
Let's dive into some common uses cases for accounting software integration:
Billing & Invoicing: Connecting CRM, ERP, and accounting systems ensures invoice creation is timely, more accurate, and less manual. Additionally, sending invoices to a CRM keeps sales teams up-to-date on which customers have paid.
AR & Bank Reconciliation: Automate accounts receivable processes to speed up the credit-to-cash cycle and collect on invoices faster
Contract Creation: Generate contracts automatically using data pulled from other systems
Donations & Grants: For nonprofits managing donors with a CRM, donations and grants can be automatically synced to the accounting system—displaying detailed information on where and how funds are dispersed.
AP Automation: Eliminate human error, approve invoices faster, and gain clear visibility to payment statuses. This drastically improves cash management and supplier relationships.
Time Entry: Sync timesheets automatically for faster approvals, invoicing, and reporting.
Mike Wood, Account Executive at Venn Technology, shared from experience how salespeople often feel disconnected from the customer lifecycle after a sale has been made.
Getting started with integrated accounting software
There are two options organizations can choose from when integrating core business software. You can either build them in-house or outsource an integration expert. Ultimately, whichever direction you choose depends on your organization's specific requirements, budget, and available resources.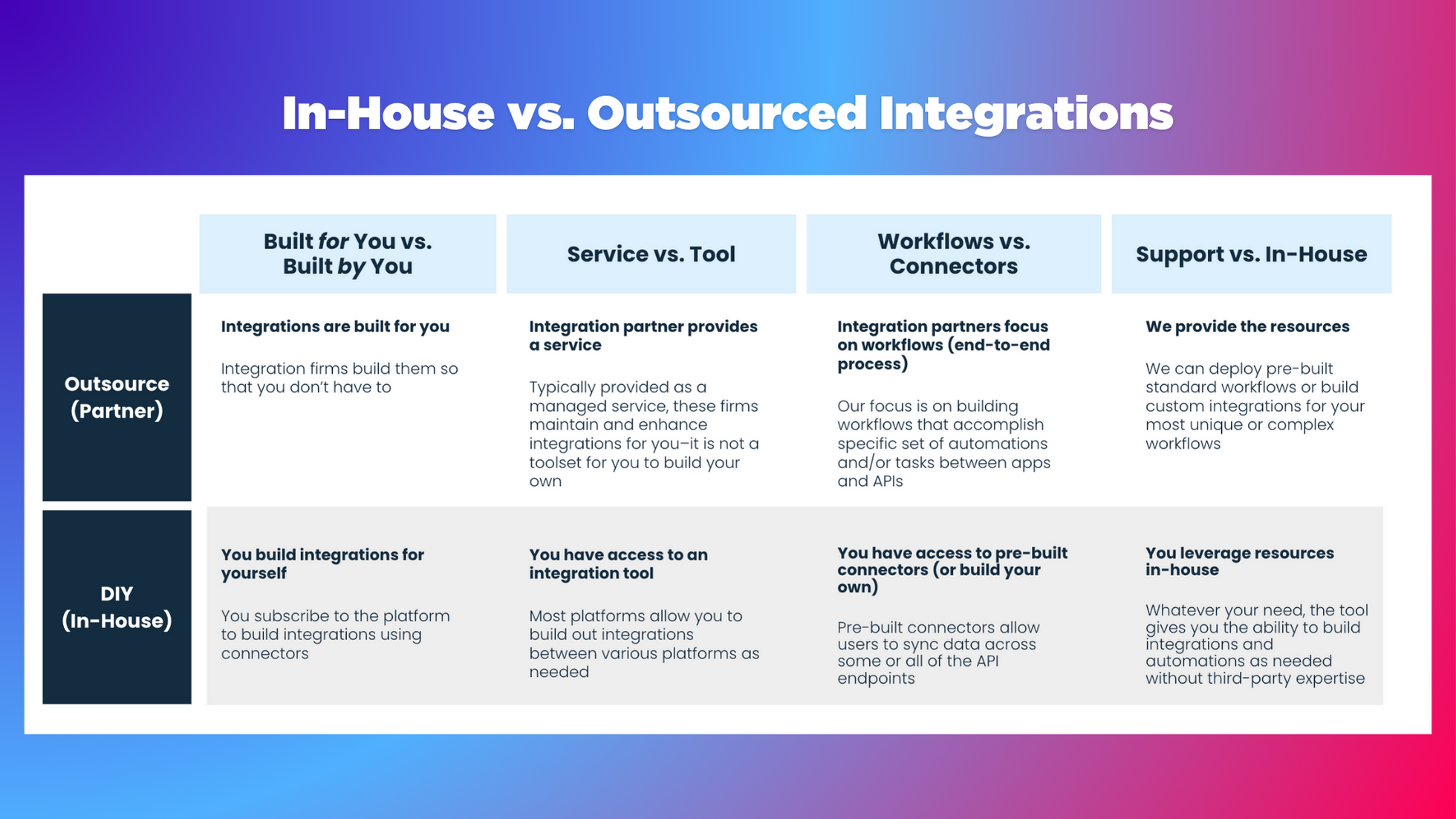 A breakdown of the differences between building integrations yourself versus outsourcing a provider to build and maintain them for you.
DIY Approach (In-House)
For those who choose to build their integrations in-house, an internal development team is usually responsible for designing, implementing, and maintaining the integration(s). This approach provides full control over the integration process, however, it can be time-consuming and more costly to hire one or more resources with the right skills and expertise.
Outsource (Partner)
Partnering with a third-party integration expert is best for organizations that either lack an internal development team or don't want to reallocate internal resources to building and maintaining integrations in the first place. Outsourcing can save a lot of time and resources since you don't need to hire and train a developer. Since the average salary of an integration developer is $100,000, most organizations with complex needs prefer working with an outsourced provider. Typically, the provider will work with your organization to develop a list of requirements, set an implementation date, and provide ongoing maintenance and support for your integration(s).
Cost of Software Integrations
This is probably the number one question you'd be asking as a CFO: how much do integrations cost? It depends on a number of factors including:
• Number of systems being integrated (2, 3, or more)
• Type of systems being integrated (Legacy or Cloud-based)
• The direction of data sync (One-way or bi-directional)
• The complexity of data (Data cleansing)
• Open API Access
• Methods Used for Integration
In addition to the method you choose for integration (Packaged, Custom Code, Robotics Process Automation, or Middleware), there are three cost brackets to consider:
In-app Integrations (Free or paid)
These can be found in the platform itself or on an app marketplace. For example, if you're using Salesforce, you'd find integrations and add-ons from the Salesforce AppExchange. If the integration is offered directly from the application you're using, the cost for that integration would likely be covered in your user agreement. Though easy and quick to implement, in-app integrations are not customizable.
Standard Integrations ($5,000-$15,000)
Typically, standard integrations are built by third-party integration providers and are meant to address the most common use cases between applications. Similar to in-app integrations, these integrations can be implemented quickly and provide some configuration level but are not entirely customizable.
Custom Integrations ($20,000-$100,000+)
The price of custom integrations depends on (1) the method used to connect apps, (2) the complexity of workflows, data, and level of effort for someone to build it, (3) ongoing support and service. Organizations that have unique processes should consider a custom integration to address inefficiencies head-on. A lot of organizations will find that standard integrations are not up to par with their unique needs. When building a custom-fit solution, teams receive exactly what they need.
Partner with Venn Technology for your next integration
Accounting software integration is a priority for finance leaders and CFOs today. Since 2015, we've helped hundreds of organizations streamline their cash flow management with the power of automation. By creating more efficient workflows, improving data accuracy, and fostering collaboration among teams, organizations gain more resources to go toward their mission.
Have you considered integrating your accounting software but aren't sure where to start? Our team would be happy to walk you through the process and identify where a solution would work best.