Venn at Work: Mikayla Gabaldon, Project Manager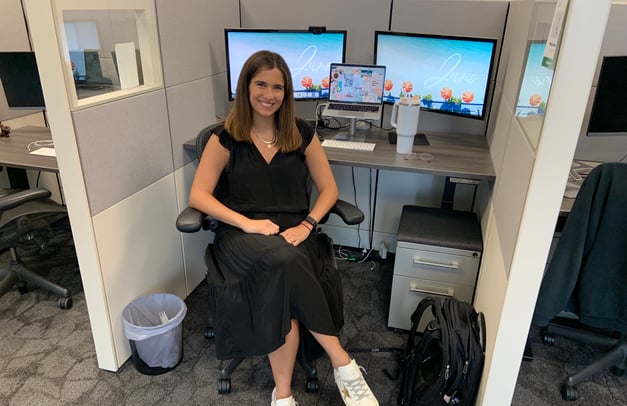 If you are Mikayla, your day is full of client meetings, resource planning, and building out new processes for the team. Keep reading to find out how Mikayla spends her time as a Project Manager at Venn.
Do you have any morning rituals that help get your day started?
My drive to work is about 30 minutes. Much like everyone with a commute, I listen to a few different podcasts (my favorite genre is pop culture because they're the funniest).
Whenever I get to the office, I like to make a London Fog latte before starting work. We have an espresso machine in the kitchen which makes it super convenient too. Lately, I've been trying to get started on tasks earlier in the morning so I can be better prepared on calls as a project manager.
"It's important for me to be proactive by having questions ready to go for the integration team, that way I can get on calls with clients feeling prepared with details on the progress of their project."
What is your typical day like at Venn?
My day consists of a lot of meetings with clients. So before those meetings, I try to get my weekly tasks done like project dashboard and resource planning. Every Monday, I meet with the integration consultants to go over how many hours they're spending on each project. This helps us to see who is available for future projects.

Another part of what I've been doing lately is helping to implement Asana (a project management platform) and new processes for the team. With Asana, we'll be able to automate resource planning by now having a dashboard of how many hours consultants are working.
At the end of the day, I like to sort through tasks that have due dates coming up and plan for the next day.
Did you have experience building system integrations prior to joining Venn?
I came from a company that used Salesforce as its hub, so that helped with familiarity to what we do with integrations at Venn. My role wasn't always project management—I started out in a customer service role, was promoted to communications coordinator, and then project manager. That position really helped to build up my skills before coming to Venn, and fun fact, that job is where I first met Brent, who is now an account executive at Venn.
My last job introduced me to Asana, and seeing how project management processes worked there has given me a better eye for improving processes here at Venn.
"Although the finer details of our integration projects are different, each one follows specific phases. Having the structure and ability to customize processes in Asana will help all of us on the team moving forward."
What is the primary responsibility of being a Project Manager?
My job is to make sure projects are delivered on time and within budget while ensuring high customer satisfaction. Like I mentioned before, a lot of the day consists of me being on calls with our clients beginning with the Project Kick-off all the way through Support. It's also important to me to start meetings by asking clients what they've been up to outside of work and build that relationship with them before jumping straight into the business talk.
What do you usually do for lunch?
Normally, I'll bring my lunch, but sometimes I'll go grab something from Chick-fil-A or go to HTeaO for happy hour with Jimmienell, Account Manager and personal friend of mine. Also, probably about once a quarter or more, the women in the office make it a point to have "Ladies Lunch" somewhere in Grapevine.
What is your favorite part about the job?
I've been given the opportunity to build out some new processes for projects, which has been really empowering. Implementing Asana affects every member of the team, especially consultants, so it's rewarding to have that responsibility of educating everyone on how to use it.
What's your favorite thing about working at Venn?
Whenever I talk about Venn to other people, I tell them I work at a great company with great people.
"The leaders here have good values and offer a lot of trust in me, which helps me take ownership of my responsibilities as a project manager."
How do you describe what you do to your family?
You'd be surprised how many people are confused on what a project manager does for a technology services-based company. I always try to explain it in a non-technical way like, we take systems and help them talk to each other. Of course, they know I'm not the one doing the technical work, but I say I help the team get what they need to do their work.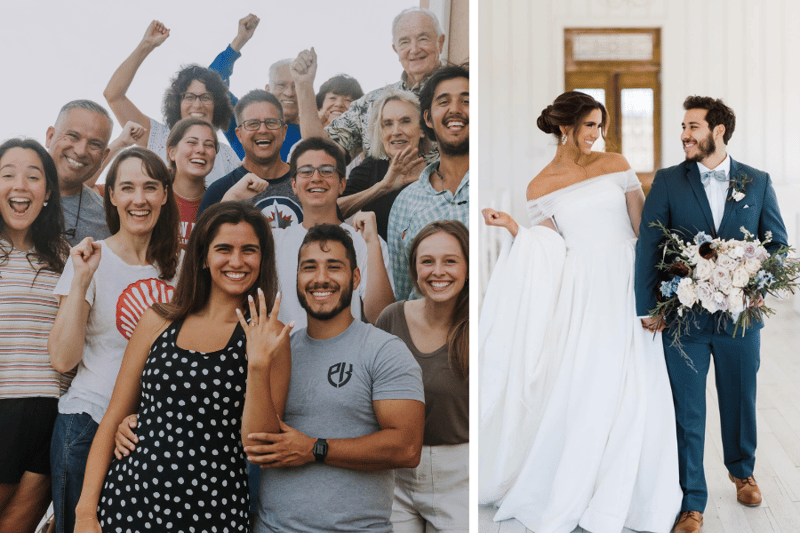 Mikayla with family, friends, and now husband, Aaron. They recently tied the knot in January 2022!
What do you do for fun outside of work?
Lately, I've been getting to work earlier, so in the evenings I can get a workout in at CycleBar or Pure Barre. Afterwards, my husband and I usually cook dinner and watch one of our shows. When it's summer time, I love laying out by the pool or walking around North Park Mall in Dallas. A weekend trip to Tyler, TX is always a great time too!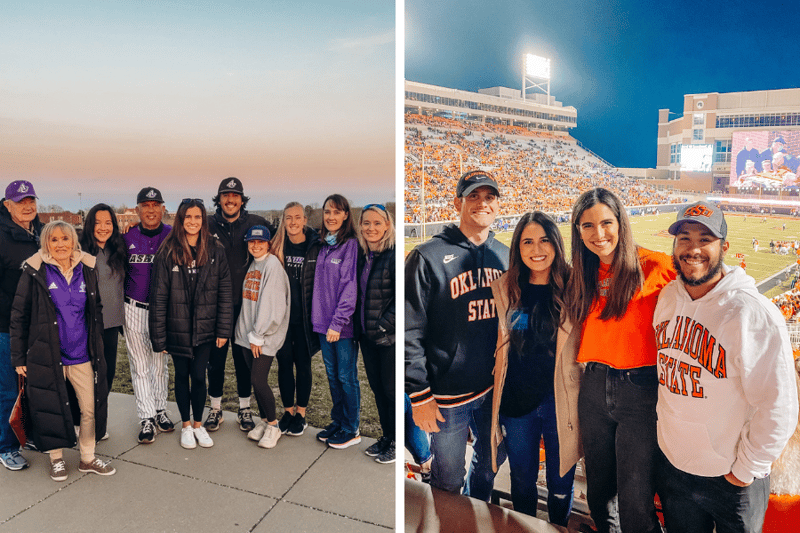 Mikayla with family at her dad's and brother's baseball game at Asbury University (Left) and Mikayla with friends at an Oklahoma State football game—go Pokes! (Right)
Read more stores like Mikayla's