Building Workato Recipes With Purpose
This is article #3 in Venn Technology's 3 part Salesforce and Intacct Integration series. Read article #1 here and article #2 here.

Workato's mission is to be an integration service with the power of an enterprise grade software and the simplicity of a DIY platform. In other words, Workato's integrations are accessible to the nontechnical but far more powerful than Zapier or IFTTT, making it a useful platform for admins and developers alike. Because Workato can support custom objects, handle large volumes, and complete complex data mapping, some recipes (a recipe is what Workato calls its integrations) require upfront planning. Here are some important tips and tricks to keep in mind when you start your integration journey.
Building Your Recipe
The first stage in creating your recipe is always ideation, specifically identifying exactly what your business needs to accomplish through integration and what apps need to work with each other to achieve this. What do you need Salesforce to communicate to Intacct and vice versa? Do you need a two way sync? Do you want instant reports in the Intacct Dashboard or is real time donation sums what you're after? When you have an outline of your processes down, you can start building a recipe by
creating an account
and clicking the 'create recipe' button from the '
Explore
' page or 'My Recipes' page.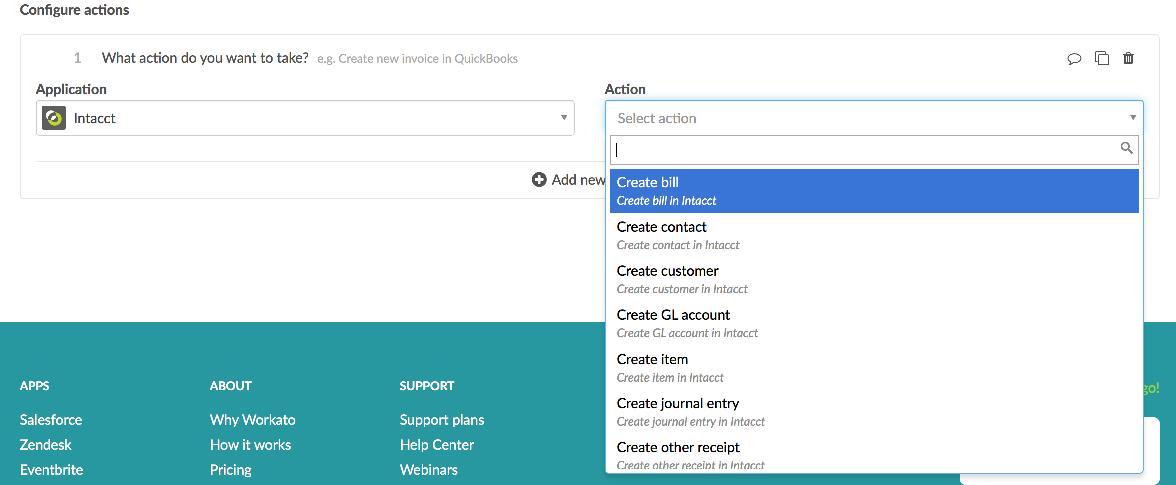 Workato will ask you for the trigger app and to connect your account if you haven't yet. The next phase, actions, is where you build out the true functionality of your recipe.
Smart Data Mapping

When you add an action, fields appear below where you can indicate specific objects for your recipe like date, and name etc. Here a few important fields to fill out by dragging and dropping from the right menu called 'app data.'
NOTE: Not exactly sure what this part is saying. Maybe you can elaborate so I can fill in the blanks.
Date is current month
Date is not current month
Add checkbox to indicate that the record has been synced
Update historical transactions so they aren't duplicated
Clean your system before proceeding
A Completed Recipe

In this recipe, the Workato timer app checks Salesforce for new donations every 5 minutes and pushes them to Intacct duplicate free.
You can create your own Workato Account here or take advantage of Venn Technology's Salesforce and Workato Expertise. Contact us to discuss your project.